The new series of Chromebooks from Acer feature a couple of promising ultra portable devices with great characteristics at reasonable prices if we also factor in the bud quality. The Chromebook 14 CB3-431-C7VZ model is probably the most attractive of them all.
Review
The Acer Chromebook 14 CB3-431-C7VZ holds the same lines we've seen in the past from the Taiwanese manufacturer. The overall design language remains mostly unchanged, with discrete ridges and understated features. The aluminum alloy casing and the thick bezel between the keyboard and its sides give it a more premium look and feel.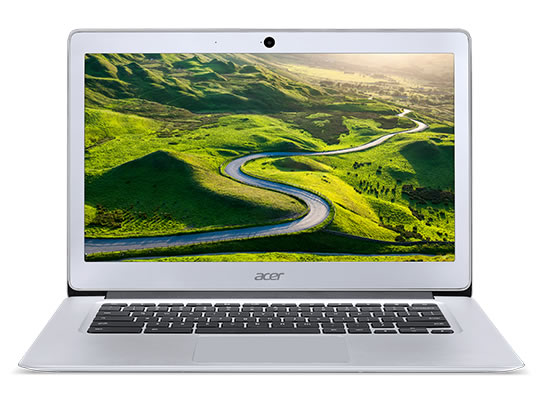 Performance
The Acer Chromebook 14 CB3-431-C7VZ comes with a quad core Intel Celeron N3160 processor. Not the brightest, but certainly not the slowest, this CPU has 2 megabytes of L2 cache, a base clock rating of 1.6 GHz and a scenario design power of just 4 Watts. The cache size is slightly on the low side, but the design power really makes up for it. What this processor lacks in computing power, it makes up for with battery life duration. Benchmark tests rate the N3160 at around 1200 points – enough juice to run file editing programs, to browse the internet, write emails and stream videos.
[easyazon_link identifier="B01J3TZT9K" locale="US" tag="laptop0b2-20″]Check the latest price on Amazon »[/easyazon_link]
System memory is sizable for a Chromebook: 4 gigabytes of LPDDR3 RAM. The available memory can not be upgraded, but I don't you'll ever need to, since you'll notice the processor holding the system down before memory does. Multitasking and apps will work without hiccups.
As for storage space, the Acer Chromebook 14 CB3-431-C7VZ has just 32 gigabytes available. If that number sounds painfully low, well it is. However, needing more space depends a lot on the usage scenario and the preffered storage solution. You'll have to choose between using an external hard drive, plugging a semi-permanent SD card or using cloud solutions like Google Drive to store and sync your files.
Display and graphics
One of the reasons which makes this Chromebook a better alternative than other competitors is the presence of a 14 inch matte screen with a Full HD, IPS display. The viewing angles are great, encouraging sharing the screen between the user and a team and furthermore, thanks to the 1920 x 1080 pixels resolution of a smaller screen, all elements from fonts to icons will be crisper and easier to distinguish.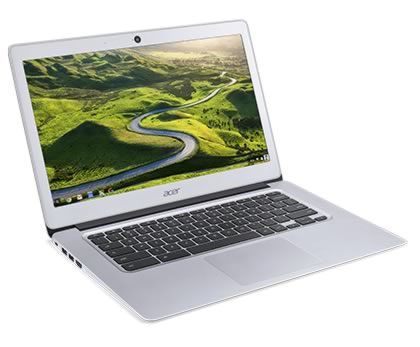 As expected, the Acer comes with the Intel HD Graphics 400 integrated video card, which won't allow for any gaming experience, except for online MMOs and other basic games, at least graphics wise. It will play full HD content seamlessly, but may struggle with 4K content.
[easyazon_link identifier="B01J3TZT9K" locale="US" tag="laptop0b2-20″]Find out more on Amazon.com »[/easyazon_link]
Interface options
Interface options are limited to:
2 x USB 3.0 ports
1 x HDMI-out port
1 x SD card reader
1 x Audio combo jack
Connectivity
The Acer Chromebook 14 is equipped with the latest generation 802.11ac wireless card, which is up to three times faster than the 802.11n protocol. Also, you'll get built-in Bluetooth 4.2 with the wireless card, further extending the available connections: think phones, speakers, home media controllers, and so on.
Battery life and portability
As far as travel is concerned, I'd say it's a good companion if you really need a larger screen. For its size, the Acer CB3-431-C7VZ is incredibly lightweight, with only 3.7 pounds of computer for you to carry around town, or anywhere else really, be it on an airplane, bus or train. Also, with a height of just 0.7″, it's considerably thinner than traditional entry level and even mid range laptops.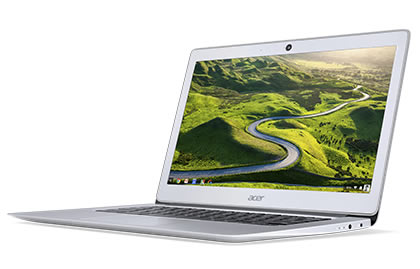 Battery life is great, a full charge lasting up to 12 hours, meaning that the 3920 mAh 3-cell Li-Polymer battery pack will get you through a whole work day and then some. On trips shorter than a day, the charger becomes redundant, further reducing the need to carry extra weight around.
Final words
[easyazon_link identifier="B01J3TZT9K" locale="US" tag="laptop0b2-20″]Buy it now on Amazon.com »[/easyazon_link]
I think the Acer Chromebook 14 CB3-431-C7VZ is most suited to air and land travelers with enough space inside their luggage to fit in this not-so-small, but light laptop. Writers and office workers will enjoy its build quality and snappy performance, and students will likely appreciate the versatility and the looks of this device.
All in all, this one of the most well rounded and arguably the most fair priced Chromebooks to be launched this year so far.
Summary
Reviewer
Review Date
Reviewed Item
Acer Chromebook 14 CB3-431-C7VZ
Author Rating