The 15-inch MSI GE66 Raider 10UG-211 is a beast of a gaming laptop. Bulky, yet solidly built, this beautifully designed machine is fantastic at boosting your online and offline gaming performance on the go. It doesn't have many drawbacks, at least none concerning performance.
MSI GE66 Raider Review
To start off, this MSI GE66 Raider is a step forward in the right direct. It features a new, oblique angled chassis which manages to somewhat mitigate its bulkiness. Also, I've noticed that material quality has gone up, alongside build quality. Previous generations suffered from some inconveniences that you don't want to see in a $2,000+ laptop, such as flimsy hinges or bendy displays. It seems MSI have addressed those issues and managed to produce a solid device.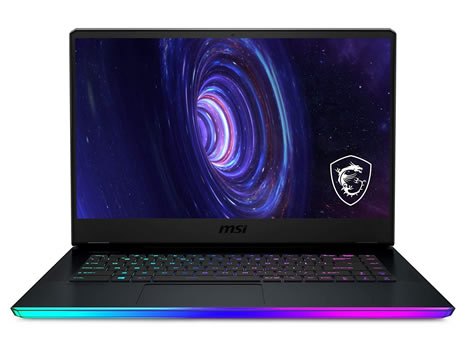 See the MSI GE66 Raider on Amazon »
Also, MSI have fitted the GE66 Raider with a new, improved customizable RGB light bar called Mystic Light, which lights up the entire lower front part of the chassis. It's discrete enough to pass as tasteful, even for those who aren't that much into showy gaming laptops.
Processing power
The MSI GE66 Raider 10UG-211 is fitted with a state of the art 10th generation Intel Core i7-10870H. This amazing 8-core, 16-thread CPU has a frequency range between 2.2 GHz and 5.0 GHz, 16-megabytes of cache and a thermal design power of 45 Watts. It's a true powerhouse. Benchmark scores rate it as one of the best mobile-oriented processors out there.
With the Core i7-10870H, you'll be able to run every game you can think of. Furthermore, it allows some heavy duty work to be done. Think 3D renders, heavy multitasking, streaming online content, and so much more. You're going to find it really difficult to actually push this CPU to its limits, as the bar has been set very high.
System memory
System memory is rated at 32 gigabytes of DDR4-3200 SDRAM. It's more than enough to handle every conceivable game, plus some extra tasks on the side. I'm not sure you'll ever need more, but in the unlikely scenario that you will, it's worth noting that this model accepts up to 64 gigabytes of system memory. You'll have to replace both memory modules before installing new ones by removing the bottom panel. A simple, 10-minute job as demonstrated by this short video tutorial.
That being said, I haven't heard of any game which requires that much RAM to work properly. Only upgrade if you plan on using the MSI GE66 Raider for more advanced memory intensive work.
Storage space
The MSI GE66 Raider 10UG-211 comes equipped with a roomy 1-terabyte NVMe solid state drive. It's fast enough not to cause any bottlenecks. If you think its capacity won't be enough, you can always add another M.2 solid state drive (NVMe PCIe Gen3/SATA port). You'd have to follow the same simple steps as described earlier.
Graphics and display
As expected, the Raider's gaming graphics performance are second to none. It's fitted with one of best mobile GPU's on the market: the NVIDIA RTX 3070 Max-P. This 8-gigabyte GDDR6, 256-bit graphics card will allow you to play every game you can think of. NVIDIA have scrapped the Max-Q in favor of the Max-P, which allows more power, more output and better overall performance, but draws massive amounts of power. However, this GPU is different from a desktop RTX 3070. It is about 40% slower on average across the board. Having said that, let's have a look at some frame rates you should expect from the MSI GE66 Raider at ultra high settings, 1080p resolution:
Cyberpunk 2077: 60+ fps
Call of Duty Warzone: 60+ fps
Forza Horizon 4: 60+ fps
PUBG: 60+ fps
Hitman 3: 60+ fps
DIRT 5: 60+ fps
Godfall: 55-60 fps
There's only a handful of games that won't run as smoothly as they should on the MSI, but for the most part, you shouldn't worry about having to upgrade in order to keep up with the latest requirements for at least a couple of years. You should get similar performance ratings on a 4K display, apart from some heavy titles, like Hitman or DIRT.
Check availability and prices at Amazon »
The MSI GE66 Raider 10UG-211 features a thin bezel, 15.6-inch FHD anti-glare IPS display capable of a 300Hz refresh rate and a latency of 3ms. Colors are vivid, brightness is more than acceptable, and you shouldn't have any problems while gaming, especially thanks to its insanely high refresh rate. Also, thanks to its wide array of ports, you can connect up to three 4K/8K external monitors via HDMI, USB-C and mini DisplayPort.
Heat concerns
So, as we've seen, the new MSI GE66 Raider is an absolute powerhouse. MSI have adapted their heatsink design in order to mitigate the effects of overheating. Both the processor and the graphics card generate enough heat for conventional laptops to break down.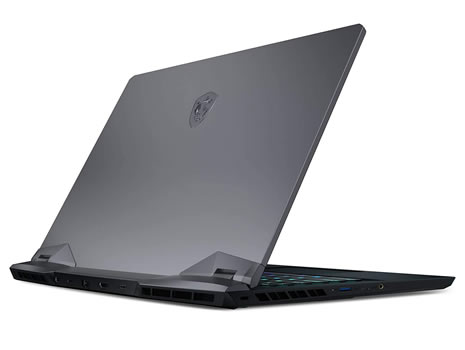 This model has larger fans and many more heat pipes than what you'd otherwise get. There's also a special button for you to press when playing the most demanding games. It's called Cooler Boost, and it ramps up both fans their maximum rpm. It does a decent job at effectively cooling the laptop at the cost of silence. It will feel like an airplane is about to take off.
Interface and networking
The MSI GE66 Raider 10UG-211 features so many interface options, I seriously doubt any users would find them lacking. MSI have made no compromise on I/O options: there's a port for everyone and every peripheral device. Here they are:
Type-C USB 3.2 Gen 2×2 port
Type-C USB 3.2 Gen 2 with DP 1.4
Type-A USB 3.2 Gen 2
2 x Type-A USB 3.2 Gen 1
HDMI 2.0
Mini Display 1.4
Audio combo jack
RJ-45
SD card reader
As for networking, the MSI features impressive, new-generation connectivity options. They've implemented the new 6E Wi-Fi protocol, which allows faster speeds and lower latencies than Wi-FI 6, at the cost of range. What's more, your online connection will be way more stable over the newly opened up 6 GHz band. Less competition for a channel, more available bandwidth.
Intel Wi-Fi 6E AX210(2*2)
Bluetooth 5.2
Killer E3100 Gigabit Ethernet
Portability and battery life
The MSI GE66 Raider 10UG-211 is by no means a very portable laptop. This behemoth weighs 5.25 pounds, which makes it one of the most heavy 15-inch laptops. Forget about dropping it in your backpack to head out and about. It simply weighs too much. However, weight is a necessary tradeoff if performance is what you're after. Having witnessed what this gaming laptop is capable off, I'd say it's a fair deal.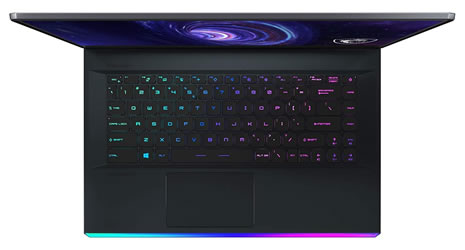 Battery life is also unimpressive, but unexpectedly so. Despite having a 99Whr 4-cell battery pack, a full charge will not last more than 2 hours when gaming and around 5 to 6 hours of normal use (web browsing, listening to music, writing documents and such). It's by no means abysmal, especially considering how much power hungry both the processor and GPU are. Just don't expect to perform as well on the road as more portable oriented devices.
Conclusion
All in all, I think the MSI GE66 Raider 10UG-211 offers great value for money. It may cost north of $2,000, but for that much you get enough performance to completely overshadow more affordable models, like the Lenovo IdeaPad Gaming 3 and even some gaming desktops. Also, I believe this to be a good option for working professionals who are also into gaming, as the MSI GE66 Raider can be easily used as a workstation for most of today's demanding professional photo/video/3D/rendering software.
MSI GE66 Raider 10UG-211
Graphics and display
9.5/10
Interface and networking
10.0/10
Portability and battery life
6.5/10