ASUS have recently updated their ZenBook line of laptops with a new model: the ASUS ZenBook 14 UX435EG-XH74. This is a classy, premium lightweight ultrabook that's built to last. What's more, this model is an improved version of last year's extremely popular ZenBook 14, which makes it ideal for most users in need of a trustworthy, tried and tested all-rounder laptop.
Review
To start off, I think the ZenBook 14 is a fantastic notebook for users who need more performance, but aren't willing to go for a creator laptop, or a full-featured workstation. The UX435EG-XH74 sits somewhere in the middle, as a compromise of sorts, but without trading much in terms of value for money. At the time of this review, the ASUS UX435EG-XH74 was priced at around $1,200. It may seem much for what it has to offer, but the unique blend of build quality, design, specs and features actually make it a steal for those who can afford it.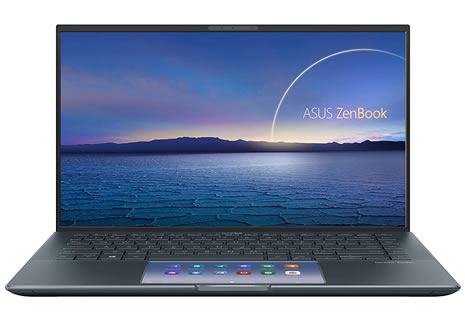 One of the many reasons the ZenBook 14 is such a popular laptop is versatility. It's a great option for both home users and office workers, for college students and traveling businessmen, or businesswomen. A large enough screen in a small enough lightweight body make this ASUS a favorite for commuters and professionals on the go. Not to mention long lasting battery life, alongside dependable performance at any time.
However, long time users have complained mostly about the series' ScreenPad 2 technology. This is a feature that transforms the touchpad into a fully functioning Full HD multiuse tool. You can switch apps, make phone calls, use it as a number pad and should simplify your work flow. But users have had issues with getting used to it and some even found it not that useful on a day to day basis, needlessly draining the battery more than it should. Luckily, you can deactivate it in order to prevent accidentally touching it while typing and turn it on whenever you may need it. Now, let's have a look at its hardware options:
Processing power
The ASUS ZenBook 14 UX435EG-XH74 is equipped with a new-generation Intel Core i7-1165G7 processor. This is a quad-core, 8-thread CPU with 12 megabytes of cache size, and a maximum frequency of 4.7 GHz. We've also seen this model on the similarly priced ZenBook Flip 13 I've recently covered in a review. How do all those numbers translate to real life scenarios?
Well, regardless of your expectations, this processor will surely impress. Benchmark scores suggest this is a robust ultraportable oriented CPU with fantastic overall performance. It will power up all your daily tasks and will allow you to work on more demanding projects that require more in terms of overall processing power. Think heavy multitasking, photo and video editing, some casual gaming, some quick 3D rendering and so on. If you're a casual user, this Core i7 will prove more than enough for your needs, whatever they may be.
System memory
System memory is also adequate to support all your projects. The ASUS ZenBook 14 is fitted with 16 gigabytes of onboard LPDDR4x RAM, meaning you will not be able to further extend it, should you need to. Personally, I believe there's no need for more in terms of system memory for this kind of notebook. You'll be able to heavily multitask while running every piece of software you can think of.
Check availability and prices at Amazon »
If you're wondering what makes LPDDR4x better than standard LPDDR4, you should know this update makes memory modules draw much less power, while simultaneously allowing more data transfer via available bandwidth. It's simply a better overall memory solution for laptops in general.
Storage space
The ASUS ZenBook 14 UX435EG-XH74 comes with a roomy 512-gigabyte PCIe NVMe solid state drive. This should cover for all basic necessities and a decent amount of large files, a modest media collection and your personal photos. Admittedly, I would have liked to see a 1-terabyte drive inside this ZenBook to better complement its other hardware specs. Still, it's a solid option: speedy, reliable and lightweight.
If you feel you might need more storage space, you should either consider a more expensive model, or simply invest in an external SSD on which to safely store your extra files.
Display quality
What I found really impressive about this laptop is how compact it is. It has a 14-inch FHD IPS display, but thanks to its ultra slim bezels, it fits inside a 13-inch body. Some users may have wanted more in terms of resolution, but overall, the feedback has been fantastic.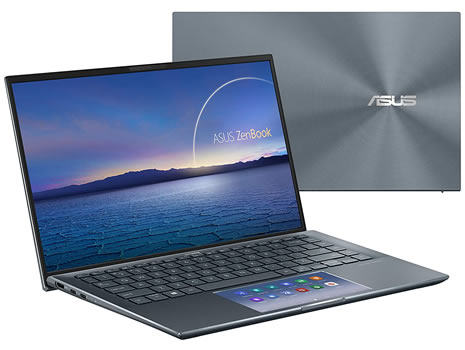 Images are crystal clear, color accuracy is good, but not exceptional, viewing angles are great. That being said, the brightness of this display stands out: 400 nits means you'll be able to work even when outside, in full sunlight conditions. You can easily edit photos or illustrate on the go without any major issues, display quality-wise.
Graphics
Much like its predecessor, the all-new ZenBook 14 UX435EG-XH74 features an entry-level dedicated graphics card. Called the NVIDIA GeForce MX450, it's considerably more exciting than the MX250 we've noticed on last year's model. It's much more faster and capable in comparison, but still only runs on 64 bits. This is a 2GB GDDR6 GPU that will moderately handle GPU-intensive software, like 3D rendering, video editing or programs like Photoshop. Just don't expect it to do any heavyweight lifting much like significantly more expensive workstations.
Some casual gaming is achievable using the ZenBook 14. For instance, this configuration (Core i7, 16GB RAM, MX250) will allow you to play games such as GTA V, CS:GO, Fortnite, Minecraft and other similar games at 60+ fps on high settings. However, titles such as CoD: Warzone, or even FIFA 21 won't run smoothly or at all on this laptop.
Interface and networking
ASUS have finally ditched the legacy USB 2.0 port. This new model only has newer generation interface options as standard, making bulky dongles and wires a thing of the past. If you care about the laptop's slim appearance, you may want to invest in a Bluetooth mouse, for instance. Also, the ZenBook will charge quickly via Thunderbolt. Here are all available I/O options:
2 x Thunderbolt 4 USB-C ports (with display and charge support)
1 x Type-C Gen 1 USB 3.2 port
HDMI 2.0
Audio combo jack
MicroSD card reader
Networking options should also satisfy the needs of all users. ASUS have fitted the ZenBook 14 with the latest in terms of both wireless and Bluetooth tech. Note that this model doesn't have an Ethernet card, as expected, but does come with one USB-A to RJ45 adapter:
Wi-Fi 6 (802.11ax)
Bluetooth 5.0
Portability and battery life
I'm happy to say that the ZenBook 14 UX435EG-XH74 is an incredibly portable laptop, rivaling superstars like the Dell XPS and the LG gram, only more affordable. As I mentioned earlier, the ASUS features a 14-inch display inside a 13-inch body. Thanks to its razor thin bezel, the notebook has such a small footprint, it will fit inside most bags, backpacks or totes. It's also thin and lightweight, measuring just 0.67 inches and weighing 2.67 pounds. As such, this laptop is ideal as a true all-rounder.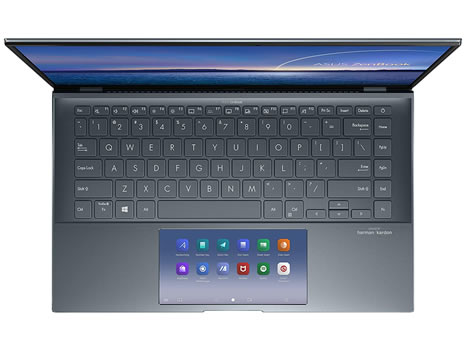 Further more, battery life is pretty impressive. The ZenBook's 63Wh, 3-cell Li-Ion battery pack will last up to 14 hours of very light use. Under normal work conditions, you should expect up to 8 to 10 hours of battery life before needing a quick charge. Although it doesn't seem that much by today's standards, don't forget the ZenBook 14 has a dedicated GPU which also draws considerable power.
Conclusion
All things considered, I believe the ZenBook 14 UX435EG-XH74 is an ideal companion for power users on the go. It redefines what being a robust notebook means. It doesn't necessarily excel at anything in particular, but that's a good thing, since it's so well balanced for all users to enjoy at full potential. I haven't identified any significant performance bottlenecks. Plus, it offers the best of modern mobile computing to both casual and more advanced users.
Thus, considering its superior build quality, decent features and portability ratings, I have to say the ZenBook is one of the best premium all-rounder laptops you can buy for less than $1,500.
ASUS ZenBook 14 UX435EG-XH74
Graphics and display
8.0/10
Interface and networking
9.5/10
Portability and battery life
9.0/10