The all-new Acer Aspire 5 A515-56-50RS is a budget friendly mid-range laptop. In spite of its affordable price, this all-rounder comes packed with essential hardware for your daily needs. What's more, I personally find this model's design to be pleasing. It doesn't want to be something that it isn't, and I love that Acer are honest with their laptops. However, there are one or two drawbacks to take into account before deciding whether you should go for it.
Review
As mentioned previously, the Acer Aspire 5 A515 is a mid-range budget laptop. This means its performance is suitable for your everyday computing needs. You won't experience any significant bottleneck due to its hardware configuration. My only concern for the long run would be memory size.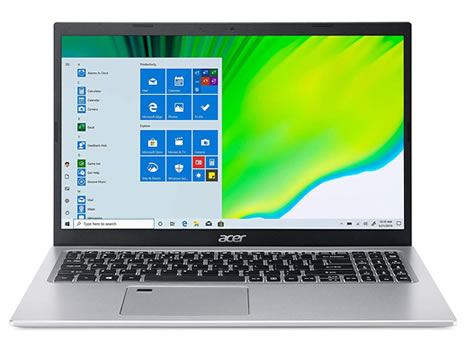 Performance
So, the Acer comes equipped with a fantastic Intel Core i5-1135G7 processor, capable of clock speeds of up to 4.2 GHz, with an 8-megabyte cache and a typical thermal design power of just 15 Watts. According to benchmark tests and real life scenarios I've tested this CPU in, it's really not that far away in terms of performance from Intel's i7-1165G7 that's built into the much more expensive ASUS Zenbook Flip 13 I reviewed recently.
System memory is rated at 8 gigabytes of DDR4 SDRAM. This amount will only get you so far in terms of how well the Acer will perform over long periods of time. Programs will inevitably evolve to use more and more resources and in a couple of years it may start to feel sluggish. However, the Acer Aspire 5 A515-56-50RS is a user-friendly device with upgradeable memory. Total allowed capacity is 20 gigabytes, but you'll probably only ever need 16 (2 x 8GB RAM sticks).
Storage space is also rather limited, but it can be expanded by the user in no time. The Acer is equipped with a 256-gigabyte NVMe solid state drive, which will ensure the necessary speed for your daily tasks. It has an extra drive slot available for a 2.5″ SSD, should you ever need more storage capacity. Upgrading both its memory and storage capacity is an easy job. You can check this wonderfully detailed video on how to actually do it yourself.
Display and graphics
The Acer Aspire 5 A515-56-50RS features a 15.6-inch IPS FHD LED. It's nothing to boast about, but I've seen worse displays on similarly priced laptops. Viewing angles are good thanks to In-Plane Switching technology, and color reproduction is decent. Don't expect too much in terms of photo editing, illustrating, or other tasks which require colors to be accurate and vivid.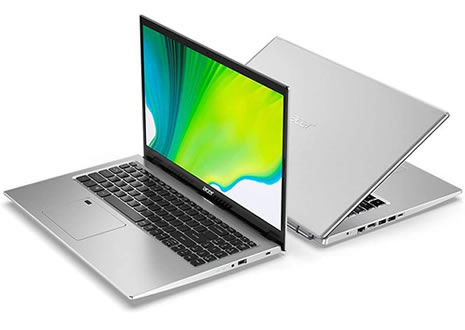 A 130-degree rotating hinge will allow the screen to be rotated further back than other models, but nowhere near as much as 2-in-1 laptops. Also, even if it's not the thinnest, its bezel is surprisingly pleasing in terms of how unobtrusive it is.
In terms of graphics, the Acer comes with an integrated Intel Iris Xe unit, which will allow users to make multiple conference calls, play some popular multiplayer games or other non-demanding titles, and achieve every daily task an average user will expect of this laptop.
Interface and networking
Interface options are plentiful, as expected for this kind of laptop. Its all-rounder capabilities can be easily noticed when looking at I/O options. They've managed to squeeze a good variety of ports for all your peripherals to fit:
1 x USB 3.2 Gen 1 Type-C port
2 x USB 3.2 Gen 1 Type-A ports
1 x USB 2.0 port
HDMI
Combo audio jack
Networking options are also suited for most users. It doesn't matter if you're at your desk or on your couch. The Acer features both wireless and wired options, perfect for all your home office needs. What's more, it comes with the latest in Wi-Fi technology, meaning you can take all your conference calls wherever there is a fast router. Here they are:
Intel Wireless Wi-Fi 6 (802.11ax) with 2×2 MU-MIMO technology
Gigabit Ethernet
Bluetooth 5.0
Portability and battery life
I've talked earlier about a couple of drawbacks that plague this laptop. Well, here they are. First of all, this is not a very portable notebook. The acer weighs 4.19 pounds. No matter how you look at it, it's a heavy machine. Sure, you get a bigger screen than most ultraportable devices. But still, if portability is high on your list of desirable traits, this laptop just won't cut it.
Further more, battery life is less than ideal, especially considering that it doesn't feature a dedicated graphics card. You'll get up to 8.5 hours of life before needing to recharge, but you should expect even less when actually getting work done.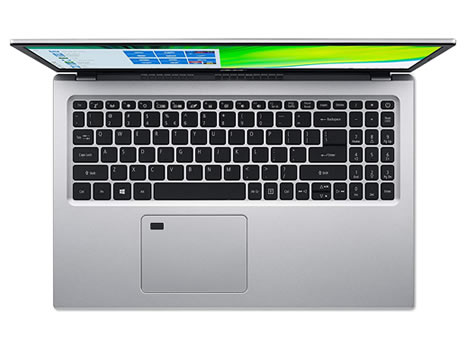 Considering these two details, which aren't minor by the way, I'd say the Acer Aspire 5 A515 is first and foremost more of a home office or desktop replacement notebook. If you plan on commuting or even travelling with it, I'd recommend looking for a more lightweight device.
Who's it for?
It's safe to say that this is not a laptop for everyone. It has great pros, some cons, but I think there's a specific audience for this device. In spite of its all-rounder capabilities and great specs for the price, portability issues and a not-so-great battery life mean one thing. We're looking at a notebook most suited in a home or office environment.
It will work just fine when needing to make multiple screen videocalls, when editing some personal photos you took, when working for a project for your office job, or when streaming high quality video content over the internet. Considering its specs and wallet-friendly price, I think this is an excellent, no frills, versatile desktop replacement option to have around the house or office. In other words, it's an honest laptop for your everyday computing needs.
Conclusion
Check availability and prices at Amazon »
All in all, the Acer Aspire 5 A515-56-50RS is a fine mid-range laptop. Be sure to take into account its price when judging it. Especially considering that it has to offer so much more than expected in terms of performance. If you need a similarly priced touch-enabled convertible laptop, you should know that for a difference of around $80 you can go for the A515-56T-574E model (also available at Amazon). It also features more generous storage capacity than the model I've reviewed today.