ASUS have updated their affordable portable gaming line-up with the new ASUS TUF Gaming A15 FA506II-AS53 model. This is an entry level gaming laptop, judging by price. Don't be fooled, though. Its capabilities and dependability go well beyond what you'd expect from a device that doesn't cost more than a mid-range ultrabook with significantly lower performance ratings.
Review
To start off, I have to say the new ASUS TUF is a looker. The model I'm reviewing today, the A15 FA506II-AS53 comes with a black chassis with crimson accents and a sleek finish consisting of hairline brushstrokes along the width of the palm rest. Its underside features a slightly raised honeycomb pattern, which helps the ASUS be more grippy on any given surface. Furthermore, it allows the laptop to cool more efficiently because this pattern also acts as a cooling vent. The better the airflow, the less need there is for a cooling pad.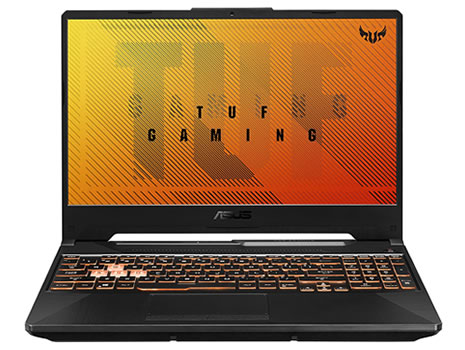 Striking as it is, its design isn't flashy. On the contrary, I found it to be beautifully thought out, without causing eyesore. I feel as if I'm looking at a state-of-the-art stealth bomber. Elegant, multifaceted, yet powerful and aggressive enough to demand and receive respect without being shouty.
Find out more about the ASUS on Amazon »
I haven't compared it with a military aircraft for no reason. The ASUS TUF Gaming A15 FA506II-AS53 has also passed military-grade (MIL-STD-810H) tests. It is rather accident-proof on a daily basis, but don't take this as a challenge to see what happens if you drop it from the second floor. As a side note, I absolutely love the shape and feel of the start button.
I'll now start to analyze and summarize its performance ratings in real-world scenarios.
Processing power
The ASUS TUF Gaming A15 FA506II-AS53 features a gaming-oriented AMD Ryzen 5 4600H processor. It is a six-core CPU, with a cache size of 8 megabytes and a frequency range between 3.0 GHz and 4.0 GHz. Unlike most mobile-optimized processors you'll find on all-rounders and ultrabooks, the AMD is a true powerhouse, with a TDP of 45 Watts. This CPU is available on other entry-level gaming laptops, such as the Lenovo IdeaPad Gaming 3 notebook I've reviewed earlier this year.
Benchmark tests rate it as a top processor, especially when operating in a multithread environment. The Ryzen 5 scored around 15,000 points according to cpubenchmark.net, making it a worthy competitor to Intel's i7 lineup of high performance processors.
As such, it seems that the Ryzen isn't likely to cause you any bottlenecks when gaming, or otherwise. It is the most advanced and future-proof piece of hardware on this laptop, at least for a couple of years. Heat will be an issue when gaming. More so when playing demanding titles. I have seen CPU temps of 80+ degrees, but only briefly, since the self cleaning dual fans don't lag much behind.
System memory
The ASUS A15 FA506II-AS53 comes equipped with 8 gigabytes of DDR4-3200 RAM. This amount is enough for you to achieve your daily computing tasks and to run most games. However, considering most titles run significantly better on more RAM, I'd suggest upgrading it immediately after buying the ASUS.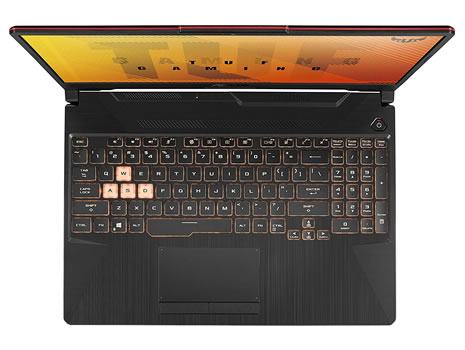 Those 8 gigabytes of memory are available as one module. There are two available slots, so you can upgrade it to 16 gigabytes dual-channel by getting another 8GB DDR4-3200 module. This is the cheapest and fastest method. Installing it is easy via the underside of the laptop. If you want or need more RAM, it's worth noting that you can add up to 32 gigabytes. I don't think that much memory is necessary for what scenarios this model has been designed to operate in. Plus, you'll have to ditch the already installed RAM, which is a waste.
Storage space
Storage space is ample enough for most gamers and casual users alike. The ASUS TUF Gaming A15 comes with a 512-gigabyte M.2 NVMe PCIe 3.0 solid state drive. You can add more storage space, should you need it. Normally, the TUF A15 features two additional storage slots. One extra M.2 PCIe slot and one extra 2.5″ SATA3 SSD slot. Take this with a grain of salt, since I remember some, but not all users complaining that their laptops didn't feature the M.2 slot. I noticed this was happening with the previous generation of ASUS TUF laptops. You should ask the seller beforehand, especially if you plan on further extending its storage capacity.
Check availability and prices at Amazon »
As you can see, the ASUS features great hardware specs, but you should definitely invest a small amount in some extra RAM from the get go and perhaps an additional storage drive, but only if you need extra storage. An upgrade is necessary for it to perform at its best.
Graphics and display
Its graphics department is on par with the rest of its hardware, and in line with other similarly priced gaming laptops. The ASUS TUF Gaming A15 FA506II-AS53 features the newly released NVIDIA GeForce GTX 1650Ti graphics card. This is an update to their GTX 1650 GPU that we've seen on so many other gaming laptops last year or so. What's new is that NVIDIA switched to GDDR6 with this card, essentially bringing it closer to today's standards. Otherwise, performance ratings aren't spectacular when compared to the old model.
Although it could be considered as entry-level, this is by no means an underpowered choice for this gaming laptop. It will run most games without issues, struggling only when rendering the most demanding of AAA titles currently on the market. As expected it will also handle 4K video playback, running multiple streams and more advanced tasks like 3D rendering or video editing better than you'd expect it to.
What ASUS does better than most competitors is display quality. The FA506II-AS53 has a 15.6 inch anti-glare Full HD Value IPS display. Bezels are thin enough for an immersive experience. What's impressive, especially for gamers, is its refresh rate: 144 Hz, more than Lenovo's IdeaPad 120 Hz display. Also, its Adaptive Sync technology allows the GPU and display to synchronize their respective refresh rate for better overall performance (think visual tearing and stuttering). You can connect multiple external monitors to either stream content or extend your screen using a multi monitor array setup.
ASUS TUF Gaming A15 expected gaming performance
The ASUS costs around $800, give or take. As such, you should adjust your expectations accordingly. With respect to price and hardware options, I think this is one of the most well balanced gaming laptops out there, having already included the RAM upgrade. Value for money is great in terms of what you get back as gaming experience. I'll list some popular titles below, alongside expected framerates you should expect from each one.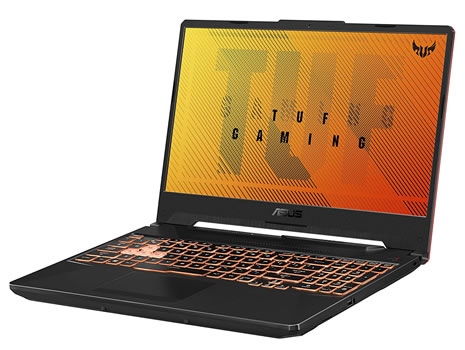 Games that will run great at 1080p, high quality settings with the laptop's standard RAM (8GB):
Grand Theft Auto 5: 60+ fps
Rainbow Six Siege: 60+ fps
Fortnite: 60+ fps
FIFA 21: 60+ fps
Rocket League: 55 fps
Games that will run terrible with 8 gigs of RAM, but should be playable at 1080p, high quality settings after upgrading the RAM to 16GB:
Red Dead Redemption 2: 50 fps
Far Cry 5: 45 fps
Forza Horizon 4: 55 fps
Assassin's Creed Valhalla : 50 fps
PUBG: 50 fps
Valheim: 50fps
Battlefield 5: 50 fps
I don't recommend playing games like Cyberpunk 2077 or DIRT 5 on the ASUS, even with the RAM upgrade.
See this model now on Amazon »
As you can see, apart from a couple of titles, most popular games will run smoothly. However, if you plan on playing modern AAA titles, you should really upgrade the RAM in order to avoid any stuttering or low frame rates.
Interface and networking
An assortment of ports makes the ASUS TUF Gaming A15 a great option for most users. You won't find any cutting edge technology, but the available ports will be enough for all your peripherals, alongside two external monitors connected via HDMI and USB Type-C. Note there's no SD card slot. Here's a list of all available ports:
Type-C USB 3.2 Gen 2 port
2 x Type-A USB 3.2 Gen 1 ports
Type-A USB 2.0
HDMI 2.0b
Audio combo jack
RJ-45 LAN port
Networking-wise, I'm somewhat disappointed that ASUS haven't fitted this model with the newest wireless technology. Admittedly, with Wi-Fi 6 you'd have to settle for reduced transmission range throughout the house, but the latency and extra bandwidth benefits outweigh the drawbacks. The ASUS comes equipped with:
Wi-Fi 5 (2×2, 802.11ac)
Bluetooth 5.0
Gigabit Ethernet
Portability and battery life
As expected, the ASUS TUF Gaming A15 FA506II-AS53 is by no means a very portable device to carry around wherever you may go. It weighs just north of 5 pounds, which translates to around 2.3 kg. It is heavy, but it also wasn't designed to be a commuter's first choice. Rather, it's useful around the house, or when driving to your friend's house for a gaming night. It can also work as a student laptop, especially considering how versatile it is. Despite its great design and pleasing aesthetic, this is still a rather bulky laptop.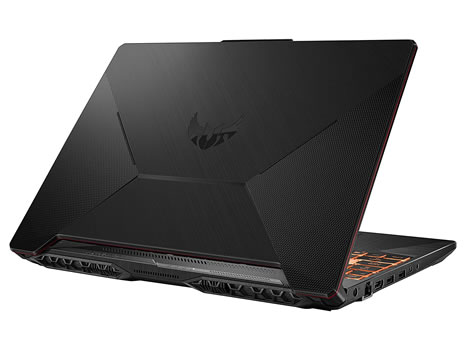 Having said that, I'm happy to notice that battery life is better than expected. The CPU and GPU alone draw around 100 Watts, which is a massive power drain. However, ASUS have fitted the A15 with a 90 WHr, 4-cell Li-Ion battery pack which will hold a charge for around 7 hours of normal use and 9 hours of video playback. You should expect that time to drop to around 2 – 2 and half hours when gaming while unplugged.
Conclusion
In closing, I have to say the ASUS TUF Gaming A15 FA506II-AS53 is a pretty well-balanced and rounded gaming laptop. It offers more than you'd expect from an $800 notebook. It has beautiful design, comes with abundant features and has great hardware specs. In my book, the ASUS has a few flaws, namely the amount of RAM which you'll want to upgrade, some concerns regarding heat management when gaming and the lack of Wi-Fi 6. None of them are deal breakers. At the moment, I think this model is a best buy, alongside its budget friendly counterpart from Lenovo.
ASUS TUF Gaming A15 FA506II-AS53
Graphics and display
8.5/10
Interface and networking
8.5/10
Portability and battery life
7.5/10