The all-new ASUS VivoBook Pro 15 M6500XV-EB96 stands out as a powerful laptop, combining impressive specifications and a sleek design. Boasting a Ryzen 9 CPU, 32 GB of RAM, a 1 TB SSD, and a GeForce RTX 4060 GPU, this laptop promises exceptional performance and graphics capabilities. In this comprehensive review, we will delve deeper into the key features, performance, design, connectivity, audio, battery life, and overall user experience offered by the ASUS VivoBook Pro 15.
Design and Build Quality
The ASUS VivoBook Pro 15 excels in both aesthetics and build quality. Its slim aluminum chassis not only imparts a premium look but also enhances durability. Its narrow bezels around the 15.6-inch Full HD display offer an immersive viewing experience and makes it ideal for both multimedia consumption and productivity tasks. The portability factor is also well-considered, with the laptop being relatively lightweight and easy to carry.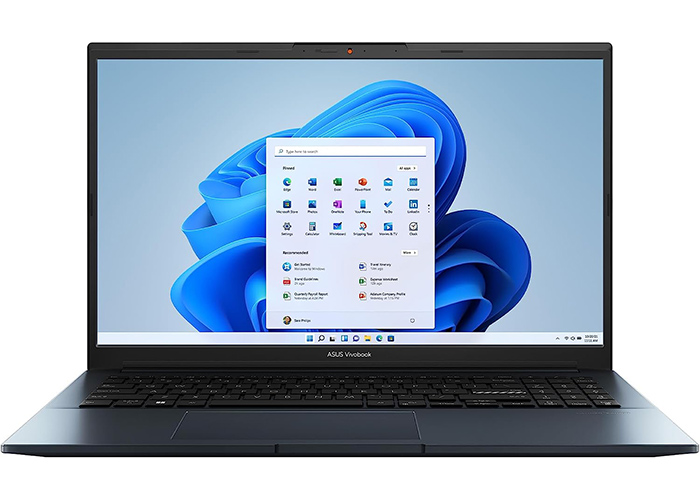 Check price and availability at Amazon.com »
The keyboard on the VivoBook Pro 15 provides a comfortable typing experience with well-spaced keys that have good travel distance and tactile feedback. Its trackpad is smooth and responsive, supporting multi-touch gestures.
Display
The VivoBook Pro 15's display is a visual treat. The 15.6-inch IPS-level panel boasts a resolution of 1920 x 1080 pixels, resulting in crisp and clear visuals. Color accuracy and contrast are impressive with vibrant and lifelike images. The slim bezels help create an immersive experience, while the matte finish effectively reduces glare and reflections, making it a great option for both indoor and outdoor computing. Price considered, whether you're editing photos, watching movies, or working on creative projects, the display quality of the VivoBook Pro 15 will not disappoint.
Performance
Under the hood, the ASUS VivoBook Pro 15 M6500XV-EB96 packs an impressive punch. It's fitted with a beastly AMD Ryzen 9 7940HS processor, capable of handling any task you may throw at it. With 8 cores, 16 threads, a max boost clock of 5.2 GHz and 16 megabytes of L3 cache size, this CPU is as future proof as they come. Multitasking is a breeze, especially considering it comes with 32 gigabytes of LPDDR5 system memory.
The NVIDIA RTX 4060 Laptop GPU delivers exceptional graphics performance, making this notebook a great option for gaming, 3D rendering and demanding creative work on the go. In short, given all the performance the ASUS is saddled with, there's not much you can't achieve with it as a professional.
Storage and Connectivity
Storage and connectivity options are essential considerations for any laptop, and the VivoBook Pro 15 does not disappoint. The inclusion of a lightning-fast M.2 NVMe PCIe 3.0 1 TB SSD ensures swift boot times and rapid file transfers, offering ample space to store large files and multimedia content. In terms of connectivity, the VivoBook Pro 15 is well-equipped with an array of ports: on its left side we have 2 x USB 2.0 ports, while on its right side we can see the following ports: 1 x Type-A USB 3.2 Gen 1, 1 x Type-C USB4.0 Gen 3, HDMI 1.4, a microSD card reader and an audio jack. Additionally, the M6500XV-EB96 supports Wi-Fi 6E and Bluetooth 5.3 for seamless wireless connectivity.
Battery Life and portability
Considering its powerful hardware, the VivoBook Pro 15 offers decent battery life. Under light to moderate usage, you can expect around 7-8 hours of battery life, which is respectable for a laptop of this caliber. However, resource-intensive tasks like gaming or video editing will drain the battery more quickly. It is recommended to have the charger on hand for extended use during demanding tasks.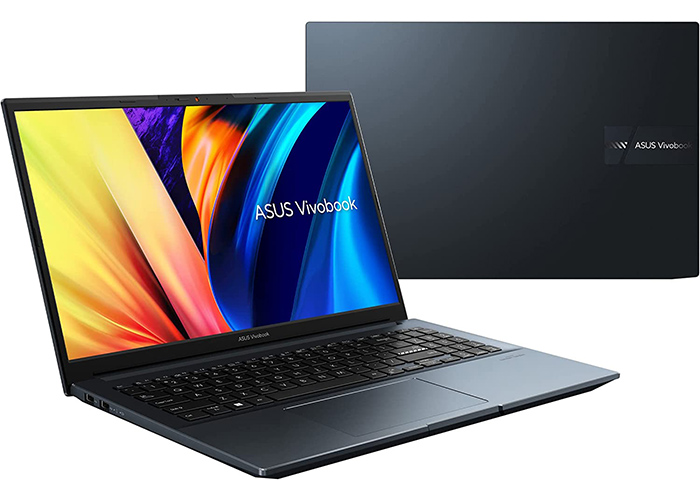 The ASUS VivoBook Pro 15 M6500XV-EB96 not only excels in performance but also offers a commendable level of portability. Weighing just 3.97 pounds, it is remarkably lightweight for a laptop with such powerful specifications. This makes it an excellent choice for professionals, students, and digital nomads who need to carry their laptop on the go.
Conclusion
All in all, I believe the ASUS VivoBook Pro 15 M6500XV-EB96 laptop is a noteworthy machine, combining powerful hardware, a sleek design, and impressive display quality. With its Ryzen 9 CPU, 32 GB of RAM, 1 TB SSD, and GeForce RTX 4060 GPU, it delivers exceptional performance for demanding tasks, including gaming, content creation, and multitasking. The immersive display, comfortable keyboard, and high-quality audio contribute to an enjoyable user experience. While battery life and portability are not top-tier, the ASUS VivoBook Pro 15 will work wonders for professionals and creatives seeking a high-performance laptop without compromising too much on other areas.
ASUS VivoBook Pro 15 M6500XV-EB96 Tech Specs
Processor
AMD Ryzen 9 7940HS
CPU core count
8 cores, 16 threads
CPU cache size
16MB L3
CPU frequency
4.0Ghz up to 5.2GHz
System memory
32GB
Memory technology
LPDDR5 RAM on-board
Memory configuration
unknown
Maximum memory
32GB
Storage capacity
1TB
Storage drive type
M.2 NVME PCIE 3.0
Additional storage slots
No
Screen size
15.6 inches
Touch enabled
No
Display technology
IPS, 144Hz refresh rate
Display resolution
FHD, 1920 x 1080 pixels
GPU
NVIDIA GeForce RTX 4060 Laptop
GPU type
Dedicated
GPU specs
8GB GDDR6 VRAM
2370 MHz clock
128 bit
Interface options
1 x Type-c USB 4.0 Gen 3
1 x Type-A USB 3.2 Gen 1
2 x Type-A USB 2.0
1 x HDMI 2.1 FRL
microSD Card Reader
Audio Combo Jack
Networking
Wi-FI 6E (802.11ax 2 x 2)
Bluetooth 5.3
Backlit keyboard
Yes
Webcam
1080p 30fps
Operating system
Windows 11 Pro
Battery type
3-Cell Lithium-Ion, 70 Whr
Expected battery life
up to 8 hours
Weight
3.97 lbs.
Dimensions
14.17″ x 9.22″ x 0.78″