It's no secret that Dell has managed to successfully compete with Apple at the top of the ultrabook market. Their XPS series are breathtakingly beautiful, well-equipped and full of useful features for the traveling professional. Today, I'll be talking about the Dell XPS 9360-7727GLD-PUS notebook.
Review
This specific model, as its full name suggests comes in rose gold color, a sort of champagne like, buttery color tone which isn't flashy at all. The pleasant hue adds character and is used to make a tasteful statement about the owner of this otherwise understated device.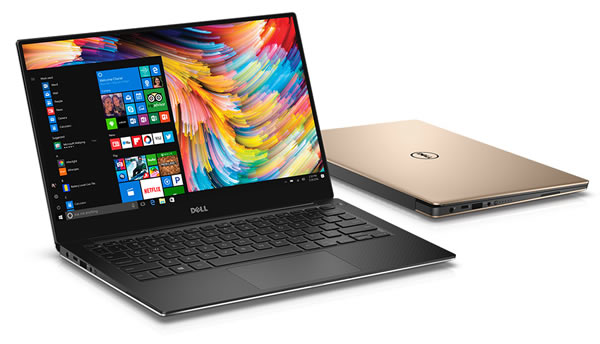 As is the case with other models from the XPS series, the Dell XPS 9360-7727GLD-PUS features the famous Infinity Edge Display, essentially maximizing the screen space by reducing the bezel around it to an absolute minimum. Thus, Dell has managed to fit the 13.3″ display inside a 12″ body.
What's more, this laptop is cut from a single block of aluminum. This process ensures that your device will be as sturdy and dependable as it gets, without compromising on essentials such as weight or width. Constructed out of carbon fiber, its palm rest will ensure a cooler area than what traditional materials allow. Also, it's worth mentioning that the display is made from Corning Gorilla Glass NBT.
Performance
The Dell XPS 9360-7727GLD-PUS comes equipped with a state of the art, 7th generation Intel Core i7-7500U processor. This CPU will satisfy all your computing needs, whether they mean moderate multitasking and daily tasks or heavier usage such as photo & video editing, running virtual machines or even programming.
Find out more about the XPS on Amazon »
As it stands, the Intel Core i7-7500U has a base frequency of 2.7 GHz that goes up to 3.5 GHz under turbo mode. It has a cache size of 4 megabytes and features two physical cores. These numbers translate into desktop CPU like performance, without cutting on battery life.
The Dell XPS 9360 has 8 gigabytes of LPDDR3 @ 1866MHz RAM. To be perfectly honest, I would have expected Dell to fit double that amount in a device which costs around $1650 at the time of this review. This doesn't mean it'll be sluggish. On the contrary, the vast majority of users won't need more than 8 gigs of RAM to accomplish everyday tasks.
However, those power users in need of powerful workstations are in luck, since you can add another 8 gigabytes of system memory to the setup by yourself. Just make sure to check with Dell and find out the exact memory module configuration before doing so.
Storage space is typical for an ultrabook in this price range. The Dell XPS 9360-7727GLD-PUS has a 256-gigabyte PCIe Solid State Drive installed. Although not as roomy as Hard Drives, the speed benefits of SSDs, and especially of PCIe models, far outweigh the benefits of having swaths of storage capacity.
Graphics and Display
Graphics are, again, top-notch. Even if we're talking about integrated graphics, Dell have fitted the latest generation of Intel Iris Plus Graphics 640 inside the rose colored XPS. This on-board solution is on par or even better than entry-level dedicated video cards from NVIDIA for instance according to benchmark tests.
This high performance integrated graphics solution will aid you when dealing with visual work, such as photo editing, illustrating, designing and so on, while also allowing you to play popular multiplayer games online without it feeling slow paced.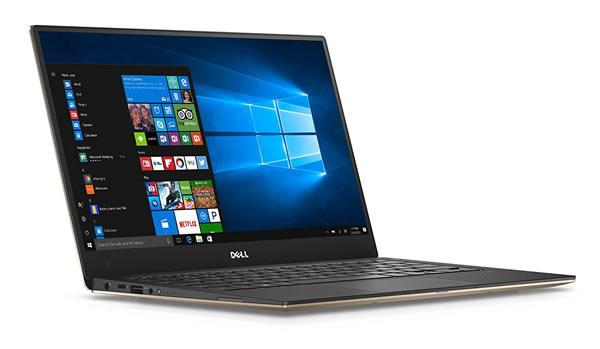 Now, its display is a real work of art. You can tell the 13.3 inch screen is the main attraction of this notebook by the way everything, from the charcoal colored interior, to the ultrathin bezel is used to guide the eye towards it.
Click to check the latest price at Amazon.com »
This Dell XPS model boasts one of the best displays that have ever been fitted on a notebook. It's a QHD+ (3200 x 1800) IGZO IPS InfinityEdge touch display. Not only is it ultrasharp thanks to its massive resolution which translates into a pixel density of 276 ppi, but is also bright as daylight at 400 nit and displays vivid colors (a color gamut of 72% and contrast ratio of 1000 to 1).
Interface and connectivity options
The Dell XPS 9360-7727GLD-PUS has just enough ports for the modern user to make use of them properly. Not too many, not too few. They're just right, in my opinion. The two USB ports and two speakers sit on opposite sides of the laptop – a nice example of user-friendly design. These are the available ports:
1 x Thunderbolt 3 port
2 x USB3.0 ports
1 x COMBO Audio Jack
1 x SD Card Reader
As for connectivity options, we find the usual premium wireless adapter being featured: the 2×2 802.11ac Killer 1535 WLAN card with built-in Bluetooth 4.1 technology.
Portability and battery life
When talking about a Dell XPS, it's imperative to take into account its weight and width into consideration before jumping to conclusions. This model makes no exception to the rule Dell has upheld over the years to make these ultrabooks as light and easy to carry as physically possible.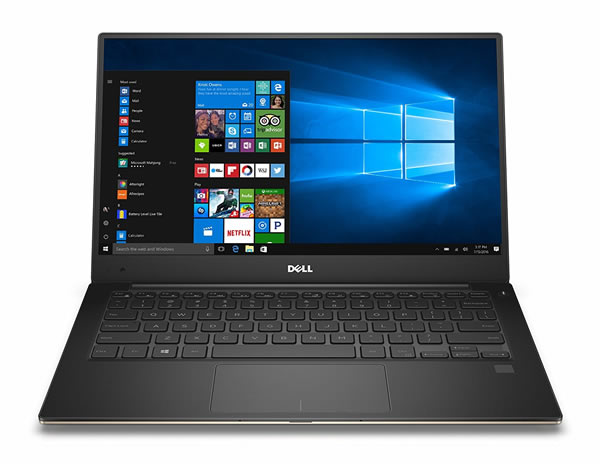 As such, the XPS 9360-7727GLD-PUS weighs only 2.9 pounds, making it one of the most lightweight touch enabled 13.3″ ultrabooks on sale today. What's more, thanks to its extra thin bezel, the whole screen I've mentioned earlier fits inside a 12″ body (11.98″ x 7.88″ x 0.6″).
Click here to buy it now at Amazon.com »
Impressive is a soft word to use when describing its battery life. A full charge will last anywhere between 13 and 15 hours, depending on your usage pattern. It's crazy how much freedom such a long battery life can give you, whether you're on transpacific flights, during a long meeting or jumping from cafe to cafe in Chiang Mai as a digital nomad.
Conclusion
All in all, I believe the new Dell XPS 9360-7727GLD-PUS is perhaps one of the more fine ultrabooks being sold today. It has almost everything you'd require from such a premium device: powerful components, high quality display, fantastic battery life and quality build materials. My only complaint is that it should have had more RAM to truly satisfy even the most demanding of users from the get go. Other than that, I think it's close to perfection as far as ultrabooks are concerned!
Summary
Reviewer
Review Date
Reviewed Item
Dell XPS 9360-7727GLD-PUS
Author Rating