One of the best looking Chromebook devices on the market has had its componenents upgraded recently. Today I'll be talking about the HP Chromebook 11-v020nr model, an 11″ laptop designed for portability and ease of use.
Review
Many configurations are available through HP when buying a Chromebook and they're all pretty great, no matter how you may look at them. Starting from the affordable price point -we're talking about a sub $300 touch device- to the potent processing power and almost unrivaled travel potential this laptop has.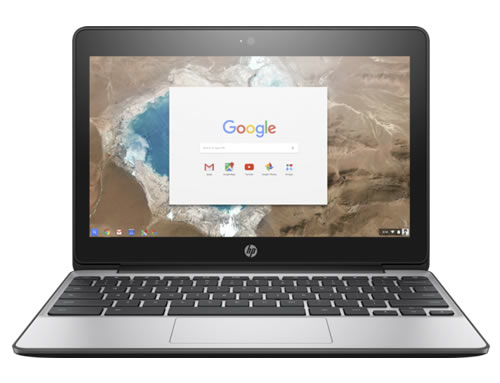 The HP Chromebook 11 G5 is one of the most balanced and beautiful Chromebooks to have appeared this year and this specific model, the 11-v020nr, makes no exception. Well suited for both students and traveling professionals, writers or simply average users, I'm sure this notebook will feel natural in the hands of many. I'll elaborate below.
Performance
When talking about the processing power of a Chromebook, I think it's worth mentioning the price of the device. For under $300 you get a dual core Intel Celeron N3060 CPU. It's well adapted to perform everyday tasks, such as writing emails, editing documents, browsing the web or streaming media content. It's not the fastest, nor is it the slowest processor, but it's geared toward energy efficiency above all. Raw power comes in second place for the tiny Celeron, something you'll likely notice should you decide to push its limits too far.
[easyazon_link identifier="B01LCT3XX8″ locale="US" tag="laptop0b2-20″]Find out more about the HP on Amazon »[/easyazon_link]
For most users who only use a portable device such as this Chromebook for light work, research or mundane tasks, the Celeron N3060 will handle just fine.
The HP Chromebook 11-v020nr has 4 gigabytes of system memory installed. This amount is more than what you'll need to perform the tasks I mentioned earlier when discussing about the processor. The 4 gigs of LPDDR3 SDRAM are not user upgradeable, since the memory is soldered on the motherboard. However, I don't think anyone will need more than what's already installed to multitask successfully between 4-5 open apps and a dozen or more browser tabs.
Storage space is tiny, a reality we've come to terms with in the last years since affordable Chromebooks took off. The HP Chromebook 11-v020nr has just 16 gigabytes of available storage space on a eMMC drive. This flash drive, although faster than a HDD, is somewhat slower than an SSD. Don't worry, Chrome OS will boot in seconds and apps will run just as smooth on it.
As for those who are concerned about the lack of storage space, Google has your back on this one. The current offer states that every Chromebook owner can redeem within 180 days of purchase 100 gigabytes worth of storage space for 2 years without additional costs via Google Drive. This deal will multiply your storage space six times, as long as you're connected to the internet.
[easyazon_link identifier="B01LCT3XX8″ locale="US" tag="laptop0b2-20″]Click here to check the latest prices on Amazon »[/easyazon_link]
Graphics and Display
As you're probably expecting, a dedicated video card is out of bounds for such an affordable notebook. The HP Chromebook 11 G5 comes with an integrated Intel HD Graphics 400 card. It will do a decent job at running mobile games and browser graphics, as well as stream HD content without stutter or freeze times.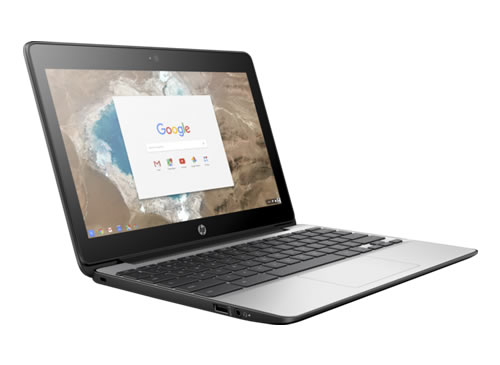 The display is rather spectacular for a sub $300 notebook. The 11-inch screen features an LED HD UWVA (ultra wide viewing angle) slim touch enabled display capable of a display resolution of 1366 x 768 pixels. It's not full HD, but it doesn't need to be since the screen is so compact. Characters are sharp, the screen is bright, the colors are very vivid thanks to the presence of IPS techology.
Furthermore, to protect from scratches or accidental drops, HP have fitted the touchscreen with Corning Gorilla Glass NBT.
Interface Options
I can only describe the available assortment of I/O ports the HP Chromebook 11 G5 comes with as minimal. Just enough options for the travel enthusiast or for your home multimedia needs, the HP isn't filled to the brim with ports, and maybe that's a good thing.
[easyazon_link identifier="B01LCT3XX8″ locale="US" tag="laptop0b2-20″]Buy it now at Amazon.com »[/easyazon_link]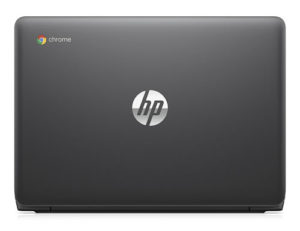 I'm not sure I'd want extra USB ports just to know they're there without actually using them. Here are the ports:
2 x USB 3.0 ports
1 x HDMI-out
1 x Audio Combo Jack
1 x Digital Media Reader
Networking
The HP Chromebook 11-v020nr comes with a state of the art Intel 7265 dual band (2×2), 802.11ac wireless card. This means faster download speeds, less latency than previous generations and better signal quality when connecting to compatible routers. This is especially useful in crowded environments where a router has to deliver data packages to a high number of connected devices. The 802.11ac protocol addresses and mitigates such issues. Also, the HP comes with built-in Bluetooth 4.2 technology for when you want to pair and sync with your phone or other devices.
Battery Life and Portability
Thanks to the energy efficient processor, the fanless design and to the 2-cell, 44 Whr Li-Ion battery pack, the HP Chromebook 11 G5 can hold a charge for up to 12 and half hours! That's almost two day's worth of office work without needing a wall socket. The long battery life stands testament to this notebook's propensity for life on the road and flexibility.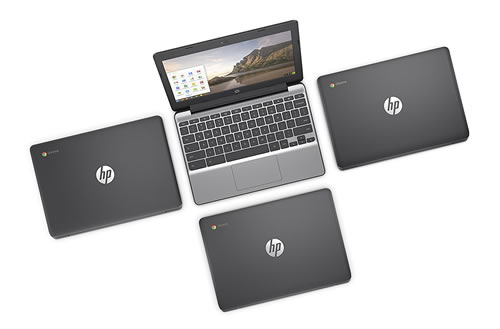 It's also light as a feather, weighing only 2.6 pounds and just 0.72″ thin. Therefore, it can be packed in a purse, messenger bag or backpack with ease. You won't feel overburdened by its presence, especially since the charger isn't really needed on trips close to home.
Final words
[easyazon_link identifier="B01LCT3XX8″ locale="US" tag="laptop0b2-20″]Buy it now at Amazon.com »[/easyazon_link]
I think the HP Chromebook 11-v020nr is a great travel companion for professionals or enthusiasts who don't stray too far away from the grid and want to remain connected with the world while also exploring. The Chromebook will feel natural on someone's lap in an airport, on an office desk, in a coffee shop, in the hands of a young student or really anyone who values mobility and convenience above all. Adequate, inexpensive and friendly is how I'd describe the new HP Chromebook 11 G5 11-v020nr model.
Summary
Reviewer
Review Date
Reviewed Item
HP Chromebook 11 G5 (11-v020nr)
Author Rating