Samsung have just released a new 2021 Chromebook model, the Chromebook 4 XE310XBA-KC1US. It is an affordable and well suited laptop for school tasks and everyday basic computing. And while the Samsung isn't the best Chromebook out there, its price makes for an attractive option to consider as a secondary device.
Review
The 2021 Samsung Chromebook 4 isn't a full-featured laptop. Rather, it fills a gap between what you'd normally need from a tablet and a notebook. Perfect for the most casual of users, this Chromebook is a durable device, thanks to its solid framework and surprisingly well-chosen materials.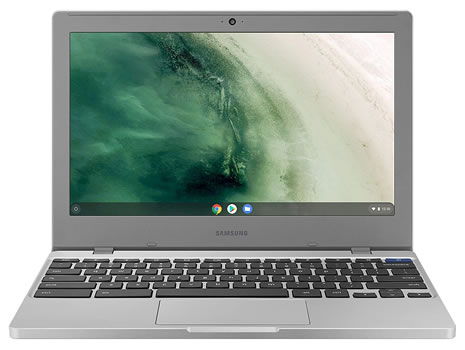 Check availability and prices at Amazon.com »
Design-wise, the 11-inch Chromebook 4 isn't much different from last year's model. It looks somewhat bulky. However, I found this bulkiness to be a reassuring feature, especially when comparing it to similarly priced devices which felt significantly more flimsy.
Far from perfect, the Samsung Chromebook 4 XE310XBA-KC1US model lacks the benefit of an expandable SD card slot. A deal-breaker for some, not much of an issue for other users. If you don't plan on using it for storing files locally, I doubt this will be much of a hassle in the long run. Especially since all new Chromebook devices come with a one-year Google One subscription for free, giving you 100 gigabytes of storage space via Google cloud services.
Performance
Performance-wise, the Samsung Chromebook 4 isn't stellar at all. Its on par with similarly priced models. Even if standard system memory is more than what you'd get a couple of years ago, software options have also evolved in the same direction. So, the Chromebook 4 XE310XBA-KC1US is fitted with a Pentium N4020 processor from Intel. This is a dual-core entry-level CPU which will get you through your day. You won't have to worry too much about pushing it too hard. Its well suited to run almost all Chrome OS apps.
System memory is adequate for daily use and basic tasks, but you won't be able to further extend it, should you want to. You'll be able to multitask, edit documents, browse the internet, edit photos and lightly edit videos to some extent.
Find out more about the Samsung Chromebook 4 on Amazon »
Storage space is an issue. This model, the XE310XBA-KC1US, comes with just 32 gigabytes of capacity. No SD card slot is available, so you'll have to rely on cloud storage solutions for all your files, small or large. The eMMC drive is adequate, especially considering all other specs. You shouldn't expect any bottleneck, apart from system memory at times. Especially when browsing memory intensive websites and such.
Graphics and display
Some users have complained about this model's display quality. More precisely, narrow viewing angles have left some disappointed. Even for a cheap laptop, I find this unacceptable. There are other full-sized models that don't cost much more with better screens. You shouldn't worry about it not featuring a Full HD display. At 11 inches, its screen is small enough to achieve a sufficiently good pixel density.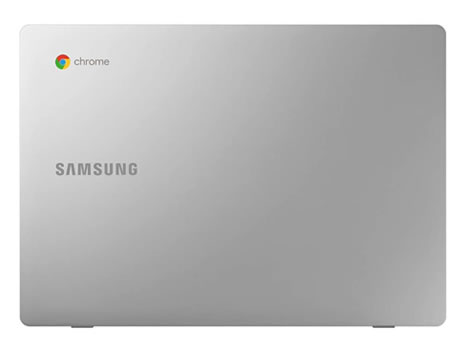 Graphics-wise, the Samsung Chromebook 4 features a standard on-board Intel UHD Graphics 600 GPU. It will play online content without any issues, allow you to edit photos and videos using apps you'll find on the Chrome Store, but don't expect any more from the Samsung in terms of graphics performance.
Interface and networking
Interface options are plentiful, the Samsung having one USB Type-C port, two USB 3.1 ports and one USB 2.0 port, standard HDMI output, but no SD card slot, as mentioned earlier. You get Wi-Fi 5 (802.11ac) and Bluetooth 4.0. It's not exactly cutting edge technology, yet for around $200 I can't possibly complain.
Portability and battery life
The new Samsung Chromebook 4 isn't that much different from the old model in terms of weight and battery life. Weighing just 2.6 pounds, or around 1.2 kg, this model is a great option to consider for those who are looking for an ultralight cheap device. It's not the most lightweight notebook, especially considering its reduced size, but I'm forced to make the price argument yet again. You won't find a lighter laptop for less.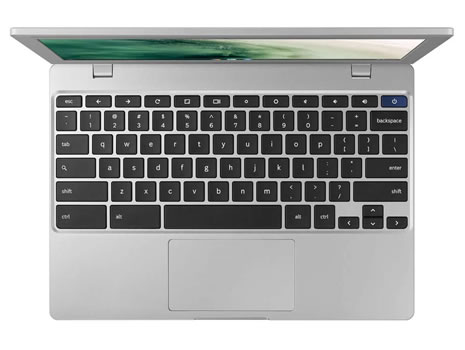 Battery life is more than acceptable. One charge will last around 10 hours in real-life scenarios, maybe a bit less. This means that the Chromebook 4 is an ideal device for those who need the flexibility of an ultrabook in terms of weight and battery life, but don't actually need that much power from their laptop.
Conclusion
All in all, I think the Samsung Chromebook 4 XE310XBA-KC1US is an OK Chromebook. Its performance and features are on par with whatever expectations you might have from a sub $250 laptop. That being said, I guess both its display quality and lack of an SD card slot are real issues for any user who's thinking of buying it. Overall, I think it's worth it, especially for its portability factor. You'll just have to really adjust your expectations before using it for the first time.
Samsung Chromebook 4 XE310XBA-KC1US system specs
| | |
| --- | --- |
| Processor | Intel Celeron N4020 2 cores, 4MB cache, 1.1 up to 2.8 GHz |
| Memory | 4GB on-board DDR4 SDRAM |
| Storage | 32GB eMMC drive |
| Display | 11.6″ HD matte LED |
| Graphics | Intel UHD Graphics 600 |
| Interface | USB 3.1 Gen 1 Type-C 2 x USB 3.1 Gen 1 Type-A USB 2.0 HDMI |
| Connectivity | Wi-Fi 5 (802.11ac 2×2) Bluetooth 4.0 |
| OS | Chrome OS |
| Battery | 2-cell, 39 WHr Li-Ion battery Up to 10 hours |
| Weight | 2.6 lbs (1.17 kg) |
Samsung Chromebook 4 XE310XBA-KC1US
Graphics and display
4.5/10
Interface and networking
7.5/10
Portability and battery life
8.5/10