The Acer Aspire 5 A515-55-35SE is a budget friendly laptop with adequate hardware, great for handling everyday basic tasks. This model has been around for a couple of months now, yet users haven't complained about much in terms of long-term build quality issues, major hardware faults, or general user experience issues.
Review
To start off, I believe the Acer Aspire 5 A515-55-35SE is a well suited option for users who want an affordable and simple enough full-featured laptop for their daily computing needs around the house or the office desk. It is equipped with an Intel Core processor, which is leagues ahead any Celeron you might find in other cheap laptops. This feature alone makes the $400 price tag (available at the time of this review) well worth it.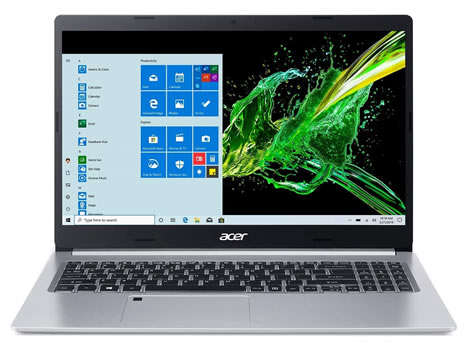 This is a daily driver, but don't expect it to lift much more weight than it can handle. It's nowhere near as fast as an i5, but will run programs much more smoothly than a Celeron ever will. Also, what I like most about the Aspire 5 is how easily you can upgrade it. You won't be stuck with what Acer have fitted it with, should you want to expand its capacity. And I think you'll want to.
Acer have added some nice features to this otherwise barebone notebook, such as a backlit keyboard, a fingerprint reader, and an aluminum top cover.
Performance
The Acer Aspire 5 A515-55-35SE comes with a 10th gen Intel Core i3-1005G1 processor. This is a dual core CPU with 4 megabytes of cache and a frequency range between 1.2 GHz and 3.4 GHz. It's not a stellar processor, but it will handle every daily job with ease. Benchmark tests suggest the Core i3 will make the Acer more useful as an all-rounder than a cheaper ASUS L410 for instance.
As for system memory, the Acer Aspire 5 comes with 4 gigabytes of DDR4 SDRAM installed. Worry not, for you will be able to easily expand it. This amount is installed as a single non-removable module. However, there is an extra free slot in which you can add either 8 or 16 gigabytes of extra memory. Personally, I'd only expand it to 12 gigabytes in total, given this is a budget friendly laptop after all. This amount will allow you to multitask with ease and run various editing software without experiencing any major lag. Also, you will be able to run certain non demanding games after upgrading its RAM. Think Minecraft, CS:GO, indie games, older titles, and so on.
Storage capacity isn't spectacular by any means. The A515-55-35SE model only has 128 gigabytes of space available. However, when compared to cheaper models, one major improvement is technology, since the Acer features a NVMe solid state drive, instead of some slower eMMC solution. It's a dependable drive and speedy enough for all your daily needs. If you think 128 gigabytes won't be enough, you can also buy an additional 2.5″ SSD to insert in a free slot and further expand it. I'd recommend only keeping the operating system and installed programs on the 128GB drive, and everything else on the extra drive.
Display and graphics
As mentioned in a previous review about the i5 Aspire 5 A515-56-50RS, display quality is on par with most mid-range all-rounders. However, given the fact that this model is about $200 cheaper, I think its display is more impressive than most similarly priced laptops. The Acer A515-55-35SE features a 15.6″ FHD IPS anti-glare display. I found its brightness to be slightly above average, even in direct sunlight conditions, viewing angles are great, but color accuracy is somewhat off. It's a great display if you plan on using to browse the internet, do some home office tasks, send emails and stream some online content, but not so much if you plan on seriously editing photos or video files.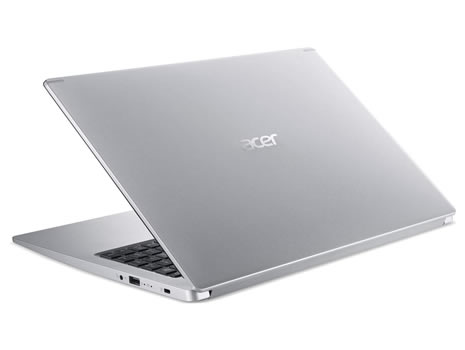 Its graphics department is also unfit for any professional work. The on-board Intel UHD Graphics will handle online streaming with ease, any lightweight editing software, and even allow non-demanding games to be played, but not without upgrading system memory first.
Check availability and prices at Amazon.com »
For instance, take Minecraft. Unbox it and you'll likely get around 35 fps @ FHD with quality set to very high. But if you were to add another 8 gigabytes of RAM (12 gigabytes in total), Minecraft will then run at 60+ fps. However, don't expect to play any AAA titles like Cyberpunk, RDR2, CoD: Warzone, and so on.
Interface and connectivity
Interface options are well suited for a desktop replacement. The Acer Aspire 5 A515-55-35SE features extensive connectivity and sufficient ports for all your external devices:
Type-C Gen 1 USB 3.2 port
2 x Type-A Gen 1 USB 3.2 ports
Type-A USB 2.0 port
HDMI-out
Audio combo jack
New-generation wireless is available, which is fantastic news. It makes the Acer so much more future-proof, even if hardware-assisted performance isn't on the same level what you'd get out of a Core-i5 or Core-i7 laptop:
Wi-Fi 6 (802.11ax) with 2×2 MU-MIMO technology
Bluetooth 4.2
Gigabit Ethernet
Portability and battery life
I'm sorry to say that portability is lacking. After all, we're talking about a 15-inch laptop which weighs around 4 pounds. Don't expect to commute with it, or even count on it as a travel companion. It's simply too heavy and too cumbersome to be carried around with ease. Battery life is also nothing short of average, at best.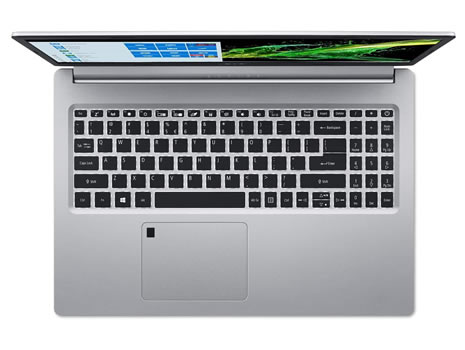 Official numbers rate it at 8 hours of battery life per charge. You should realistically expect around 6 to 7 hours of battery life when actually working on it. Having said that, I think the Acer Aspire 5 A515-55-35SE is good enough to act as a home/home office/office laptop. Take it with you on the couch, to a colleague's desk, or to the kitchen to follow an online video recipe while cooking. If you want to be portable, there are better options to consider.
Conclusion
All in all, the Acer Aspire 5 A515-55-35SE is a modest all-rounder, perfect to have around the house. It is heavy, sometimes cumbersome, but it doesn't try to be something that it isn't. Also, you'll likely need to buy extra hardware (more RAM and an extra SSD) in order for it to achieve its full potential. Daily home or office tasks will be handled without a hitch, so will lightweight games, coding, or photo editing. Just don't expect it to heavily multitask or to run any 3D rendering software optimally. This is not such an all-rounder. It's more of a casual laptop to have around instead of your old desktop.