ASUS have recently unveiled a new and very affordable laptop line: the L410 series. Today, I'll be talking about the ASUS L410MA-DB02 model, which is being sold for about $250 at the time of this review. The L410 is basically an improved and updated version of the brand's immensely popular E406 series. In this review, I'll to answer whether this model's price tag should be considered a warning or a great deal for any potential users.
ASUS L410MA-DB02 Review
The ASUS L410MA-DB02 is a 14-inch budget friendly laptop designed for casual users as a direct competitor to the myriad of affordable Chromebooks out there. Its main advantage is having a full featured operating system. It comes with Windows 10S installed out the box. Upgrading to a non-restricted Windows 10 version comes at no extra cost. What's more, it's a fast and hassle free operation you can do within minutes after unboxing it.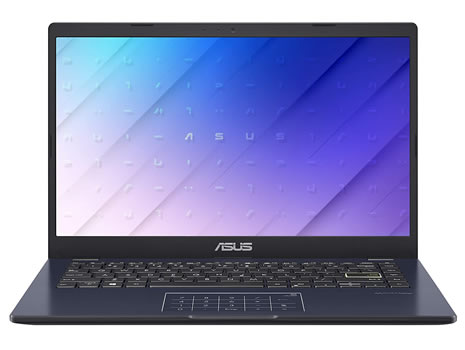 Check availability and prices at Amazon »
The L410MA-DB02 is not that much different from its smaller sibling, the 11.6″ ASUS L210 model I've recently covered in a review. These two models share the same hardware options. Yet, each one offers a different experience via size and potential use scenario.
From a value-oriented standpoint, you won't find a similarly priced laptop with decent design and solid build quality. ASUS have proved they understand their target audience well by adding a couple of otherwise premium features to this budget friendly laptop series. It's obvious that the L410MA-DB02 will be primarily used for media streaming, editing documents, chatting and light home office use.
As such, ASUS have added to this already fantastic deal a backlit keyboard with good travel distance and overall feel, a 180-degree rotating hinge, their innovative ASUS NumberPad feature, which transforms the touchpad into a fully functioning number pad for easier data input, and a Full HD display for you to stream your favorite shows on, whereas the 11.6″ L210 only has an HD capable display. Plus, the laptop's fanless design allows for a more silent environment while concentrating on your work.
Processing power
The ASUS L410MA-DB02 is equipped with a rather sluggish Intel Celeron N4020 processor. It is a dual core, energy efficient CPU with a cache size of 4 megabytes and a thermal design power of just 6 Watts. Sure, it lacks the necessary power you may need in order to actually multitask, or run some more advanced software. Performance-wise, the Celeron doesn't even compare with an Intel Core i3, but also doesn't cost nearly as much.
That being said, it will work just fine if you won't push it around. Tasks like writing emails, editing documents and spreadsheets, organizing conference calls, casually browsing the web and streaming online content won't be an issue for this barebones processor. It's unlikely for you to have any issue with the Celeron if you know its limitations and adjust your expectations accordingly.
System memory
System memory is limited at 4 gigabytes of DDR4 SDRAM. You may think that it's not enough, especially considering, especially considering the CPU's shortcomings. Truth is ASUS have given the L410 enough system memory to aid in you in your everyday tasks. Sure, heavy multitasking is out of the question. I wouldn't expect it to stutter when actually working on something casual.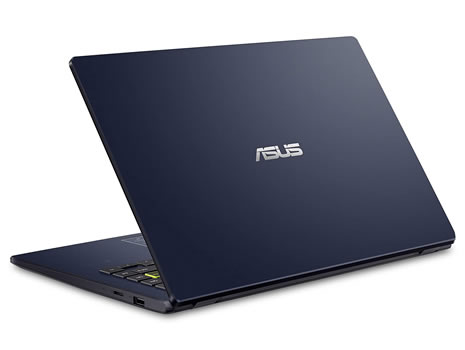 Beware, opening many programs at once or having more than a couple of browser tabs open at the same time will prove difficult for the this specific CPU-RAM combo to handle. Keep your scope limited to one or two tasks at a time if you want to prevent being let down by the ASUS L410.
Storage capacity
Storage space is also quite limited. The ASUS L410MA-DB02 is fitted with a 64-gigabyte eMMC drive. Not as fast as a solid state drive, it's significantly quicker than any traditional hard drive. It makes sense for such an affordable laptop to have a barebones, cost-friendly storage solution installed. Programs will run smoothly on it, Windows will boot up in seconds and you shouldn't expect any significant lag whatsoever.
Find out more about the ASUS on Amazon.com »
You'll probably feel that 64 gigabytes are not enough for your everyday needs. If you plan on hosting your personal photo gallery, or a significant number of large files, I'd recommend buying an additional 128-gigabyte or 256-gigabyte microSD card for you to permanently insert into the ASUS L410 to act as a secondary drive. They've become rather affordable storage solutions. Store your files on the SD card and leave the eMMC drive to handle Windows and installed programs only. It'll make your life so much easier.
Graphics and display
As expected, the ASUS L410MA-DB02 doesn't allow much in terms of graphic performance. The integrated GPU has the same low-performance ratings as the processor. I wouldn't recommend this laptop for casual gaming at all. Perhaps you'll be able to play some older, less demanding titles which should be on sale, but that's about it. Forget about actually working with 3D software, design software and other programs that rely on a robust GPU-CPU combo. The laptop will struggle at times with modern photo editing programs, such as Adobe Lightroom or Photoshop due to its hardware limitations.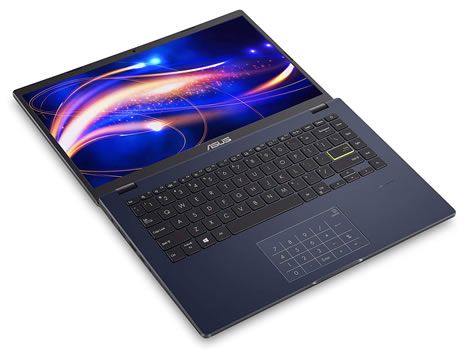 The ASUS L410 is fitted with a 14-inch FHD LED display. Its quality is rather standard, viewing angles aren't great, but the screen is bright enough to work outside. Color distortion is somewhat present. I'm actually pleased ASUS made this model a Full HD laptop, allowing users to stream their favorite shows on the go without compromising too much on picture quality.
Interface and networking
Plenty of interface options are available for all your peripherals. No next-generation interface or networking technology is available, but that's a given if we take cost into account. That being said, I would have liked to see a Wi-Fi 6 wireless card instead of the older generation 802.11ac the ASUS is fitted with. Still, for all intents and purposes, the Wi-Fi 6 may not have added much in terms of actual user benefits. Here are all available I/O and connectivity options:
Interface:
Type-C Gen 1 USB 3.2 port
Type-A Gen 1 USB 3.2 port
Type-A USB 2.0 port
HDMI-out
Combo audio jack
Networking:
Wi-Fi 5 (802.11ac)
Bluetooth 4.1 (1×1)
Portability and battery life
The ASUS L410 laptop really shines when it comes to portability. This is an affordable, but surprisingly lightweight device, which weighs just 2.9 pounds. It also has a compact and thin body thanks to its fanless design and thin screen bezels. As a result, it will work as a laptop to have with you when commuting or traveling, although I think the lighter, 11.6″ L210 is a better choice if you appreciate portability over anything else.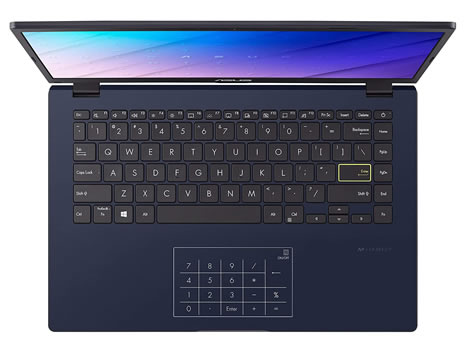 Battery life is also impressive, a full charge of its 3-cell, 43Whr, Lithium-Ion battery pack lasting for about 8 to 9 hours under normal work conditions (think editing documents, sending email, browsing the web and such).
Conclusion
All in all, the ASUS L410MA-DB02 offers unparalleled value for money if you're on the hunt for the most affordable medium sized laptop for your daily or casual tasks. It's a great alternative for both home and home office users who don't require much from a notebook. If you're daily computing routine revolves around lightweight office use, using various productivity software, communicating via email or video conference, the ASUS might just be the most sensible, budget friendly match. Is it a good choice for casual users? Yes, I think it is.