Acer's new lineup of eco-friendly laptops is, in some ways, a natural step towards a more green future. The Acer Aspire Vero AV15-51-75QQ I'll be discussing today is the most powerful out of the two Aspire Vero models launched to date. Not only is it better equipped to handle everyday tasks with more ease, it's also much more future-proof, which makes much more sense given the context.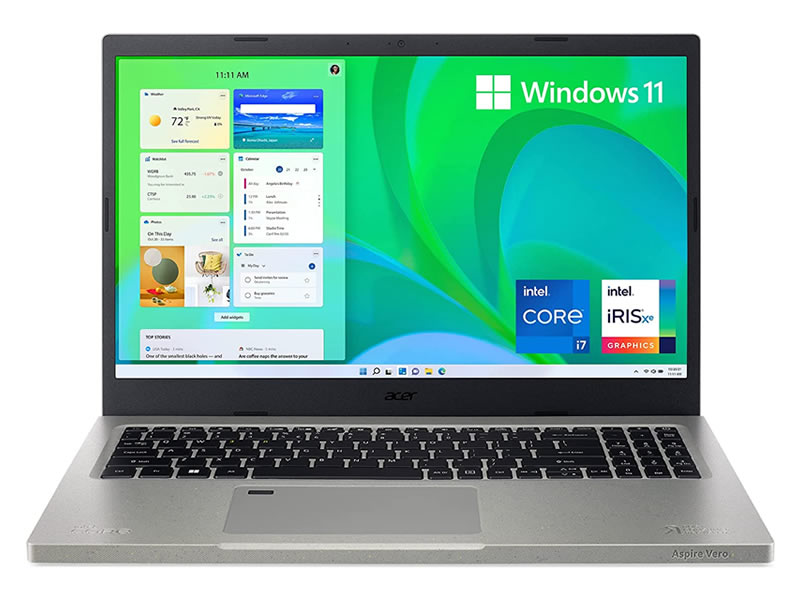 Acer Aspire Vero review: an overdesigned laptop made for environmental conscious users
First of all, the Acer Aspire Vero doesn't have much to show in terms of build quality. It is, after all, a mid-range Aspire notebook. Plastic all around, tacky at times and too pandering for a certain demographic for my taste. The whole premise on which this model is built relies on choosing the environmental-friendly option. An option we should always take. However, design-wise, this feels somewhat insincere.
Check availability and prices at Amazon »
I can't get past the whole "recycled" look that the Aspire Vero gives off at first. It somehow feels less genuine and more forced than anything else. Sure, the paint-free chassis is made up of 30% post consumer recycled materials, the keycaps are made of 50% PCR materials, and they've bolted everything in place with standardized screws, but I think they could have done all that and more without the laptop looking like a recycled, rugged piece of kraft paper.
It seems to advertise this idea of eco-friendliness mostly to others as a marketing ploy, instead of just doing it for a better future, as a company. They even mirrored the R and E keycaps, god forbid you forget how much thought the people at Acer have put into this laptop.
Acer Aspire Vero AV15-51-75QQ performance: rock-solid machine designed for everyday tasks and more
Appearance-aside, the Acer Aspire Vero AV15-51-75QQ offers some great performance all-around. For starters, the notebook is equipped with an 11th generation Intel Core i7-1195G7 processor. This CPU is well suited to handle everything an average user may throw at it. It's a quad-core, 8-thread processor with 12 megabytes of cache size and a maximum clock speed of 5.0 GHz.
Coupled with the Acer's 16 gigabytes of DDR4 RAM, the Aspire Vero will let you edit spreadsheets, run multiple programs, apps and open tabs at the same time with no or minimal slowdown. The 16 gigs of system memory is all that you'll get, though. You won't be able to further extend the RAM, as it's all soldered to the motherboard.
Storage space is generous, but not overly so. The Aspire is fitted with a 512-gigabyte NVMe Solid State Drive. Speedy, dependable and long-lasting, this drive should meet the demands of most users. Furthermore, it's completely in line with what other brands are offering within the same price bracket.
Display quality and graphics
The Acer Aspire Vero AV15-51-75QQ features a 15.6-inch Full HD LED-backlit IPS display. It's neither too dim, nor is it as bright as we'd expect from an ultrabook. I'd say display quality falls neatly in line with all the other Aspire models. Not great, not terrible. It's a good office and multimedia laptop, but don't expect it to accurately display colors if you're seriously into photo editing for instance.
I'd say graphics-wise, the Acer offers exactly what you'd expect. It comes with on-board Intel Iris Xe graphics. You'll be able to run some low-requirement games, and not only. For instance, 4K playback will work without hiccups, you can run Minecraft or other MMORPGs easily, but don't try to play AAA games, as you'll end up disappointed. Office work, media playback, some video editing and some gaming? You bet!
Interface and networking options
The assortment of interface options is adequate, especially considering price and overall quality. On the Acer's left side, we have an RJ-45 port, an HDMI-out port, two Type-A USB 3.2 Gen 1 ports (one of which also features Power-off Charging) and one Type-C USB 3.2 Gen 1 port. On the notebook's right side, we'll find an USB 2.0 port and an audio combo jack, alongside a Kensington lock.
Acer Aspire Vero AV15-51-75QQ features the latest in terms on networking and connectivity, with Gigabit Ethernet, Wi-FI 6 and Bluetooth 5.0 as options for connecting to the outside world.
Portability and battery life
This isn't a laptop to carry around everywhere you go. Despite being more eco-friendly, it's still a 15.6″ mid-ranger. The Acer weighs almost 4 pounds, which makes it a great companion around the house and the office, but less so if you plan on traveling with it. It's a rather cumbersome device to have around yourself while going for a coffee, or to a business meeting. There are better alternatives for those who want ultraportable notebooks.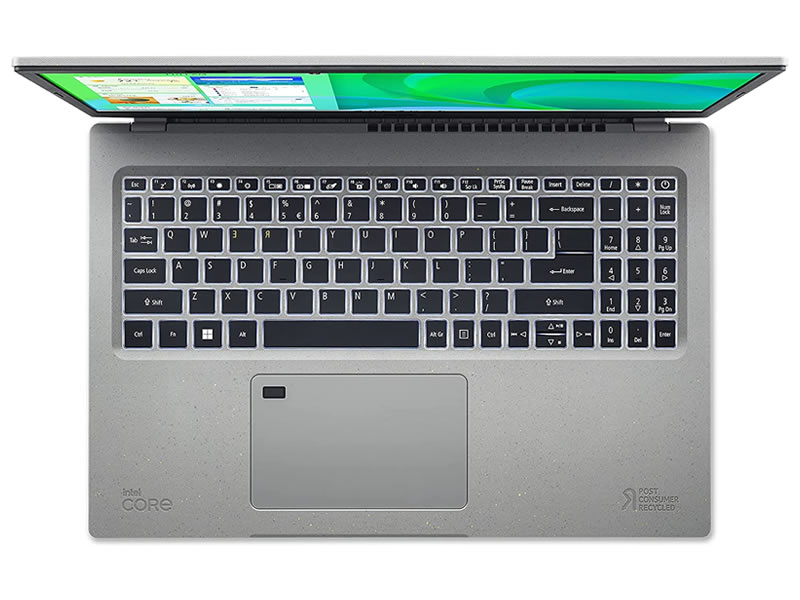 Battery life is also unimpressive, to say the least. A full charge of the Acer's 3-cell Li-Ion battery pack will last around 7 hours, less if you'll actually throw some tasks towards it. In my book, this isn't that much of an issue if you plan on using this laptop as a home office/multimedia laptop or office notebook.
Final thoughts
All in all, I believe the Acer Aspire Vero AV15-51-75QQ to be a good, decent all-rounder to have around the house or around the office. Its appearance is bulky, the keyboard feels a bit cramped and display quality isn't up there with the greatest. That being said, what it lacks in terms of design and features it makes up for in raw performance.
The Acer is a laptop that will get you through your day, no matter what tasks you'll throw at it. It will handle most user's everyday needs, whether you're working from home or just want to relax watching your favorite show online.
For the price, I'd say this is a good buy, especially if you're not bothered with the overall appearance of it. Performance-wise, the Acer Aspire Vero AV15-51-75QQ is as sound as all-rounders get these days.