The Lenovo IdeaPad Flex 5i 82M7004HUX, one of this year's best sold Chromebooks, is a versatile and affordable 2-in-1 portable device which offers both laptop and tablet functionality.
Lenovo IdeaPad Flex 5i: a budget friendly alternative to entry level Windows laptops
Design-wise, the Lenovo IdeaPad Flex 5i has a sleek and modern look. It boasts a slim profile with a sturdy 360-degree hinge that allows it to easily convert between laptop and tablet modes. Although it looks like a premium device, the Flex 5i 82M7004HUX features an all-plastic chassis with a silver finish. Despite all the plastic, the Lenovo Chromebook feels solid and doesn't easily flex when in use or while transitioning between operating modes.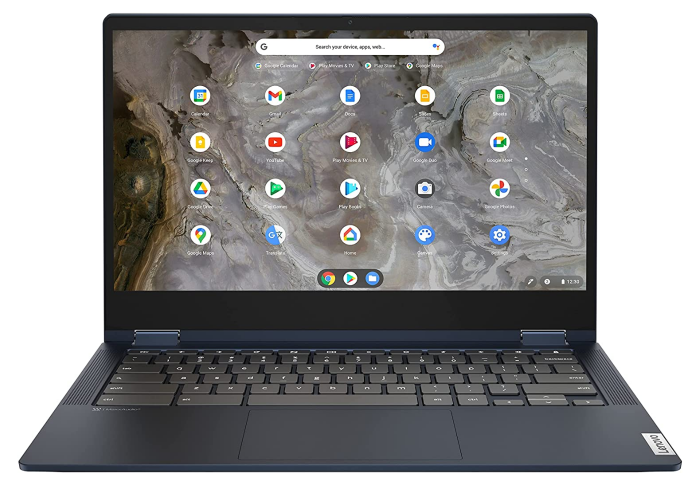 Check availability and prices at Amazon »
The IdeaPad Flex 5i 82M7004HUX features a touchscreen 13.3 inch 1080p IPS panel which offers decent color reproduction and great viewing angles. Its screen provides 67% of the sRGB color gamut, which falls in line with more pricey Windows laptops. Measuring just 250 nits, its brightness will prove sufficient for indoor use and some occasional outdoor adventures, but don't expect it to handle bright sunshine that well. The bezels around the display are thin enough for a more immersive viewing experience, although I find the bottom one to be distractingly thick at times.
The Lenovo Flex 5i 82M7004HUX is a surprisingly powerful device
Under the hood, the Lenovo IdeaPad Flex 5i 82M7004HUX is powered by an 11th generation Intel Core i3-1115G4 processor, 8 gigabytes of LPDDR4x-3733MHz RAM and a 256-gigabyte 2242 PCIe 3.0 NVMe storage drive. Overall, performance is more than acceptable for all your day-to-day tasks such as streaming videos, editing documents or web browsing. Expect it to struggle when put up against more demanding tasks like video editing or heavy multitasking.
Unlike other similar devices, this Lenovo Chromebook has plenty of available memory and storage space, it's unlikely you'll ever run out, especially if you don't use it as a place to store all your media gallery or for much heavier workloads than it was designed for. The fact that the SSD is actually a modern M.2 PCIe 3.0 device is a big plus counting towards the overall quality of the hardware provided by Lenovo here.
Given how aggressively priced the Lenovo is, I'd say that it's actually a best buy if you're able to find it at a discount. If nothing else, the hardware options alone are well worth the sub $500 price tag.
Plenty of I/O options, easy to use, moderately portable
The Lenovo Flex 5i 82M7004HUX has plenty of available ports for all your daily needs. It ships with 2 x Type-C USB 3.2 ports, 1 x Type-A USB 3.2 Gen 1 port, 1 x Card Reader and 1 x Audio Combo Jack. It's worth noting that the two Type-C USB ports support not only data transfers, but also power delivery and video transfer via the Display Port 1.2 protocol. Included charger works well, but is more clunky than expected. However, you can always charge the Chromebook using your phone charger, especially if it's a 45-Watt one.
The keyboard on the Flex 5i is comfortable to type on and has good key travel and tactile feedback. The touchpad is also responsive and accurate. The device also has a fingerprint sensor which is a nice touch and makes it easy to log in to the device quickly and securely.
Battery life is also good, with the device lasting around 8-9 hours on a single charge. This makes it perfect for on-the-go use and for those who are always on the move. Its operating system, the Chrome OS is easy to use and will work just great for those who are already familiar with the Chrome browser. The interface is intuitive and the device is also compatible with Android apps, which can be downloaded from the Google Play Store.
Conclusion
In conclusion, the Lenovo IdeaPad Flex 5i 82M7004HUX Chromebook is a versatile and affordable 2-in-1 device that offers good performance, a comfortable keyboard, and a long battery life. The device has a sleek design, a good display and a good selection of ports and connectivity options. I can't really fault the Flex 5i, especially considering how affordable it is. It makes a perfect companion for students and for those who are looking for a budget-friendly 2-in-1 device.