A new, more extreme version of Acer's Predator 17 gaming laptop series has recently surfaced. The all-new Acer Predator 17X GX-792-703D is a notebook that's been built purely for high-end performance seeking users, without making any compromises.
Review
The Acer Predator 17X GX-792-703D is the second best model from the 17X series, and arguably Acer's third most powerful laptop. This 17 inch device is unapologetically large. I'd argue that it's less of a laptop and more of a portable desktop. WIth the 17X you get the best of both worlds: high-end desktop gaming and performance in a somewhat portable chassis.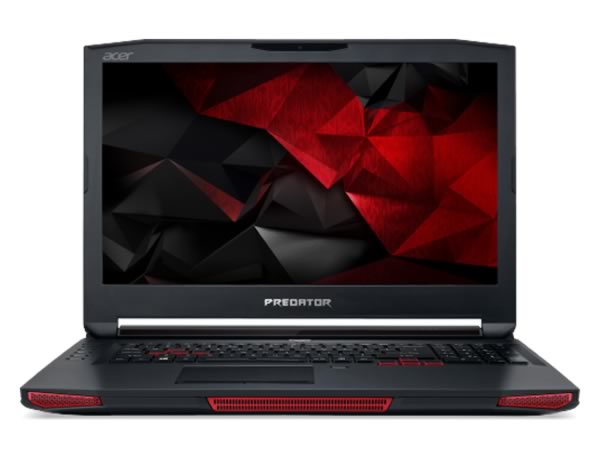 Performance is of no concern here, since it has plenty of power reserve, as we'll discover later during this review. Let's talk design and features. The first thing you'll notice when looking at the Predator 17X is how commanding the whole of the notebook is compared to your average mid-range models or ultrabooks.
Everything, from the necessary thickness to the red accents and oversized rear vent area just screams "POWER". Also, this thing doesn't have a single curved line on its surface. Everything is angled, much like a stealth bomber, but without the "stealth" part.
A $2700 (MSRP price as of today) gaming laptop wouldn't cost as much without some added features. With the Acer Predator 17X GX-792-703D, you get:
Dust defender – Technology which prevents the buildup of dust by alternating airflow directions.
AirBlade fan – Really thin fan blades enhance fan speed, while simultaneously reducing drag and noise.
Improved cooling – A total of three fans help cool off the Predator, with the air intake being positioned at the front of the laptop.
RGB keyboard – The keyboard features four customizable zones, highlighted WASD/arrow keys and several programmable macro keys.
Performance
As of today, you'll struggle really hard to find a laptop with better performance ratings at a similar price. Acer have gone all out when they've decided which components to equip this rig with.
The Acer Predator 17X GX-792-703D features the most powerful 7th generation Intel processor that's currently in production. I'm talking about the flagship Intel Core i7-7820HK CPU: a quad-core beast with 8 threads, a clock speed ranging from 2.9 GHz to 3.9 GHz and 8 megabytes of cache size.
Find out more about this notebook at Amazon.com »
Benchmark tests have placed the 7820HK at the very top of the best mobile processors list: it scored almost 10200 points according to cpubenchmark.net. As such, everything you may throw at it will run smoothly, from freshly launched games to 3D rendering software, CAD, movie editing programs, VM software and so on. This isn't desktop-like performance, it's straight high-end desktop workstation material.
Although it's possible, I wouldn't encourage overclocking this processor, unless you really know what you're doing or if you absolutely must do it. Otherwise, I'd test both the operating temperature and performance parameters to get a feel of how well the cooling system diverts heat under load, and decide later whether it's worth it or not.
The Acer Predator 17X GX-792-703D comes with 32 gigabytes of DDR4 SDRAM installed. Massive data sets, heavy multitasking, playing whatever game you may think of, 3D rendering in no time, you name it: this laptop will handle it with ease. It has almost 4 times as much system memory as your typical ultrabook.
Although 99% of users won't need more than this, some may feel the need to upgrade it further even. Acer has played nice and thought of those people as well. Of the four memory slots, two are easily accessible through a small door placed on the bottom of the chassis. You can install an additional 32 gigabytes of RAM in the form of 2x16GB modules.
There are two storage mediums present on the Predator 17X GX-792-703D. Acer have fitted a 512-gigabyte high speed SATA3 Solid-State Drive and a 1-terabyte 7200rpm Hard Drive. The former is used to host the operating system, which is Windows 10 Home and important software and games, while the latter is employed to keep large media collections, files, etc.
As you can see, all three main performance parameters (CPU, RAM, Storage) should score high marks with virtually every user. What we have here is more power than we actually need.
Graphics and display
Now, the graphics department is no letdown, of course. Such an advanced processor and system memory size couldn't have been matched with anything less than what's considered to be the pinnacle of GPUs at the current moment.
The Acer Predator 17X GX-792-703D has under its hood the latest NVIDIA Pascal series 10 graphics card: the flagship GeForce GTX 1080 with 8 gigabytes of GDDR5X memory and G-SYNC technology. This is the best graphics card you could ask for in a laptop today. Performance-wise, it's on par with its desktop counterpart, meaning you'll be able to enjoy playing every game you can think of at ultra settings. No exceptions.

Also, this GPU will help folks who may use this notebook as a workstation geared toward 3D rendering, illustration, CAD software, animations and so on. One downside exists, however. The laptop will use this card over the integrated Intel HD 630 even when idling, making the whole system quite power hungry.
Read user reviews at Amazon.com »
Traditionally, display quality is scratched by gaming laptop manufacturers to keep prices down. Fortunately, this isn't the case with the Acer Predator 17X GX-792-703D. Its 17.3-inch screen features a Full HD (1920 x 1080) IPS LED-Backlit display. Colors are rich, vivid, with deep blacks and great viewing angles.
I actually believe this model, with the FHD display is a better option than the more expensive one, which features a 4K display, because of the graphics card not being as strained to drive both the high resolution and whatever software/game you may be running, thus keeping it cooler in the long run.
Interface and connectivity options
The Predator 17X has plenty of ports. In fact, "plenty" is an understatement. You can connect 4+ peripherals and output the video towards two 4K monitors. These are the available I/O options:
1 x USB-C port
4 x USB3.0 ports
1 x HDMI-out port
1 x Display port
1 x RJ-45
1 x Headphones-out
1 x Microphone-in
1 x Media card reader
Connectivity options are also satisfying. It's worth noting that there's an interesting technology at work, called the Killer DoubleShot Pro, which enables the use of both Ethernet and Wi-Fi at the same time, without them overlapping. You can choose some programs to run on Wi-Fi, while leaving the Ethernet open for video streaming, or gaming. Here are the Acer's connectivity options:
Killer Ethernet E2400 10/100/1000 Gigabit
Killer 1535 Dual-Band 2×2 MU-MIMO 802.11ac Wi-FI
Bluetooth 4.1
Portability and battery life
If you're expecting this notebook to be reasonably portable, or reasonable in any meaning of the word, you'll be disappointed. The Acer Predator 17X GX-792-703D is 1.8 inches thick and weighs roughly 10 pounds. Yes, 10 pounds. That's double as much as a normal mid-range laptop. Calling this rig a notebook or a laptop is a bit of a stretch, but it is nonetheless more portable than a workstation or a desktop and monitor combo, so there's that.
It shouldn't be carried in a backpack, nor is it comfortable to transport in a messanger bag, or a handbag for that matter. Pro tip: get yourself a spinner carry on luggage bag if you plan on traveling with it. It's the only reasonable way.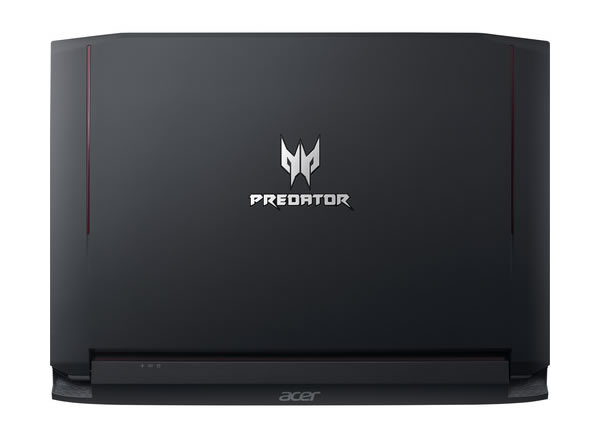 As for battery life, despite of the massive battery pack, given the powerful CPU, GPU, large display and multiple fans operating at the same time, it's no surprise that a charge won't last much more than 3 hours under normal load.
So, in essence, the Predator 17X isn't very portable, but it beats having to carry a PC tower and monitor when you switch places. I guess that's a somewhat fair tradeoff.
Conclusion
The Acer Predator 17X GX-792-703D is, perhaps, the most advanced piece of mobile computing I've ever seen. And it's geared toward gamers, not working professionals. However, it will suit both demographics surprisingly well thanks to its insane blend of high-end components, no-nonsense performance ratings, great screen and expansive features.
Summary
Reviewer
Review Date
Reviewed Item
Acer Predator 17X GX-792-703D
Author Rating