Whatever your thoughts of Lenovo, one thing is certain: they're not an important player in the competitive ultrabook market. Up until now, the company's signature devices were more traditional, bulky even. However, with the launch of the new Lenovo IdeaPad 710S Plus notebook, it would seem like things are about to change for the Chinese manufacturer.
Review
What we're looking at is a stylish, quiet and somewhat different device from what we've been used to in the last two years or so. The Lenovo IdeaPad 710S Plus 80W3006RUS manages to hit the middle ground between what a modern ultrabook should look like and what the average user wants and needs from said device.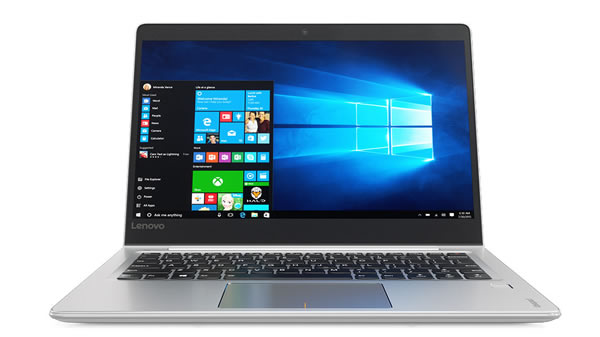 Thus, the resulting 710S Plus is a no-nonsense, beautifully designed piece of technology which proves useful in a multitude of scenarios. It's not the best, not the most good looking, but it's also not the most expensive either.
I feel that it was Lenovo's intention to achieve a healthy balance with their device above anything else. After all, what's a powerful laptop good for, if the battery lasts for 3 hours? This is far from being a jack of all trades, but it manages to tick all the boxes required for a notebook to be competitive.
Performance
The model I'm looking at today is called the Lenovo IdeaPad 710S Plus 80W3006RUS. It sits somewhere in the middle between the series' entry level and top spec models.
For starters, this notebook features a 7th generation Intel Core i7-7500U processor. This one is a favorite of so many brands with their mid-range laptops or ultrabooks. And for good reason. It's fast, reliable, energy efficient, not to mention tried and tested over the years.
Find out more about this notebook on Amazon »
This dual core CPU has a base clock speed of 2.7 GHz, a max turbo frequency of 3.5 GHz and 4 megabytes of cache size. Also, according to cpubenchmark.net, it has scored around 5200 points in tests, which place it on par with some i3 and older generation i5 desktop counterparts. In short, if you are an average user who also needs extra processing power, the Intel Core i7-7500U won't let you down. It has enough of a power reserve to allow even the most pretentious software to run smoothly.
Now, the amount of system memory the Lenovo IdeaPad 710S Plus 80W3006RUS comes equipped with is rather standard among this price bracket: 8 gigabytes of DDR4 RAM. This will allow you to handle large data sets, run photo, video and illustration editing software without problems. However, should you need more, you won't be able to further extend that amount anymore, since the memory modules are soldered to the board.
Storage space is also in line with other similar models. The Lenovo 710S Plus features a 256-gigabyte PCIe SSD, which is way faster than a traditional hard disk drive. A 512-gigabyte drive would have been nicer, even when taking the price into account. Still, the Solid-State Drive it comes with is blazing fast, reliable, silent, and energy efficient. I fully recommend investing in an external hard drive if you need to keep and access your extended file libraries.
Graphics and Display
The Lenovo IdeaPad 710S Plus 80W3006RUS comes with an integrated graphics card: the Intel Graphics HD 620 model. This is the latest graphics technology from Intel and it's almost as good as having a barebone, entry-level dedicated graphics card. As such, some gaming is possible, especially if you're into MMOs, or unpretentious simulators or online FPS games, such as LOL, DOTA, CS:GO, etc.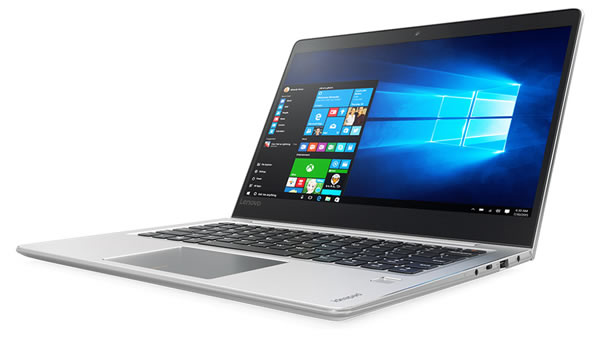 Click to check the latest price on Amazon »
Its 13.3 inch screen features a FHD (1920 x 1080) IPS Matte display with integrated camera. What this means is you get a high resolution display which will enable you to work in bright sunshine conditions and won't distort colors when viewing the screen at an angle. It's a pretty good deal, especially considering the thin bezel which enables the screen to fit in a smaller body.
Interface and connectivity options
The Lenovo IdeaPad 710S Plus 80W3006RUS comes with plenty of options for you to connect your peripherals. However, one essential port that's missing is the HDMI one. You can still plug a monitor or a projector in, you'll have to use the USB-C port instead. These are the available ports:
1 x USB-C port
1 x USB3.0 port (with always-on charge mode)
1 x USB2.0 port
1 x COMBO audio jack
1 x 4-in-1 card reader (SD/HC/XC,MMC)
Connectivity options are great, especially considering they've fitted a superior wireless card: the Dual-Band 2×2 802.11ac Wi-Fi card with built-in Bluetooth 4.0. When connecting to compatible routers, you'll enjoy much faster transfer speeds and less latency or lag issues.
Portability and battery life
This notebook is a true friend of busy people on the go. Why? It's lightweight, weighing just 2.6 pounds, and it's thin, measuring just 0.58″ from the bottom to the top lid. It will fit in most bags, and although it's far from being a versatile 12″ laptop, you can take it with you everywhere you may go, be it the office, to the cafe around the corner, on campus, etc.

However, you may have noticed I didn't call the Lenovo IdeaPad 710S Plus a traveler's laptop. That's because the battery pack doesn't provide as much juice to warrant such a claim. One charge will be enough to power the notebook for about 7 hours on average. That's not exactly a bad result, but you can't notice the lack of autonomy when ultrabooks like the Dell XPS manage to give 12+ hours of usage before needing to be recharged.
Conclusion
Considering the last lines of this review, I'm inclined to call the Lenovo IdeaPad 710S Plus 80W3006RUS a good ultrabook, not a great one. It does feature great hardware specs, a fine display, good design and build quality, but lacks the portability stats that could have really made it fantastic. Even if it's as light or lighter than many similar models, I still believe the battery should have lasted longer to really appeal to all kinds of users.
As of now, I can fully recommend this ultrabook to young people, business professionals, home office workers and students who need a lightweight device to take to work or class with them.
Summary
Reviewer
Review Date
Reviewed Item
Lenovo IdeaPad 710S Plus 80W3006RUS
Author Rating