The ASUS Chromebook C202SA-YS02 is a brand new device from the Taiwanese manufacturer which is targeted especially towards young students thanks to its price, performance ratings and durability. ASUS has made a significant leap forward with the new C202 series to further cement its position in the education computers market.
C202SA-YS02 Review
Performance
The ASUS Chromebook C202SA-YS02 comes with a state-of-the-art Intel Celeron N3060 processor. This dual core CPU has been launched earlier this year and has a cache size of 2 megabytes, a clock speed between 1.6 GHz and 2.48 GHz and a scenario design power of just 4 Watts. This Intel processor is the descendant of the ubiquitous N3050 unit, so the ratings are going to be slightly better, but not spectacular. The processor is rather limited, but it can handle web browsing, apps, video streaming and document editing without any hiccups.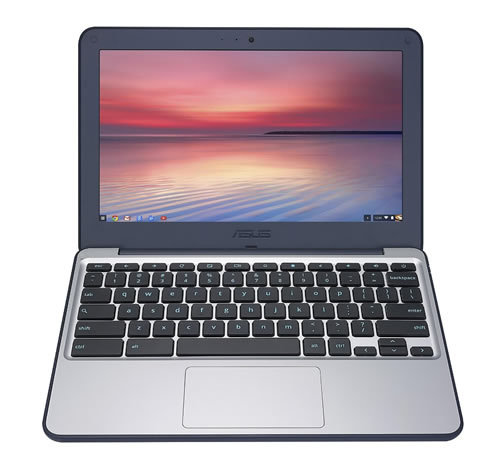 [easyazon_link identifier="B01DBGVB7K" locale="US" tag="laptop0b2-20″]Learn more about this Chromebook at Amazon »[/easyazon_link]
This particular model, the YS-02 has 4 gigabytes of system memory installed compared to the 2 gigs we'll find on the YS-01. This is the only difference between the two and I think it makes the model I'm reviewing justifiably better. For the current price bump of around $20, I think the choice is obvious.
Storage is rather limited at 16 gigabytes of space allocated on a flash drive. Don't despair though, because each Chromebook comes with 100 gigabytes of free cloud storage offered by Google on Drive. 116 gigabytes are enough for any student to store files, educational videos, presentations, documents and so on. Keep in mind that a Internet connection is required in order to access said files stored on the cloud.
Display
The ASUS Chromebook C202SA-YS02 has a 11.6-inch screen which features an anti-glare (matte) display with a resolution of 1366 x 768 pixels. Nothing out of the ordinary except for the matte screen which will allow users to work comfortably even in bright light conditions.
Interface
Options are plentiful here. Here's a full list of ports you'll find on the ASUS:
2 x USB 3.0 ports
1 x HDMI-out
1 x 3-in-1 card reader
1 x audio combo jack
[easyazon_link identifier="B01DBGVB7K" locale="US" tag="laptop0b2-20″]Read user reviews on Amazon »[/easyazon_link]
Networking
Connecting to the Internet is done through a 802.11ac wireless card. You won't have any issues when trying to download large files, stream HD videos or when using Skype even in scenarios where multiple people share the same router.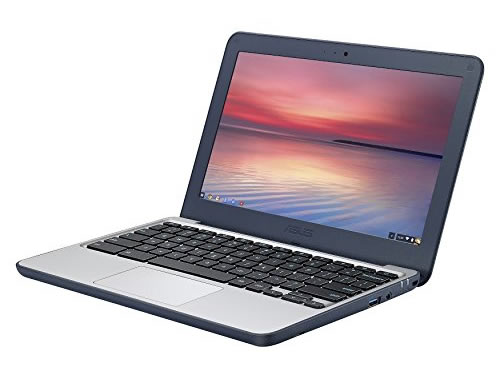 The ASUS Chromebook also has built-in Bluetooth 4.0 for close quarters communications and device pairing.
Portability
As you'd expect from a Chromebook, portability comes standard. The ASUS Chromebook C202SA-YS02 weighs just 2.65 pounds, making it one of the lightest devices on the market right now. Furthermore, measuring under an inch (.89″ to be precise), the ASUS is thin, so it won't take up much space in any bag, be it a tote or a backpack.
The built-in battery is a 2-Cell Li-Polymer which will power the ASUS Chromebook C202SA-YS02 for up to 10 hours of normal use. That's more than enough time for any student or young adult to not need a charge during the day.
[easyazon_link identifier="B01DBGVB7K" locale="US" tag="laptop0b2-20″]Check prices and discounts »[/easyazon_link]
Features
The ASUS Chromebook C202SA-YS02 is a device which shines not necessarily because of its performance ratings, but rather thanks to a series of built-in features. Ranging from design choices to increased robustness, the small ASUS is sure to surprise even the most demanding users. Here are the features:
Spill proof keyboard – It protects the inner parts of the laptop by ensuring no liquids get past the keys.
Rubber wrap – All edges and corners are protected by a rubber material which absorbs shocks in case the laptop is dropped. The ASUS will withstand a fall from up to 4 feet without breaking any components.
Extra grip – Two long rubberized grips are positioned on the back of the Chromebook to minimize the risk of it slipping when carrying around.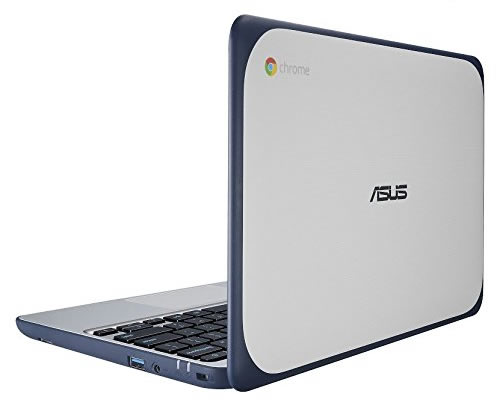 Rotating screen – The ASUS Chromebook C202SA-YS02 has a 180 degree screen hinge, meaning more students can contribute to a project or a group study at the same time.
Improved keyboard feel – The keyboard features a 2 mm travel distance, short enough to facilitate fast typing. Also, the printed characters are a bit larger than to increase visibility.
Easy maintenance – One of the most interesting features is this modular design of the ASUS Chromebook. By unscrewing a few screws anyone can remove the keyboard and reach the thermal module, motherboard and battery pack in order to replace faulty parts as needed.
Conclusion
[easyazon_link identifier="B01DBGVB7K" locale="US" tag="laptop0b2-20″]Buy it now on Amazon.com »[/easyazon_link]
I think the ASUS Chromebook C202SA-YS02 is a great device for young students, but not only. Adults can use this rugged Chromebook as a cheap, durable and reliable travel laptop. For just over $200, you'll get a rather potent mini notebook with great battery life and fantastic portability. The extra features that were thought out for young students will surely be useful to seasoned travelers as well.
Summary
Reviewer
Review Date
Reviewed Item
ASUS Chromebook C202SA-YS02 Review
Author Rating