The all-new ASUS L210 notebook is most certainly a little gem. The unit we'll be reviewing today, the 11.6-inch L210MA-DB01 has been recently launched. In spite of its less than optimal computing performance, I couldn't be more excited about this small laptop, since it's packed with surprises and has so much to offer to casual users and ultraportable lovers alike.
Review
To start off, you may be wondering why the ASUS L210 I'm reviewing today costs so little. Especially since it shares some design similarities with the brand's more expensive models. Make no mistake, this is no ZenBoook. Far from it, actually. The ASUS L210MA-DB01 is a more spartan device in terms of performance, but not so much in terms of features. It will work just fine if you will be aware of its limitations and won't push it too much.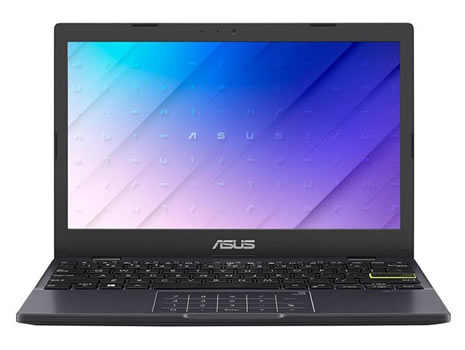 Check availability and prices at Amazon »
However, its qualities stretch far beyond only one generic user base. That's why I think this inexpensive ASUS model is a fantastic choice if you're on a tight budget, if you plan on buying a laptop for your child to use for school, or simply want a hassle-free device to carry around everywhere you may go. I'll explain myself further down.
At the time this review was originally posted, the ASUS had a price tag between $200 and $240. It's affordable alright, but how will it fare in real life scenarios? I know from experience not to expect much from such an aggressively priced notebook. However, it would seem that you'll actually get much more than you'd expect in return from this small ASUS. Let's start!
Processing power
The ASUS L210MA-DB01 is equipped with a rather sluggish Intel Celeron N4020 processor. This CPU has a base frequency of 1.1 GHz that goes up to 2.8 GHz when boosted, a 4-megabyte cache size and a thermal design power of just 4.8 Watts. All these numbers mean that the N4020 is a non-sophisticated processor, with the sole benefit of not drawing too much power from the battery pack.
You shouldn't expect too much from it. Benchmark results are rather poor. It will work fine when paired with lightweight programs you'd use on a day to day basis. For example, using the ASUS for document editing, keeping up with friends on social media is OK. Using it for advanced photo editing or to watch 4K content over the internet, not so much.
System memory
System memory is capped at 4 gigabytes of DDR4 RAM. You won't be able to further extend it, as it is soldered to the mainboard. In today's computing oriented world 4 gigabytes are not what they used to be not so long ago.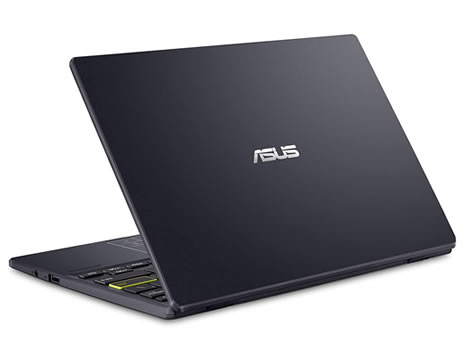 Sure, this amount will get you through a day's worth of lightweight work. Just don't expect the ASUS L210 to lift too much. Any heavy multitasking is out of the question, as well as fluently running other memory intensive software, such as Photoshop.
Storage space
The ASUS L210 also comes with limited storage space. More precisely, with 64 gigabytes on one eMMC flash drive. Despite great loading times and low latency, this is not a solid state drive. However, considering that the ASUS doesn't have much more going for it in terms of other hardware choices, I'd say this drive is fairly well adapted to overall performance.
If you need more storage space (you probably will), you can easily expand it. This laptop has a micro SD card slot. These are relatively inexpensive nowadays, so I'd recommend purchasing a 128 or 256 gigabyte micro SD to permanently insert into the notebook and use it as a storage drive for all your files, while leaving its native drive dedicated only to its operating system.
Display and graphics
As expected, display quality is subpar when comparing it with more expensive laptops. Still, I'd only judge a device in a much larger context. So, if we take price into account, the ASUS L210 offers about as much as other similarly priced models. It features an 11.6 inch LED screen and HD resolution (1366 x 768 pixels). You won't need more than that, especially considering how small the actual display is. Viewing angles are not that great, and neither are the colors. But you won't actually need a splendid display for office use and daily tasks.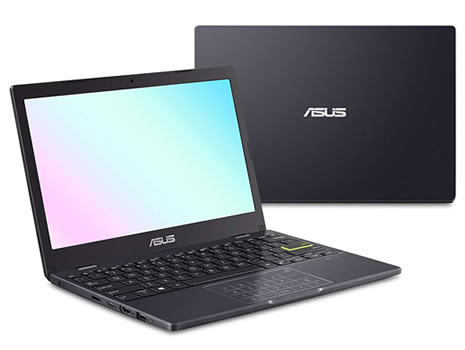 This model's graphics capabilities are somewhat laughable. Forget about rendering, video editing or gaming. The Intel UHD Graphics 600 integrated GPU the ASUS is equipped with is one of the most weak ones out there. It will get your through, but not if you don't know its limitations. For example, 4K content is out of the question. So is gaming, as even lightweight titles will struggle with the CPU-RAM-GPU combo of the L210. Having said that, you'll be good when using this notebook for emails, documents, chatting, social media and other similar tasks.
Interface and networking
Interface options are plentiful and well suited for most users. Most importantly, it comes with three types of USB ports, a perfect fit for a variety of devices you may want to plug in. Here are all I/O options:
1 x Type-C USB 3.2 port
1 x Type-A USB 3.2 port
1 x Type-A USB 2.0 port
1 x HDMI
1 x Combo audio jack
1 x micro SD card reader
Networking options are not as generous. Sure, wireless is a given, but the ASUS L210MA isn't equipped with the latest technology. This isn't much of an impediment, as you won't actually need the bandwidth and improved latency scores of the newest in terms of Wi-Fi technology. As such, the ASUS will handle videocalls without any hitches, as well as online HD content, music streaming services and so on. Here are your networking options:
Wi-Fi 5 (802.11ac)
Bluetooth
ASUS L210MA important features
As I mentioned at the start of this review, I find the ASUS L210MA-DB01 to be surprisingly well equipped for its price. For about $200 (price available at the time of this review), you'll have the pleasure of using a laptop with a surprisingly well built and backlit keyboard, you'll be able to rotate the screen completely flat and share your work with others, thanks to its 180 degree hinges, benefit from the manufacturer's innovative number pad feature, which transforms the laptop's touch pad into a fully functioning touch-enabled numpad for easily crunching numbers and data entry.
What's more, thanks to its fanless design, the ASUS L210MA is a completely silent laptop. It comes standard with Windows 10S, which is a more lightweight version of Windows 10. Upgrading to the full version of Windows is free, and advisable, since you're limited to using only software available through Microsoft's store on the S variant.
Portability and battery life
Finally, we've reached an area where the ASUS L210MA-DB0 really shines. This notebook is a keeper for those users who enjoy carrying their work wherever they may go and are also keen on striking a balance between performance, portability and price, depending on their needs. The ASUS weighs just 2.3 pounds. Furthermore, its small size recommend it as a long distance companion. It will fit in any backpack, or in any bag without weighing you down at all.
Furthermore, its 2-cell, 38 Wh Li-Polymer battery pack will provide enough juice to power this laptop for up to 12 hours before needing a wall plug. Although you'll probably get around 10 hours on a single charge while actually getting work done, this is a major plus in its own right.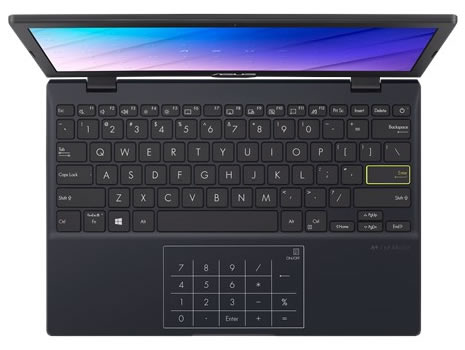 So, the ASUS L210MA combines both great portability with long battery life, but low performance overall. If your daily tasks and work overwhelmingly involve sending emails, reading and editing documents, having videocalls and not much else, this small laptop is a great cost-effective choice for your needs.
Conclusion
In the end, I think the 11-inch ASUS L210 laptop is a best buy for many, many casual users. We don't typically need that much processing power for most of our tasks. Effectively communicating with others isn't necessarily a job for a $1,500 ultrabook. You can achieve the same results with a more budget friendly option. And this ASUS offers the most value for money for such a device currently on the market. It's really cheap, offers great features that are only available to laptops in superior price brackets, but not all of them (see the Acer Aspire 5), and comes with essential computing power to get you through your day while using a full featured operating system, offering you all the flexibility you need.