A true featherweight, the all-new ASUS ZenBook 13 UX325EA-DS51 is, perhaps, one of this year's best budget friendly ultrabooks. It surpasses many of its competitors in terms of value for money, features and performance. But, as is the case with any affordable laptop, a few compromises have been made to keep its price down. While expected, these drawbacks are by no means deal-breakers.
ZenBook 13 UX325EA Review
The ZenBook I'm reviewing today continues the line's tradition of offering great daily drivers disguised as ultrabooks. Rather than being flashy like most other featherweight devices, the ZenBook 13 UX325EA features a more austere design. It's not boring, but it doesn't necessarily stand out as exceptional.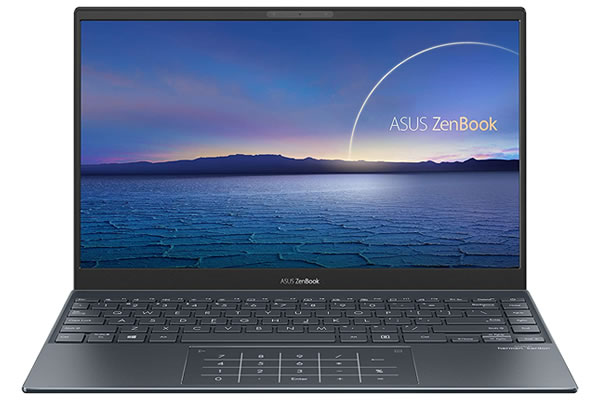 Find out more about this model at Amazon »
You'll notice the same distinctive brushed metal lid, with the off-centered ASUS logo. The rest of the chassis features a hard to describe color. It's called Pine Gray and it reminds me of watching a rainy day unfold itself in the mountains. The kind of scenery where a low cloud ceiling helps tone down the vibrant greens below. It's calming, deep, yet professional.
Features and typing experience
Personally, I think its design is on point. However, some features can also hinder typing, especially if you write a lot. The ASUS ZenBook 13 UX325EA-DS51 is fitted with the brand's very own lifted hinge, which helps with cooling, but slightly raises the backlit keyboard. It's not for everyone. While typing, I noticed there's some extra pressure on the wrists. Then again, I'm used to typing on zero-angle keyboards.
Its touchpad is impressive, taking up around a third of the palm rest. It also doubles as a numpad at the touch of a button, which is useful in some ways, especially if you need this notebook for number crunching. That being said, you may find it cumbersome to type without accidentally touching it with your palms. Especially if you're usually typing with your hands resting flat on the palm rest.

This model features an extended keyboard. They've added an extra column of functional keys. The keyboard feels slightly cramped, but not overly so. Also, the arrow keys are comically undersized. Typing experience is on par with similar devices, even with more expensive ones like the Dell XPS, but doesn't come close to what Lenovo has to offer, but not in this price range.
Processing power
The ASUS ZenBook 13 UX325EA-DS51 is powered by a new-generation Intel Core i5-1135G7 processor. This is a quad core, eight thread CPU with a cache size of 8 megabytes and a maximum frequency of 4.2 GHz. Intel's Tiger Lake line of processors are build on their 10 nm architecture, promising a slight improvement over Comet Lake models. It's hard to accurately gauge any meaningful difference in real life scenarios. What I can say is that this Core i5 will get you through your day without any slowdown whatsoever.
System memory
System memory is limited at 8 gigabytes of LPDDR4X RAM. All of it is soldered to the main board. Therefore, upgrading it is not an option, unfortunately. If you want more, you should go for the more expensive model, but the price difference is rather steep.
You'll be able to heavily multitask, open more than a dozen active browser tabs and run your favorite photo editing software without issues. That being said, the ZenBook 13 UX325EA-DS51 falls short if you're planning to use it on more pro-oriented tasks.
Storage space
Storage space is also limited at 256 gigabytes. The ZenBook is fitted with an M.2 NVMe PCIe solid state drive, which is speedy enough not cause any bottlenecks. You won't be able to exchange this drive with a roomier one, so you're stuck with either using cloud services or an external solution, should you need more storage capacity on hand.
Graphics
This model is fitted with an integrated graphics card, namely the Intel Iris Xe. It surely is an impressive GPU. It will allow you to easily stream 4K content, alongside some 3D rendering and more advanced GPU-intensive tasks. Also, some casual gaming is not out of the question. Games like CS:GO, Minecraft, Rocket League should work seamlessly at high settings.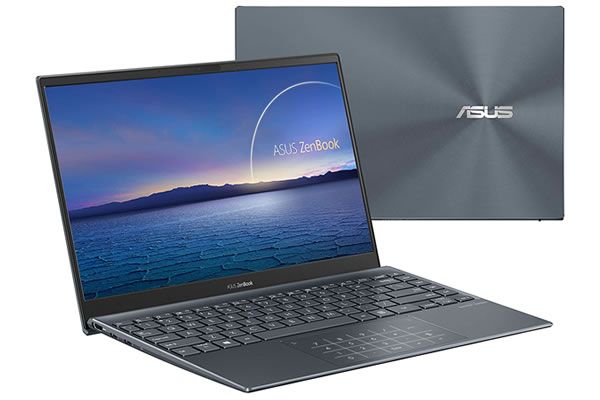 You should adjust down quality settings for more demanding titles, like GTA 5 for instance. You shouldn't count on the ZenBook to act as a gaming laptop at all. If you plan on playing AAA titles, you'll likely end up disappointed. Keep it simple: mainly play casual and indie games.
ZenBook 13 UX325EA-DS51: overall performance
To summarize, performance is pretty solid, but not spectacular in any fashion. The ASUS ZenBook 13 UX325EA-DS51 is a spectacular all-rounder. Using it as a daily driver is a pleasure in of itself. You'll be able to successfully use it to send emails, edit documents, browse the web, stream content, quickly edit photos and videos, play casual games and much more without a hitch. My main concerns, especially in the long run, relate to available system memory and low storage space.
Display quality
The ZenBook 13 UX325EA is available with two types of screens: OLED and non-OLED. The model I'm reviewing today is fitted with a 13.3″ OLED Full HD IPS display. Viewing angles are fantastic, as well as color reproduction and how vivid everything seems, especially at full brightness. It is Pantone approved and features 100% DCI-P3 color gamut. I found the display to be adequate for relatively accurate photo editing, as well as illustrating.
Check availability and prices at Amazon »
Its brightness is rated at 400 nits, which is more than I'd ever hoped to find in an affordable ultrabook. If you're thinking about reduced battery life from having such a bright screen, simply adjust it down. It's more versatile than a dimmer screen, allowing you to easily work in full sunlight conditions.
Interface and networking
Overall, interface options are great. They've managed to squeeze a full sized HDMI port and a Type-A USB port. You also get two high speed, versatile Thunderbolt 4 ports. However, it lacks the ubiquitous audio combo jack. Folks who enjoy plugging in their headphones will have to resort to a cumbersome solution: an extra dongle, which is provided. Here is the full list of available I/O ports:
2 x Type-C Thunderbolt 4 USB ports
Type-A Gen 1 USB 3.2 port
HDMI 2.0b
Micro SD card reader
The ASUS ZenBook 13 UX325EA-DS51 features Wi-Fi 6 connectivity and is equipped with the latest Bluetooth 5.0 technology.
Portability and battery life
Portability is the area where the ZenBook 13 really shines. This is a true featherweight device. It weighs just 2.4 pounds, or 1.1 kilograms. It weighs 3.2 ounces more than a 14″ LG gram, which is significantly more expensive, and 4.8 ounces less than a similarly priced, but slightly more pricy 13″ Dell XPS. It's an almost perfect travel companion to have with you, whether you need it on an international flight, around the campus, at the coffee shop, or wherever you may go.
Plus, you also benefit from having really thin bezels all around. Essentially, the ZenBook 13 fits within a 12″ body. It's compact, thin (just 0.55″) and a true featherweight.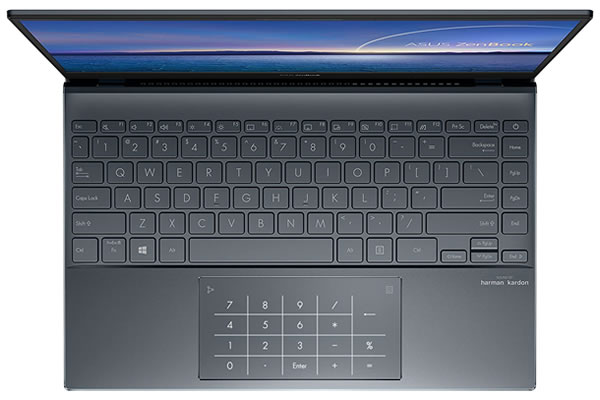 Battery life is also good, similar to direct competitors like the LG gram or the Dell XPS. One full charge of its 67Wh battery pack will last about 12 hours of light use and around 14 hours of video playback. Sure, battery life is influenced by things like display brightness and other factors. The fact remains that one charge will last for more than a day's worth of work. Wonderful news for those who enjoy using a true ultraportable laptop. Fast charging is available. Its battery will charge to 60% in less than an hour.
The ASUS ZenBook 13 UX325EA-DS51: who's it for?
I think this particular model is most suited for students in search for a thin, compact and ultraportable device for them to carry around wherever they may go without breaking the bank. It's also perfect for traveling businessmen and businesswomen who value weight and dependability above everything else. And lastly, I believe casual users will get enough satisfaction from the ZenBook 13 UX325EA-DS51 as a compact daily driver, instead of more clunky options, such as the popular Acer Aspire 5. However, if you'll use it for more than note taking and the occasional essay and need accuracy while typing, you should think twice before purchasing it.
Conclusion
To conclude, I believe the ASUS ZenBook 13 UX325EA-DS51 is a winner. Considering its hardware options, features and how portable it is, the asking price of around $800 (available at the time of this review) is well within bargain territory. Despite its minor drawbacks, this laptop will prove to be a fantastic companion to carry around. If you need more in terms of performance, there's a more powerful version, the ZenBook 13 UX325EA-XS74 which features a better CPU, twice the RAM and storage space. However, it costs significantly more than this one.