The new AMD-powered Lenovo IdeaPad Flex 5 82HU0036US is a promising convertible all-rounder. It doesn't have much features, nor does it shine in any particular area. Yet, it does a great job at being a fantastic multipurpose laptop to have around the house, or at the office.
Review
I think it's important to start off by acknowledging that the Lenovo Flex 5 is by no means a premium device. This model doesn't have that much to offer in terms of features, design, or innovation. It's one of the most basic convertible notebooks you'll find on the market, yet one of the most attractive ones out there.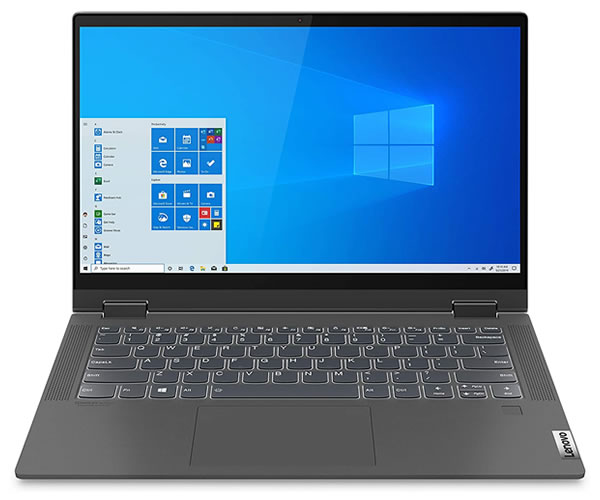 Find out more about this laptop on Amazon »
If you need an affordable 2-in-1 notebook, know that the Lenovo IdeaPad Flex 5 82HU0036US features a great selection of hardware components. It's a fast and reliable machine which costs less than your entry-level ultrabook and about the same as most mid-range traditional all-rounders.
Processing power
The Lenovo Flex 5 82HU0036US is powered by a new generation, state-of-the-art AMD Ryzen 5 5500U processor. It has 6 cores, 12 threads, 8 megabytes of cache size and clock speeds ranging from 2.1 GHz to 4.0 GHz. It's a fast and reliable processing unit which should hold up for some good couple of years before showing signs of fatigue.
If you're more familiar with Intel processors, this AMD is comparable with Intel's i5 CPUs you'd expect to find in entry-level ormid-range ultrabooks. Like the Acer Aspire 5. On average, laptops fitted with AMD processors are slightly cheaper than their Intel powered counterparts, while offering similar, if not better performance ratings. The AMD Flex 5 makes no exception.
System memory
System memory is rated at 16 gigabytes of DDR4-3200 RAM. Since it's soldered to the main board, you won't be able to further upgrade it. Realistically speaking, I don't think you'll ever need to. Furthermore, the memory has been set up as dual-channel.
You won't have any problems while multitasking, or running more RAM-intensive software, like Photoshop or Lightroom for instance. Also, achieving your daily tasks will be a smooth and pleasurable experience, much like you'd expect from more expensive notebooks.
Storage space
Storage space is limited at 256 gigabytes on a M.2 2242 PCIe 3.0×4 NVMe solid state drive. Some users may feel this capacity to be inappropriate, especially considering its other specs. Don't forget how affordable this IdeaPad Flex 5 is. Apart from display quality, storage space is the only other meaningful compromise the Lenovo suffers from. What the Lenovo lacks in terms of capacity makes up for in terms of sheer speed, as this SSD is both speedy and reliable.
If you need more than 256 gigabytes of storage, it's worth noting that you can easily replace the existing M.2 SSD with a roomier one, further down the road. It's a fairly easy job, as it implies removing a couple of screws on the back of the laptop and then simply replacing the drive with another compatible one: either an M.2 2242 or an M.2 2280 solid state drive.
Display and graphics
Lenovo's Flex 5 82HU0036US display is on par with similarly priced laptops. There's nothing out of the ordinary, except that it's glossy and you may find it to be a hassle if you like working in full daylight conditions. It features a 14-inch Full HD IPS 45% NTSC display. At just 250 nits, it's on the dim side of things, but not annoyingly so.
Check availability and prices at Amazon.com »
Also worth noting, its touchscreen is compatible with a number of stylus pens, including the Wacom active pen for those who need to take notes or quickly do some sketches. You should also find a Lenovo Digital Pen included in the box.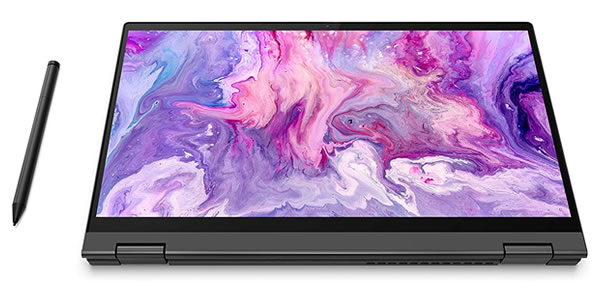 Graphics-wise, the Lenovo is rather standard, featuring an integrated GPU, the AMD Radeon Graphics. You'll be able to use this convertible well when editing videos, or photos. It shouldn't cause any issues when playing 4K content on an external monitor. Plus, using this setup you'll be able to even play some popular multiplayer online games. Think of CS:GO, LoL, Minecraft and many other indie games at 60+ fps on high settings.
Interface and networking
Interface options are plentiful and should suffice if you're the kind of user who doesn't need cutting edge technology to get things done. Here's a list of all available I/O connections:
Type-C USB 3.2 Gen 1 port
2 x Type-A USB 3.1 Gen 1 ports (of which one is Always-On)
HDMI 1.4b port
Audio combo jack
Card reader
They've done a good job including the latest wireless and Bluetooth technology inside the Flex 5. It makes for a great device to stream content on thanks to more bandwidth availability. You should also be aware of its limitations when buying a compatible router, especially regarding actual signal range.
Wi-Fi 6 (2×2 802.11 ax)
Bluetooth 5.0
Portability and battery life
The Lenovo Flex 5 82HU0036US isn't necessarily a very portable laptop, but it isn't exactly too heavy, either. It sits somewhere in the middle between a featherweight and your average mid-range notebook, at 3.3 pounds, or around 1.5 kilograms. It's thin enough to be carried around, but I wouldn't commute long distances with it.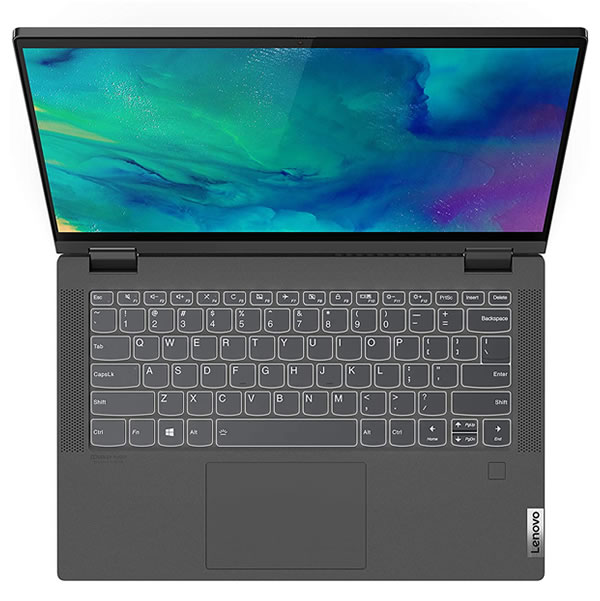 Battery life is acceptable, but will vary depending on how you actually use it. You should get around 10 hours of video playback and around 7 to 8 hours of daily computing from its 52Wh battery pack. If you push the Flex by launching programs that are heavy on its resources or play some games, you should expect around 5 hours of use before needing a charge.
The Lenovo Flex 5 82HU0036US: who's it for?
As we've seen, this brand new Lenovo Flex 5 is a somewhat spartan device, with lots of good things happening under its hood. It leaves a lot to be desired in terms of appeal.
However, its consistent performance, touchscreen capabilities, superior networking and decent enough portability make it an ideal device for students to use as a budget friendly laptop around the campus and in class for note taking and much more. Furthermore, I believe it will work just fine around the house as a multimedia hub, or around the office as a general use notebook.
Conclusion
All in all, the Lenovo IdeaPad Flex 5 is an extremely versatile device. It's affordable, it offers great performance and fantastic dependability. In spite of its featureless demeanor, the backlit Lenovo styled keyboard is nice enough to use on a day-to-day basis. The plastic chassis feels nice to the touch, the trackpad is smooth, even if a bit small. Plus, its hinges seem solid enough to not break down when you need them the most.