ASUS have recently released a new model which belongs to their ZenBook 13 line of laptops. It's called the Flip 13 and it looks really promising after taking into account price and performance. The ZenBook Flip 13 UX363EA-XH71T I'll be reviewing today is a convertibile multi-purpose machine built for a variety of scenarios, but mainly centered on home & office use, at your desk, or on the go.
Review
So, the ZenBook Flip 13 UX363EA-XH71T is a premium-class convertible laptop, which sports Intel's brand new Evo platform. Think of this platform as a badge given by Intel to selected laptop models for adhering to certain requirements such as improved battery life, performance, connectivity and so on. In our case, it testifies that this ZenBook is a rather future proof device.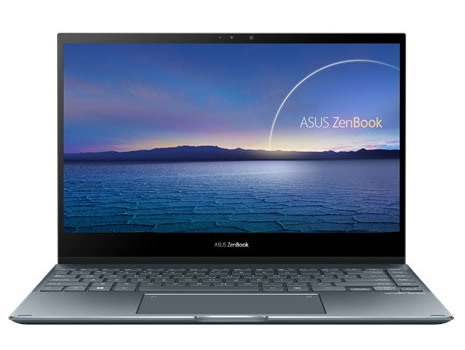 Find out more about this notebook at Amazon »
Powerful, durable, compact and portable, the ASUS features a set of hardware options suited for most casual users who find little use in a workstation or a more complete – but less portable – powerhouse. Its touch enabled screen can rotate completely, thanks to a 360-degree hinge. You'll be able to use it as a tablet for drawing, writing and editing with the help of a stylus pen, which comes included with the laptop.
Processor
The ASUS Zenbook Flip 13 UX363EA-XH71T is equipped with a state-of-the-art, new generation Intel Core i7-1165G7 processor. Built on the new 10nm technology, this CPU has more than enough power for the vast majority of users. It has 4 cores, 8 threads, a maximul frequency of 4.7 GHz, 12 megabytes of cache size and a thermal design power range between 12 and 28 Watts.
According to cpubenchmark.net user generated results, the processor sits comfortably somewhere above 10,000 points, which makes it one of the most robust and wallet-friendly processors out there. You'll be able to work with ease on your documents, watch 4K online content, edit photos, design and so much more. All of the above without it ever freezing or showing signs of latency.
System memory
Sistem memory is ample enough for you to not worry about issues when multitasking, or when working on more resource-demanding tasks. The ASUS comes standard with 16 gigabytes of LPDDR4x @ 4266 MHz memory. Unfortunately, you won't be able to further extend the amount of memory. If you think you'll need more for any RAM-intensive task, you may want to look for more configurable models, at the cost of mobility.
Having said all that, I think its 16 gigs of memory are more than enough for any home office user, and even for those who may require more from their laptops in terms of casual photo editing, video editing, multitasking, or even lightweight rendering.
Storage
This laptop's storage capacity is on par with other similarly priced devices. It comes equipped with a 512-gigabyte NVMe 3.0 x2 M.2 solid state drive. Speedy and reliable, this SSD is a nice addition to the already dependable CPU-RAM combo.
Check price and availability on Amazon »
I wouldn't have minded to see a 1-terabyte drive being installed, even at a slight cost, especially considering how I think people will use this laptop for their photo editing and Photoshop needs. Both of which require ample space to store large, editable files.
Graphics and display
The ASUS Zenbook Flip 13 UX363EA-XH71T comes with a new-generation integrated graphics solution. I'm talking here about Intel's Iris Xe series, which is a direct descendant of the Iris graphics we were seeing on their 10th gen processors. It's more than decent at handling some resource intensive office and home office tasks, but you shouldn't expect too much out of it. It will handle an external 4K monitor, HD conference calls, complex editing and even light gaming, making it an ideal integrated GPU for such a small factor and thin laptop.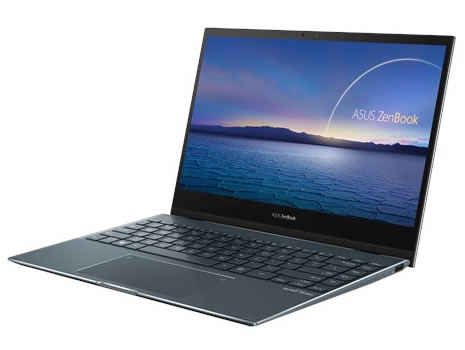 When it comes to display, the ASUS most certainly doesn't disappoint. It has a 13.3-inch OLED touch enabled display with FHD resolution and great viewing angles. The 360-degree rotating hinges allow it to be transformed into a tablet for quick editing and note taking, into a tent for viewing video content on the go and pretty much anything in between. I appreciate its thin bezel and the fact that a stylus pen is also included in the box.
Interface and networking options
Interface options are well suited for the average user who doesn't need many externals plugged in at all times. Here are your options for connecting various devices:
2 x Thunderbolt 4 USB-C ports
1 x USB 3.2 Gen 1 Type-A port
1 x HDMI port
Connectivity-wise, the ASUS ZenBook Flip 13 will allow you to stream quality videocalls without a hitch and offer the best possible performance concerning streaming online content, transferring files, low latency when playing multiplayer games over the internet and so on. Thanks to its Wi-Fi 6 (802.11ax) wireless card, you'll work seamlessly at home or on the go. It's also equipped with Bluetooth 5.0 connectivity.
Portability and battery life
The ASUS UX363EA-XH71T is a lightweight, small factor laptop. An ultra thin bezel essentially means this 13-inch is much smaller than you'd anticipate. It's also rather lightweight, weighing just 2.87 pounds. Thanks to its size and weight, it will make for a great companion on the road or around the house. However, keep in mind that there are even more portable laptops, but those usually come at a cost, whether it's price or an overall flimsier feel. Personally, I think the ZenBooks blend of weight and sturdiness is on point.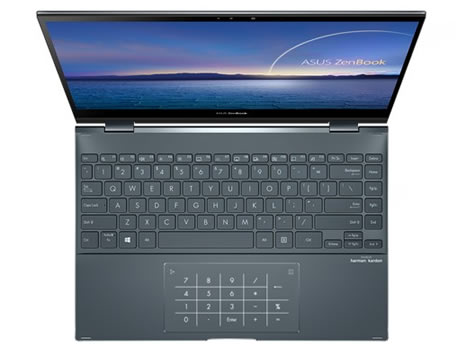 Battery life is acceptable for today's standards. Its 67 Whr battery pack will allow up to 14 hours of moderate usage, but that number is entirely dependent on what exactly you are actually working on. I'd say you should expect around 10-12 hours of real-scenario video playback, around 10 hours if you're editing documents and less if you're actually trying to work on something more resource intensive.
Notable features
Intel Evo platform
Thin bezels, 3.9mm wide
Dependable hinge design
Quality touchscreen and stylus pen input
ASUS Numberpad 2.0
Thunderbolt v4 USB ports
ASUS ZenBook Flip 13 UX363EA-XH71T tech SPECS
Processor
Intel Core i7-1165G7
4 cores, 12MB cache
up to 4.7 GHz max clock speed
Memory
16GB DDR4 RAM
Storage
512GB NVMe PCIe SSD
Display
13.3″ FHD IPS OLED
touch-enabled, stylus pen included
Graphics
Intel Iris Xe integrated graphics
1.3 GHz max dynamic frequency
Interface
2 x Thunderbolt 4 USB-C
1 x USB 3.2 Gen 1 Type-A
1 x HDMI
Connectivity
Wi-Fi 6 (802.11ax)
Bluetooth 5.0
OS
Windows 10 Pro
Battery
4-cell Li-polymer 67 Whr battery
up to 14 hours of battery life
Weight
2.87 lbs (1.3 kg)
Dimensions
12″ x 8.3″ x 0.55″
Conclusion
All in all, the ASUS ZenBook Flip 13 is a fantastic all-rounder, perfectly suited for today's work environment. A healthy blend of top-notch performance, portability, great design and dependability make UX363EA-XH71T a versatile device capable of handling virtually all your daily computing tasks, and then some more.
Summary
Reviewer
Review Date
Reviewed Item
ASUS ZenBook Flip 13 UX363EA-XH71T
Author Rating