The all-new MSI Prestige 14 A10SC-020 is a laptop geared towards content creators and creative types. It's design is simple, understated and, thanks to its ultralight chassis, can be carried around everywhere.
Review
There are two available models at the moment. We're currently looking at the Core i5 powered Prestige 14. The A10SC features a Core i7, but is significantly more expensive, so we've decided to focus on the more balanced, and affordable Prestige 14 A10SC-020.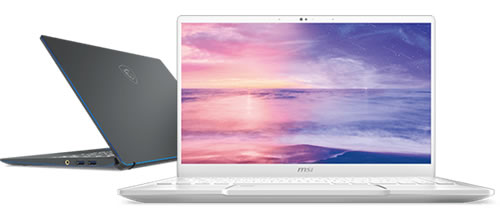 Find out more and check the latest price at Amazon
Strictly from a creator's point of view, this notebook represents one of the best affordable options out there. It's well equipped for moderate to heavy workloads either at your desk, or on the go.
Processor
It's equipped with a brand new, 10th generation Intel Core i5-10210U processor. This CPU will handle everything from Lightroom, coding, editing videos, designing and much more almost as well as an i7 would. Sure, you're limited to a mobile processor, but unless you work with complex 3D renders, you should be covered by the i5.
System memory
System memory is more than adequate for its purpose. The MSI Prestige 14 A10SC-020 features 16 gigabytes of DDR3 RAM. It's a single memory stick, which is soldered to the main board. If you thought you can further expand it, you'd be wrong, since this model doesn't have an additional memory slot, so you're stuck with 16 gigs. It will allow you to heavy multitask, run all your creative software without glitches and speed up your workflow.
Storage
Storage space doesn't disappoint, either. The Prestige has a 512GB Solid State Drive, which works well to complement the CPU and the RAM. How much storage capacity users need varies from case to case, but if you need more than 1 terabyte, there's a good chance you've already invested some money into external storage solutions. Therefore, we'd say available storage space is at least reasonable.
Graphics
When it comes to graphics, it's good to know that the MSI Prestige 14 A10SC-020 is not a workstation. Therefore, unlike its bigger brothers (the MSI WS65 and the P75 Creator), it doesn't have the same graphics prowess. Its NVIDIA GeForce GTX 1650 Max-Q GPU will handle moderate work and even gaming just fine, but don't push it too hard. It's still a mid-range graphics card, so its limitations may become obvious when rendering or playing the most demanding games.
Display
The MSI Prestige 14 A10SC-020 comes with a brilliant 14-inch display with 100% sRGB, expertly calibrated for photography and design work. This model features a Full HD display. You lose some pixels by not having a more expensive 4K panel, but you gain extra battery life by having a more energy efficient screen.
Extra Features
Extremely thin screen bezels.
Screen rotates 180-degrees.
Smart hinge design that lifts the keyboard at a 5 degree angle.
Creator Center: optimize system resource management.
2 Thunderbolt ports: great for high speed data transfers.
Wi-Fi 6: the latest wireless protocol – 802.11ax.
Portability
As we mentioned earlier, the MSI Prestige 14 A10SC-020 is an ultraportable laptop. It weighs just 2.84 pounds, or 1.29 kilos. Plus, considering how small its footprint is, you can safely carry it around wherever work will take you next. Battery life could have been better. It doesn't come close to an ASUS Zenbook 15, but for a notebook with a dedicated graphics card, getting 10 hours of light use before needing a recharge is respectable in our books.
Essential Technical Specs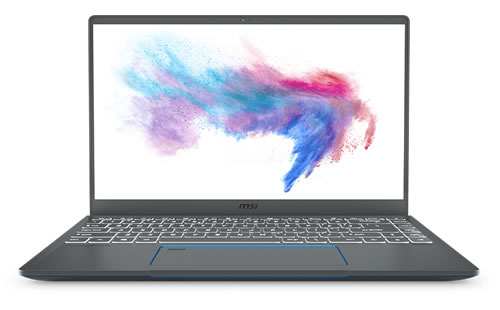 Processor
Intel Core i5-10210U
4 cores, 6MB cache
1.6 GHz to 4.2 GHz clock speed
Memory
16GB DDR4 SDRAM
Storage
512GB NVMe PCIe SSD
Display
14″ FHD IPS anti-glare
100% sRGB
Graphics
NVIDIA GeForce GTX 1650 Max-Q
4GB VRAM, 128bit
Interface
2 x Thunderbolt (USB 3.2 Type-C)
2 x USB 2.0 Type-A
SD card reader
Combo audio jack
Connectivity
Wi-Fi 6 (802.11ax)
Bluetooth 5.0
OS
Windows 10 Pro
Battery
3-cell Li-Polymer, 52 Whr
10 hours battery life
Weight
2.84 lbs (1.29 kg)
Conclusion
Buy the MSI Prestige 14 at Amazon
We've decided to give the MSI Prestige 14 A10SC-020 4 stars instead of 5 for two simple reasons. One one hand, there's the issue of not being able to upgrade existing system memory. On the other hand, such an ultraportable laptop should offer more battery life in order to take full advantage of its reduced weight and slim profile.
Other than those two issues, the MSI Prestige 14 is a pretty solid creator laptop, perfect for moderate work. It's better than your everyday mid-range notebook, but noticeably less powerful than a high end workstation, making it a perfect option for enthusiasts on the go.
Summary
Reviewer
Review Date
Reviewed Item
MSI Prestige 14 A10SC-020
Author Rating