Gigabyte's high performance laptops have been a staple of reliability and power for some time now. It's no surprise that the company is starting to release more advanced models with each launch cycle. Today I'll talk about the impressive Gigabyte Aero 14Wv7-BK4.
Review
The Aero 14 series from Gigabyte is a surprisingly lightweight device for the type of performance it manages to produce. Usually, these laptops are rather bulky and heavy, mainly due to the increased weight of larger battery packs. Not the Aero 14, however. This model weighs a "mere" 4.2 pounds.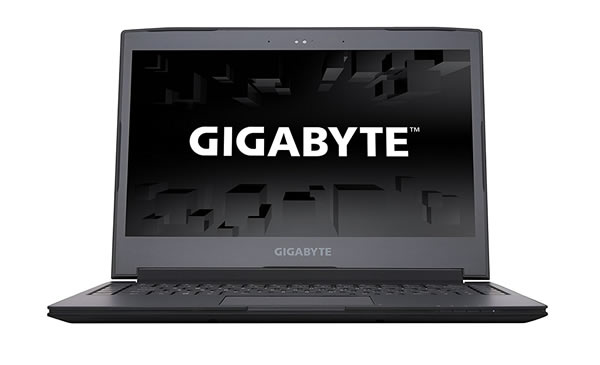 Design-wise, the choices that Gigabyte have made are clear. Understated is the key word when talking about the overall looks of this laptop. The Aero 14Wv7-BK4 doesn't have the flashy elements that come with modern gaming devices. There's no unapologetic aggressive lines or bright colors on the chassis. Rather, they've opted for a military-like appearance, which is quite refreshing to see among scores of kitschy, brightly-colored (and mind you, expensive) devices.
Aimed at both professionals and serious gamers alike, the Gigabyte Aero 14Wv7-BK4 is a powerhouse waiting to be put to good use.
Performance
A demanding user base needs the best tools to get the job done. When it comes to processing power, Gigabyte have made no compromises when choosing the CPU model. The Aero 14Wv7-BK4 is powered by a 7th generation Intel Core i7-7700HQ processor. This quad-core CPU is fresh out of the oven (it was launched days ago), and has a base frequency of 2.8 GHz and 6 megabytes of cache. Granted, it's far from being an energy efficient model, but I don't see many users complaining about it, honestly.
The amount of system memory the Aero 14 comes with is satisfying: 16 gigabytes of DDR4-2400MHz, which is enough for most modern games and large data sets. However, should you need more, Gigabyte has put all this RAM on a single module, leaving the second memory slot free for upgrade, up to 32 gigabytes. So, in case you need more memory for your demanding projects, I'd recommend getting another 16GB DDR4 stick to further the notebook's performance even more.
When it comes to storage space, the Gigabyte Aero 14Wv7-BK4 is well-equipped. It has a 512-gigabyte M.2 SATA SSD. There isn't room for another drive to be installed by users, so that's a bummer. You'll have to work with half a terabyte worth of storage capacity, and you should invest in an external hard drive, if your needs demand it – assuming you haven't done so already.
Graphics and display
This gaming laptop / workstation obviously comes with a dedicated video card installed. In the case of the Aero 14Wv7-BK4, that card is the NVIDIA GeForce GTX 1060 GDDR5 6GB model. This graphics card is a monster in the world of mobile GPUs and will run every modern game at high settings without hiccups, frame freezes or stuttering.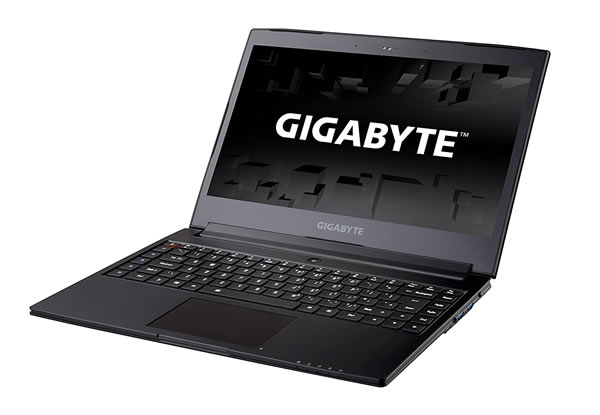 Click here to check prices at Amazon »
What's more, the 14-inch display is high quality enough to be used by photographers, illustrators or graphics designers when working. The matte QHD IPS panel produces true colors, deep contrasts, high viewing angles and, with a 2560 x 1440 resolution, offers a roomy feeling on-screen.
Interface and connectivity
Interface options are plentiful and allow users to connect many wired devices in the laptop. Also, with the aid of both HDMI 2.0 and a mini-display port, you'll be able to hook up two 4K monitors to your setup in no time.
1 x USB-C port
3 x USB 3.0 ports
1 x HDMI-out
1 x Mini-Display port
1 x COMBO Audio jack
1 x SD card reader
As for connectivity options, these are rather standard for a modern laptop. Nothing fancy here, just high-speed, low-latency wireless internet.
802.11ac WLAN
Bluetooth v4.1+LE
Extra features
I'll list some interesting and useful features the Aero 14 comes with:
GIGABYTE Macro hub
Illuminated keyboard
Scissor-type key switches
TriDef SmartCam
XSplit Gamecaster and Broadcaster
Portability and battery life
As I mentioned earlier in this article, the Gigabyte Aero 14Wv7-BK4 is a surprisingly lightweight device for its class. While it's true that a 14″ body should be lighter, the added components usually make up for that difference. However, instead of weighing as much as a 15.6″ traditional laptop, Gigabyte have managed to keep the weight down to 4.2 pounds. Even more impressive is the thinness of this device: measuring just 0.78 inches from top to bottom, thanks to innovative cooling technologies being employed.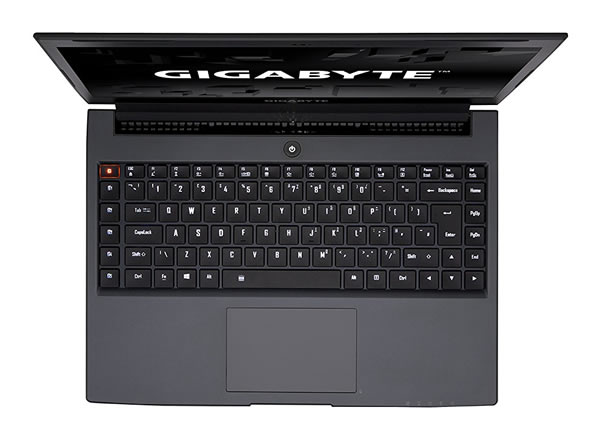 Battery is also surprising. The Aero 14 has a Li-Polymer 94 Whr (!!!) battery pack inside, which will power the laptop for up to 10 hours of moderate use. That is an insane amount of time for a gaming laptop / workstation, and it's even more impressive considering it doesn't weigh that much and it's rather thin.
So, as much as portability goes, I'm pleased to note that the Gigabyte Aero 14Wv7-BK4 has one of the best performance to weight and battery life ratios out there. It's therefore recommended for field work, gaming on the go and traveling professionals.
Conclusion
Given the price at the time of this review, which was $1700, I think the Gigabyte Aero 14Wv7-BK4 is worth every single penny. Not necessarily because of the hardware that has been crammed inside the small-ish body, but because of the innovations and no-compromise approach of the manufacturer. It's almost impossible to find any downsides or shortcomings with the Aero 14. All in all, this is perhaps the most pleasant surprise of early 2017 in terms of notebook performance, looks, feel and value for money.
Summary
Reviewer
Review Date
Reviewed Item
Author Rating