The HP 15-ac121nr is yet another mid range laptop set to make waves across the notebook market simply because it's such a good all-rounder. Also, the price isn't half bad, especially if you can get it with some sort of discount.
Review
Last year I've reviewed its predecessor, the HP 15-ab110nr and came to the conclusion that it was OK. Now, the people at HP decided to really improve on that model and add a few extra features while maintaining the notebook at roughly the same price point.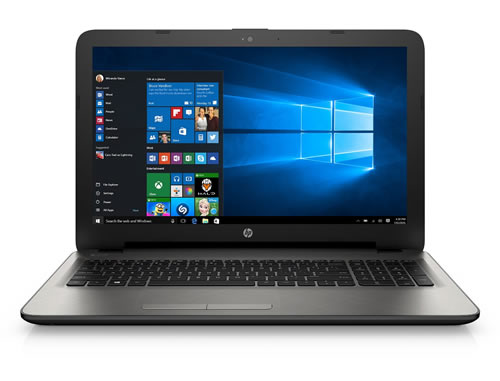 Find out more about the HP on Amazon.com »
The HP 15-ac121nr comes with a Intel Core i5-6200U dual core processor. It has 3 megabytes of cache, a clock speed of up to 2.8 gigahertz and a thermal design power of 15 watts. As you're probably aware, this is a common CPU manufacturers choose to equip their devices with, because it offers a good mix of performance, power efficiency and cost. The i5-6200U managed to score around 3900 points in benchmark tests.
The HP comes with 8 gigabytes of system memory installed, but it's unclear at the moment whether this is the maximum amount that's supported by the motherboard. It has one stick of 8 GB in it, so if does have an extra free slot, that means the maximum upgradeable ammount will be 16 gigs, but I wouldn't waste my money on such an upgrade for this notebook, since it's already way more than enough for the tasks it was meant to handle.
Storage space isn't lacking: it comes equipped with a hard disk drive capable of storing 1 terabyte worth of data. That means entire music collections or countless photo albums. Since we're talking about an all-rounder, I don't think you should replace the supplied hard drive with an SSD, at least not until software advances will make it sluggish – we're talking about at least 4 years here.
Finally, a full HD display!
The screen is a clear improvement from the last 15 inch HP model I've reviewed. The HP 15-ac121nr comes with a 15.6 inch screen fitted with a full HD WLED-backlit display. That means you'll be able to watch videos or movies at a resolution of 1080p and everything, from the images to the text on the screen will appear sharper thanks to the increased pixel density.
It's worth noting that the screen is coated with a matte (anti-glare) finish, so working in bright conditions won't be as annoying.
Connectivity and ports
The 15-series HP has an old-school 802.11bgn wireless card with attached Bluetooth 4.0 technology. While you won't feel the difference between the bgn and the ac protocols in normal conditions, the new one would have made it easier for your laptop to connect and to register greater transfer speeds when it might be forced to share a router with many other peers (think airports or busy coffee shops). For normal browsing and streaming however, the bgn protocol will work just fine!
Switching to available ports, this notebook has: 1 x USB 3.0 port, 2 x USB 2.0 ports, 1 x HDMI-out port, 1 x audio combo jack, 1 x RJ-45 port and 1 x SD card reader. As you can see, the ports that are provided are what you'd call standard these days.
Portability and battery life
The HP 15-ac121nr has the following dimensions: 15.13″ x 10.02″ x 0.96″ and weighs 4.83 pounds. These numbers are the definition of average when talking about consumer oriented laptops. It's not heavy enough to be considered a nuissance when travelling, but it's not convenient either. It's somewhere in between, where you'd want to take it with you only if you must.
Battery life is rated at 7 hours and 15 minutes by HP. Real life scenarios may lower that number down by an hour or so, meaning the HP isn't exactly travel friendly.
However, it's perfectly resonable to use it around the house, the college campus and the office, where work days rarely require you to be away from an outlet for more than a couple of hours.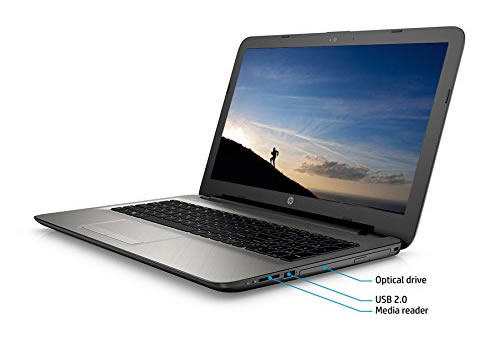 Other features
It has a DVD-writer unit, a fingerprint-resistant cover and HP CoolSense technology, which helps to keep the palm rest area cooler than the rest of the chassis so you won't get sweaty hands from just typing.
Those being all the features, this laptop is rather uninspiring, but it's also remarcabily affordable, so I guess the lack of a backlit keyboard or an IPS screen or a dedicated video card don't seem that important.
Final words
Buy this model on Amazon now »
I think the HP 15-ac121nr is a solid choice for those looking for a reliable all-rounder and also don't need it to be ultra portable. It may lack some features, but it does have a good chassis, good hardware equipment, a vivid quality display and average features you'd expect to find in a mid-range notebook.
Considering the price and HP's willingness to really improve the product since the last model I've reviewed, I'd say this is a perfect option for home offices and work environments alike.
Summary
Reviewer
Review Date
Reviewed Item
Author Rating