Samsung, the Korean electronics manufacturer giant, has recently announced the launch of a new model in their Chromebook lineup. The Samsung Chromebook 3 is the successor of the popular Chromebook 2 which first appeared a year ago. More stylish, with updated hardware specs and features, this new device promises a new experience for Samsung customers.
A short introduction
There are two models available for purchase: the one I'm reviewing today is the XE500C13-K02US and the only difference between it and its sibling, the XE500C13-K01US is the amount of system memory they each have installed in them (4 gigabytes vs 2 gigabytes). That's it. I personally think that the price difference makes the upgrade to the model I'll be talking about today worth it.
It's best to keep in mind one fact: this is a mini-laptop, which means performances won't necessarily be up to par with high expectations. Paying around $200 for a mobile device will only take you so far. That's why Samsung advertises the Chromebook 3 as a student notebook, perfect for learning and discovering.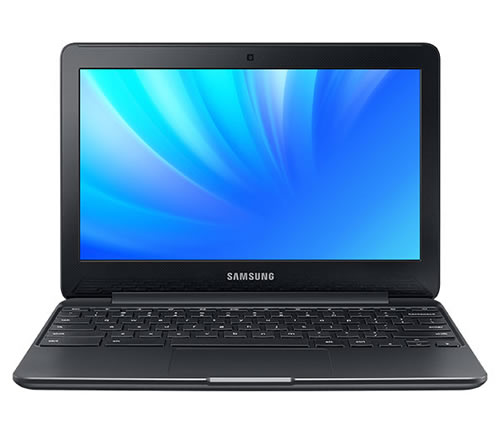 You can use it on a day-to-day base as an adult, just don't expect to perform as well as a full-sized laptop. Web browsing, sending emails, editing documents and watching YouTube videos on the go are all perfect examples of what this device was made to do. Anything more than casual browsing or light work will be taxing on its limited resources and probably your patience.
Performance
The new Samsung Chromebook 3 is powered by an Intel Celeron N3050 processor. Certainly not the fastest, this CPU has a clock speed range between 1.6 and 2.14 GHz, a cache size of 2 megabytes and two physical cores. If that doesn't tell you much, the benchmarks will: the N3050 scores around 900 points on cpubenchmark.net. That's a low score, there's no way to sugarcoat the fact that anything other that some multitasking will prove difficult to handle.
The fact that it runs Chrome OS is certainly a good thing, since system requirements are lower and the devices are better optimized for such low-end equipment. It's arguable whether or not the Samsung would have performed better with a quad core processor instead of a dual core installed, but since many apps on the Play Store are fairly well thought out, I think the difference may as well be negligible.
As I said earlier in this review, the system memory for this model is rated at 4 gigabytes, which is a significant improvement from the Chromebooks we're accustomed with, all having just 2 gigabytes installed. Everything from web apps to multitasking will run smoother because of the extra RAM Samsung packed in there.
Learn more about the Chromebook 3 »
Storage space is limited, as I'm sure you'd expect by now. The device comes with 16 gigabytes of storage capacity, enough to hold a fair amount of files, photos and whatnot, but not nearly close to what a person might expect to need in the long run. Luckily, Google provides every Chromebook with 100 gigabytes of free cloud storage. The only downside is needing an Internet connection to be able to upload and access your files online. Other than that, I think it's a good deal and a fair compromise.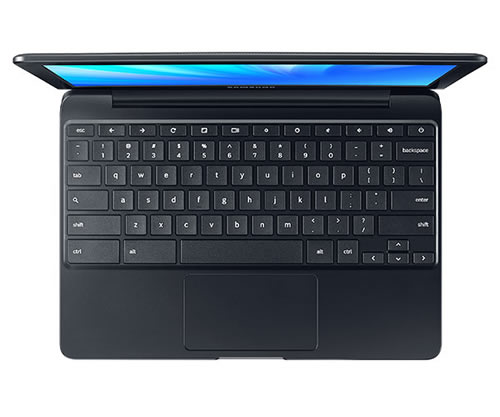 Construction and design
The Samsung Chromebook 3 is surprisingly sturdy: the Korean manufacturer claims to withstand shocks caused by dropping the device from a height of 2.5 ft. I wouldn't put that to the test, but the construction materials really seem solid enough to actually save it in case of an accidental drop. The reinforced chassis isn't the only safety feature installed: it also has a textured finish to prevent it from slipping.
The design isn't an improvement from its predecessor. They've ditched the metal frame for a plastic casing and the outer stitching for smooth edges. On the bright side, these design cutbacks may have contributed to lower the price compared to the Chromebook 2 series.
It's clear that Samsung aims toward a broader audience with the Chromebook 3 by making the overall design much more understated and quiet. Nothing really stands out, except for the improved ergonomic keyboard, with wider keys to assist in typing with less errors. The font choice and lowercase keys make for a different typing experience than most laptops, which feature keys decorated with uppercase letters.
I won't dwell much on the display, since it isn't necessarily spectacular. This model comes with a 11.6 inch screen and features an anti-glare HD display with a resolution of 1366 x 768 pixels. The hinges rotate to 180 degrees, making it easier to share the screen between you and your peers.
Portability
The one big advantage of owning a Chromebook is the convenience of carrying it around with ease. This thing weighs just 2.5 pounds and measures just 0.7 inches in its widest spot. Aside from being an ideal mobile device for young students, it's also suitable for travelling enthusiasts as a trusty road companion.
Check the latest price on Amazon »
The battery will hold a charge for up to 11 hours according to Samsung, although you should really expect some 9-10 hours in real life conditions, since network connections, individual settings and other factors can't mirror those used in benchmarks. That much juice will get you through an entire day of working/learning/relaxing on the Chromebook.
Considering the Samsung Chromebook 3 XE500C13-K02US has an MSRP price of $230 at launch, it's probably the best deal right now when it comes to buying a device strictly for functionality and portability.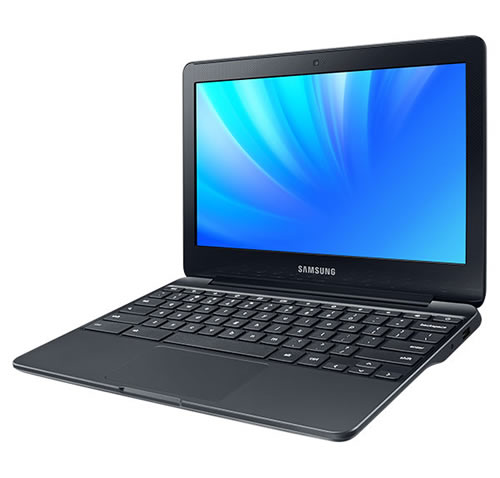 Interface and connectivity
The Samsung has: 1 x USB 3.0 port, 1 x USB 2.0 port, 1 x HDMI-out port, 1 x audio combo jack and 1 x micro SD card reader slot. While the number of USB ports seems limited, I doubt it will be an issue for people who use it as intended: one port for a mouse and another port for a memory stick/phone charger.
The wireless card is new-generation: 802.11ac (2×2). This means improved signal strength and better transfer speeds will be guaranteed when connected to an ever-so-popular compatible ac protocol router. Coffee shops and other public wireless providers were among the first to make the technology widely available.
Conclusion
Buy the Samsung Chromebook now »
The Samsung Chromebook 3 XE500C13-K02US is overall a better, more potent device than the previous generation. It's cheaper, more energy efficient, more powerful, lighter, thinner and has a new-gen WLAN card. Samsung has finally decided to follow what the Chromebook market wants: affordable, good products, especially after the widespread success of Acer's Chromebooks, which were considerably cheaper than Samsung's.
I think this Chromebook is a best buy for young students, for people who need a backup device or for those who want an inexpensive, reliable (and sometimes expendable) travel companion on which to transfer photos, write emails, diaries and browse the internet while on the go.
Summary
Reviewer
Review Date
Reviewed Item
Samsung Chromebook 3 XE500C13-K02US
Author Rating