The new entry-level gaming laptop from HP, the Pavilion 15-ak030nr is easily one of the most interesting all-rounders on the market today, simply because of its value for money when it comes to computing power and standard features.
Hardware and performance
The HP Pavilion 15-ak030nr I'm reviewing today is equipped with a dual core Intel Core i5-6200U processor, which is a rather standard choice for laptops in this price range. This mid-level CPU from Intel has a cache size of 3 megabytes, a clock speed of up to 2.8 GHz in turbo mode, a thermal design power of just 7.5 Watts and a benchmark score of roughly 3900 points, making it a remarkably versatile processor.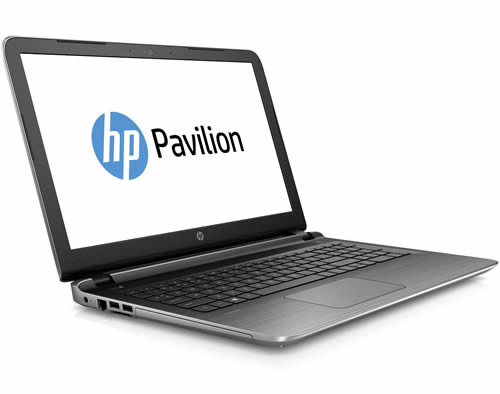 Standard system memory is rated at 8 gigabytes and it comes as two memory sticks, each with 4 gigabytes of RAM. Unfortunately, there is no information whether one of the DIMMs is soldered to the motherboard, so I can't say whether the system memory is user upgradeable to 12 or 16 gigabytes. However, the amount provided by HP will surely be more than adequate for most, if not all users. Video games that can be played on this model all require a maximum of 8 gigs, not to mention most software runs impeccably on just half of what the HP has installed. You can check the official datasheet here.
Find out more about the HP Pavilion on Amazon »
When it comes to storage space, the HP doesn't lack any. It has a 1 terabyte hard disk drive installed, sufficient for large media collections, games, large files and whatnot. There's a small issue with speed. While the storage capacity is abundant, the drawbacks of a mechanical hard drive become apparent when either booting up or using the laptop as more than a Internet browsing device. It's rather unfortunate that HP doesn't also feature an alternative model with a 128 GB or 256 GB SSD.
When I said this is an entry-level gaming laptop in the beginning of the article, I was basing that claim on the lowest rated hardware component available, which is the dedicated video card. It's great and somehow necessary for a gaming notebook to feature discrete graphics, but the NVIDIA GeForce 940M -with all of its 2 gigabytes of video RAM- is a poor man's choice when it comes to graphics.
Benchmark tests rate it as being mid-range for laptops, but since games aren't made specifically for them, I'd choose this model only for games like CS:GO, LoL and the likes. You know, games that are extremely fun to play without requiring advanced graphics. To better illustrate my point, here's a video of GTA 5 gameplay on the 940M. It's playable, but the quality isn't top notch.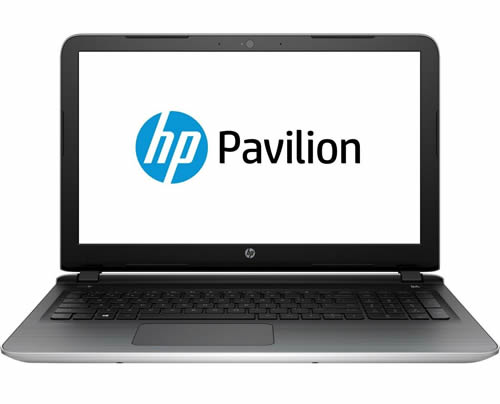 Display quality
The HP Pavilion 15-ak030nr has a 15.6 inch screen which features a Full HD anti-glare IPS LED-backlit display. Native screen resolution is therefore 1920 x 1080 pixels – great for playing games and watching full HD movies on its screen. Being an IPS display means viewing angles are great with little color distortion.
Interface and connectivity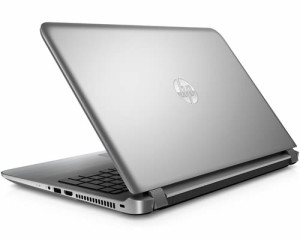 The Pavilion 15 has: 2 x USB 3.0 ports, 1 x USB 2.0 port, 1 x HDMI-out port, 1 x RJ-45, 1 x audio combo jack and a multi-format digital media card reader. It also comes with an optical drive on the left side of the chassis, a great add-on for those with media collections stored on CDs or DVDs.
Getting on the Internet is done via an Ethernet card capable of Gigabit transfer speeds and a 802.11 b/g/n wireless card. This is another component that needed to be updated, but for some reason hasn't been. I would have expected the latest 802.11ac protocol to be available on this gaming laptop. Still, there have been no reports of connection issues, so if download speed over WLAN isn't a priority, it will work just fine with good ping times on a home network.
Portability
The HP has a standard weight among other similar laptops: 5 pounds. Although it's not exactly light, you can carry it around to and from work or to a coffee shop without breaking your back, but don't travel with it as the charger will add up a considerable amount of weight to the package. Battery life is also average: a full charge will last for 5 or 6 hours of considerate use, but when gaming or doing other intense tasks, these numbers will drop sharply.
Should you buy one?
It's hard to find better laptops for the same price or lower. I actually did some digging and couldn't come up with any model coming even close to the HP Pavilion 15-ak030nr. The only alternative in buying a better device is by upping your budget by $100-$200. I'm talking about the Dell Inspiron i7559-2512BLK (Intel Core i7-6700HQ, 8GB RAM, 1TB SSHD, GTX 960M 4GB, 802.11ac).
But if price is a concern, the HP Pavilion 15-ak030nr is a potent all-rounder, suited not only for online games, but for home businesses, work environments, college and everything in between.