Lenovo's stylish all-in-one computer, the IdeaCentre A540 has been a fan favorite since its launch. It has proven itself a reliable and dependable device, especially for work-oriented tasks. Its design elements and color accents make for a great addition to any modern or minimalist office space.
Lenovo IdeaCentre A540 review: a tasteful choice for office and home use
Unlike some all-in-ones, the Lenovo IdeaCentre A540 has its components separated from the monitor. It appears to be sitting on a stand, but actually the bottom part is where all the processing takes place. Although it appears to be bulky, the rose gold colored arm which coils towards the monitor successfully mitigates the extra thickness added by the box.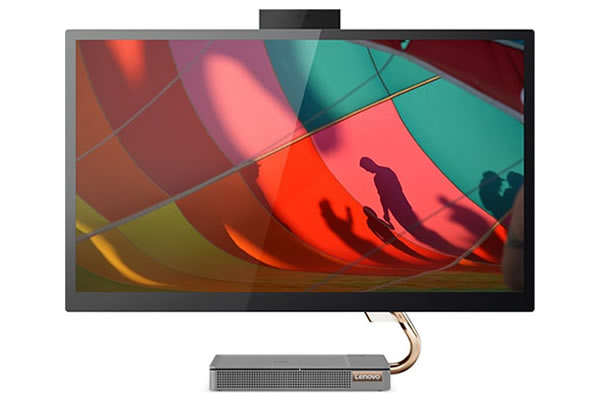 Overall, its design is pleasing and will work great in a modern setting with minimalism in mind. Think of a mostly empty desk in a well lit room. The Lenovo will surely take center stage with its tasteful aesthetic, adding to the room's feel instead of distracting your attention away from it.
It has a 27-inch QHD (2560 x 1440) IPP matte touchscreen display with incredibly thin bezels all around. They're so thin, that Lenovo had to make the front facing camera pop up when you need it. Viewing angles are great, but the screen isn't as bright as I wanted it to be. Still, it produced vivid enough colors, even in sunlit rooms, which is more than acceptable for a home/office daily driver all-in-one.
Lenovo's IdeaCentre A540 performance is on point
The Lenovo IdeaCentre A540 all-in-one is equipped with powerful 9th generation Coffee Lake Intel processors. Models fitted with Intel Core i7-9700T processors are roughly $300 more expensive than those with Intel Core i5-9400T processing units, but also feature more system memory and more storage space.
By more, I mean double. For instance, if you go for an Intel i5 powered A540, you'll have to settle for 8 gigabytes of DDR4 RAM and a 256-gigabyte SSD. Whereas if you were to choose an Intel i7 powered device, you'd get 16 gigabytes of DDR4 RAM and 512 gigabytes of storage space.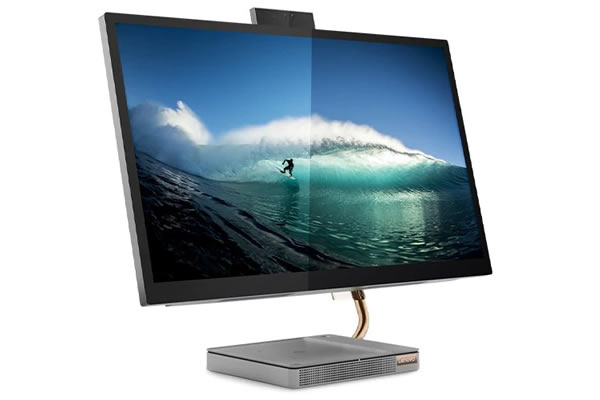 Therefore, a better processor comes with the added benefit of more storage space. And with the benefit of more robust multitasking thanks to more available system memory. Both processors are adequate for home or office use. Think number crunching, sending emails, browsing the web, editing documents, some quick photo editing, video calls, and so on.
I feel like the more expensive, Core i7 option is only needed if you want your device to be more future proof in terms of keeping up with the ever increasing needs of tomorrow's software. Otherwise, there's really no need for anything more than an i5 if most tasks look like those I've listed earlier.
Lenovo IdeaCentre A540 features
The Lenovo IdeaCentre A540 has some nifty features. For starters, you can easily charge up your phone while working without the need for a cable. If your phone is compatible with Qi-certified wireless charging, simply place it on top of the stand's base and it will automatically charge up.
Also, you won't have to worry about setting it up or plugging extra cables. Just unpack it, place it on your desk, plug it into a wall socket and you're good to go. It's that easy.
Lenovo's pop up IR camera is useful for video calls and quickly logging into Windows. Also, it can be hidden when not in use, leaving you with a clean frame.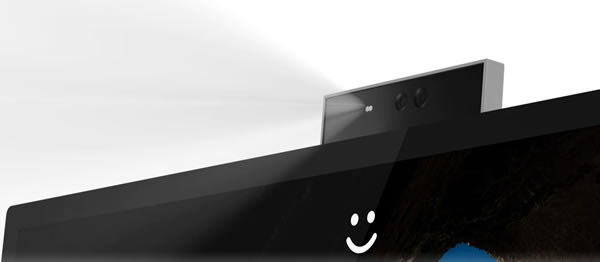 The A540 features two 3W tweeters and a 5W subwoofer. Sound quality is mostly clean at low volume, but you shouldn't expect too much out of it.
Connectivity-wise, the Lenovo IdeaCentre A540 has a generous array of ports. On the back side, we have two Type-A USB 2.0 ports, one Type-C USB 3.1 Gen 1 port, HDMI-in and HDMI-out for you to connect an additional monitor, and an RJ45 port for your Ethernet cable. On its left side, we see two Type-A USB 3.1 Gen 2 ports, a 3-in-1 card reader and an audio combo jack.
Final thoughts
The IdeaCentre A540 is, in my opinion, one of the most well balanced all-in-one desktops on the market right now. Value for money is up there, alongside build quality and real life performance. A stylish machine, equipped for the needs of most start ups, small-sized companies and home office use.
Buy the IdeaCentre A540 from Lenovo
If you can afford it, go for a Core i7 model. It will offer more satisfaction in the long run. Plus, you won't have to open it up to upgrade the RAM or SSD if the need will ever arise, since it's mostly future proof, at least for the next 4 to 5 years.