If you've ever wanted to ditch your old desktop for a more portable option, but without breaking the bank, the Lenovo IdeaPad 3 17IIL05 is an option to consider. This entry-level 17-inch notebook doesn't offer much in terms of performance, or features. Cost aside, this is a rather well-rounded laptop, although somewhat underpowered.
IdeaPad 3 81WF000TUS review
As I mentioned earlier, the Lenovo IdeaPad 3 17IIL05 will work best for those in need of a desktop replacement. This is a bulky and rather heavy notebook which you'll find difficult to carry around. Forget about commuting and long distance travel. It weighs around 4.85 pounds without the charger. I'd find it cumbersome to move it from one room to the other. For users who need a bigger screen, this is an acceptable tradeoff.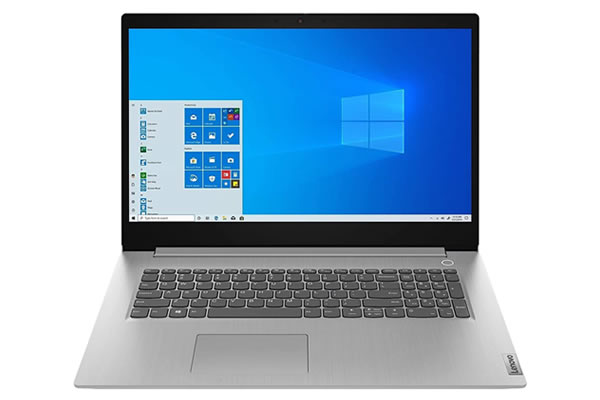 Check availability and prices at Amazon »
Don't expect much in terms of build quality, or features. The Lenovo IdeaPad 3 81WF000TUS has an all-plastic body, no touchscreen and no fancy backlit keyboard. Although, to be fair, I found overall typing experience it to be much nicer than expected. You'll have a hard time finding a more barebones laptop model.
Good performance for everyday computing
Performance is, as expected, mediocre. It features an Intel Core i3-1005G1 processor, which is somewhat less powerful than an Intel Core i5. However, it's way, way faster and more dependable than a Celeron. With this CPU, you'll be able to browse the internet, edit documents, stream online content, multitask and more without it ever feeling sluggish. You'll notice some lag when attempting to edit videos, for instance. But that is an activity which is beyond what this laptop was designed for.
Lenovo has equipped the IdeaPad 3 17IIL05 81WF000TUS with 8 gigabytes of DDR4-2666 RAM. This amount should prove sufficient for most users. If you want to upgrade, know that 4 gigabytes are soldered to the main board. You can only add a compatible 8-gigabyte memory module to reach a total of 12 gigabytes of system memory.
Storage space is on par with other similarly priced laptops. The Lenovo has a speedy 256-gigabyte M.2 2242 PCIe NVMe solid state drive. If you feel the need for extra storage capacity, you're in luck. There's an extra available slot for you to plug in an extra 2.5″ SATA 3 drive.
Gaming is largely out of the question, although you'll have some success playing indie games and less demanding titles. Streaming online content works just fine, although you may encounter issues with 4K streams if there are other tasks running in the background.
A large, somewhat dim display
The Lenovo IdeaPad 3 17IIL05 features a 17.3″ HD+ display. It's not resolution I'm worried about, but panel technology. This model features an outdated TN panel, which doesn't offer that much in terms of viewing angles and color accuracy. It's not terrible, but it's not great either. Also, its brightness leaves much to be desired. In spite of its anti-glare coating, you'll find it hard to work in full sunlight, or in brightly lit rooms during sunny days.
Unspectacular array of ports
First and foremost, there are no USB-C ports available. Drawbacks aside, the Lenovo IdeaPad 17IIL05 features a decent amount of I/O connections. You should be able to plug in a mouse, a keyboard and charge your phone at the same time through its three USB ports (two USB 3.2 and one USB 2.0). Only one external monitor can be connected at a time via its HDMI port. There's an SD card reader and an audio combo jack.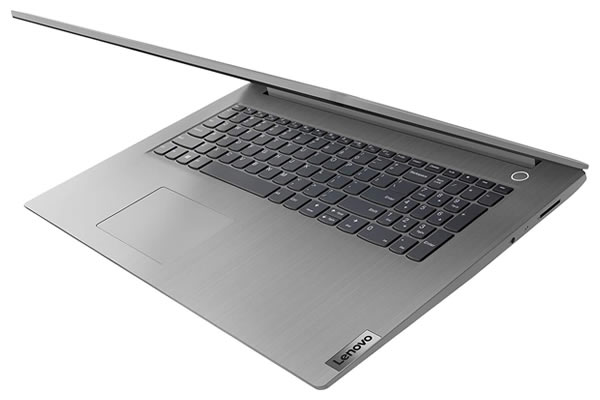 Connectivity-wise, you get 2×2 Wi-Fi 5, alongside Bluetooth 5.0. Hardly anything of notice, but you shouldn't need any cutting edge wireless tech for a home/office desktop replacement.
Lackluster battery life
Battery life is average, one charge lasting up to 5 to 6 hours of light work and up to 7 to 8 hours of media playback. I'm willing to bet that anyone who ends buying this laptop won't be that far away from a wall plug at any given time while using this notebook. So, although battery life is rather unimpressive (in part due to its big screen), I don't see this to be a major issue.
The Lenovo IdeaPad 3 17IIL05. Who's it for?
All in all, I think the Lenovo IdeaPad 3 81WF000TUS makes for a decent desktop replacement laptop. If your PC is old and lags considerably, this model will surely bring some much needed fresh air. Sure, it is an entry-level device without any notable features, but it also gets the job done if you don't push it around too much.
As stated earlier, the Lenovo is recommended for casual users only for home or office use. If you'd like a more powerful device, I'd go for the Intel Core i5 powered Acer Aspire 5 A515. If you're willing to accept a slightly smaller screen size, that is. It's around $70 more, but offers so much more in terms of features, display quality, performance and connectivity. If screen size is important, the Lenovo should offer a good enough deal.
Lenovo IdeaPad 3 81WF000TUS Tech Specs
Processor
Intel Core i3-1005G1
2 cores, 4MB cache
up to 3.4 GHz max clock speed
Memory
8GB DDR4 RAM
max 12GB RAM
Storage
256GB NVMe PCIe SSD
extra 2.5″ SSD slot up to 1TB
Display
17.3″ HD+ TN 250nit matte
Graphics
Intel UHD Graphics
Interface
2 x Type-A USB 3.2 Gen 1
1 x Type-A USB 2.0
1 x HDMI 1.4b
Combo audio jack
SD card reader
Connectivity
Wi-Fi 5 (2×2 802.11ac)
Bluetooth 5.0
OS
Windows 10 Home
Battery
42Whr battery
up to 7 hours of battery life
Weight
4.85 lbs. (2.2 kg)
Dimensions
15.83″ x 11.07″ x 0.78″