The Lenovo IdeaPad S340 are a series of affordable, mid-range 15.6″ laptops. They're designed with the end user in mind. As such, they're like a jack of all trades, made to be as cheap as possible without them being cheaply made. A mix of solid performance and simple design language has made the S340 series a people's favorite.
Review
There are currently only two models available for sale on Lenovo's website:
81N8003TUS – Core i3, 8GB RAM, 256GB SSD, non-touch
81QF0005US – Core i5, 8GB RAM, 256GB SSD, IPS, touch display
Basically they're the same model, with two major differences. In this review, I'll talk about the second one: the Lenovo IdeaPad S340 81QF0005US. It has a much better processor and multi-touch enabled display. Honestly, I think the price difference between the two is justified considering these differences.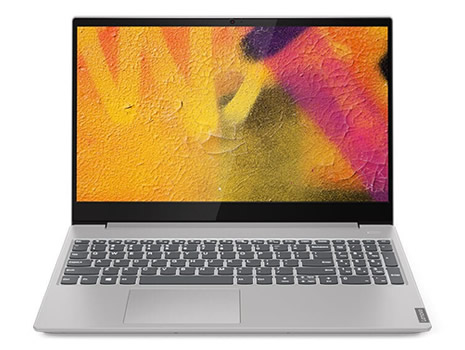 Design-wise, the IdeaPad S340 doesn't bring anything revolutionary to the table. It's made of plastic, like many other affordable notebooks, while extra features are nowhere to be found. Apart from its backlit keyboard, there's not much else exciting to talk about.
Yet, I think this may be a strength. It's a bare-bones, as simple as you get laptop with all the essentials installed, and that's it. Dependable, understated and providing distraction-free computing, this is a good laptop to consider going to college with if you're either on a budget or prefer Lenovo to other brands.
Performance
The Lenovo IdeaPad S340 81QF0005US is fitted with an Intel Core i5-8265U processor. It will provide great computing power, with little compromise. This processor is only about 10-15% slower than a Core i7-8565U, a model usually found on more expensive machines. Without getting too technical, this CPU has 4 cores, 8 threads, 6 megabytes of cache size, with clock speeds between 1.6 and 3.9 GHz.
Also, system memory is adequate for this system, especially when considering its processor. It comes with 8 gigabytes of DDR4-2400 SDRAM. There are two slots: one is soldered, one DIMM. This means you'll be able to expand its memory to 12 gigabytes with ease. However, I don't think that's actually necessary, since what you get already allows for heavy multitasking.
Now, Lenovo could have worked a solution to install a roomier storage drive inside the S340. As of now, all models come with a 256-gigabyte PCIe Solid State Drive. It's not bad, but it could have been better. Take the ASUS Vivobook S15 S532FA-DB55. It has the same performance as the Lenovo S340, but double the amount of storage space, not to mention more features. You'd expect it to cost more, but it doesn't. It's in the same price range.
Graphics and display
You'll be able to play some games using the Lenovo S340 81QF0005US, but don't expect gaming laptop level performance. The integrated Intel UHD 620 graphics card won't support many games, apart from some online multiplayers like Minecraft, CS:GO, League of Legends and so on. If you're into more serious gaming and would like a laptop that's in the same price range, I'd suggest checking out the ASUS VivoBook K570ZD-ES55, or the Lenovo L340 Gaming.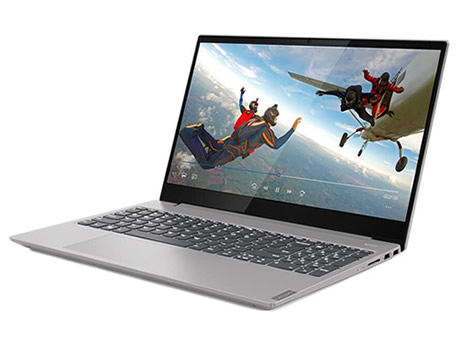 Check latest price at Lenovo »
Display quality is brilliant for a mid-range notebook: rich colors, crisp contrast, deep blacks, adequate brightness. The S340 features a 15.6″ Full HD IPS-level, anti-glare, touch-enabled display.
Interface and connectivity
Interface options are plentiful and well balanced. The Lenovo S340 features two high speed USB 3.1 ports and one Type-C port, for charging your modern mobile devices. Here's the complete list of I/O options:
2 x USB 3.1 Type-A
USB 3.1 Type-C
HDMI-out
SD Card Reader
Audio Combo Jack
Networking-wise, the S340 doesn't offer anything out of the ordinary. You'll get standard wireless connectivity, alongside a Bluetooth option:
802.11ac (1×1) Wi-Fi Card
Bluetooth 4.2
Portability and battery life
The Lenovo IdeaPad S340 81QF0005US demonstrates its averageness yet again. It's not a heavy laptop, considering screen size. But it's no lightweight notebook either. Slightly better than most, worse than a couple, this thing weighs 3.9 pounds. You can take it to class or to work any day of the week. Its compact size helps, but its weight doesn't. So, if you like having your laptop on you all the time, I can't really recommend the S340. It will work if you're on the road occasionally, or if you plan on using it mostly around the house or the office.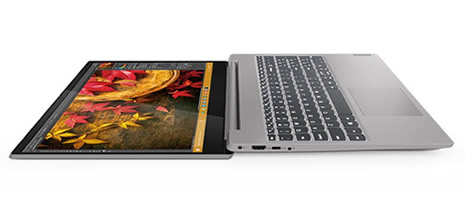 Battery life isn't spectacular, but better than expected. One full charge of its 3-cell, 52Whr battery pack will last around 9 to 10 hours of light/medium use. That's a full day's worth of work, so carrying the adapter is entirely optional if you plan on using it sparsely throughout the day.
Conclusion
At the end of the day, I'm rather impressed by the Lenovo IdeaPad S340 81QF0005US. Sure, it's not the best laptop, spec-wise, nor is it the most portable. I'd say its main competition comes from the similarly priced ASUS Vivobook S15, which offers more storage, but less portability for about the same money. It's also on the flashy side of things, in terms of design.
This laptop will work well in a college environment, as a home office laptop, work laptop for documents and spreadsheets, or as a home entertainment center. It offers good value for money and overall, I'd say it's more than a decent jack of all trades.
Summary
Reviewer
Review Date
Reviewed Item
Lenovo IdeaPad S340 81QF0005US
Author Rating