The newly released Acer Aspire 5 A515-56-363A is one of the most affordable full-sized laptops available right now. Considering how aggressively priced the Acer Aspire 5 is, it managed to exceed my expectations. Design and build quality are both above average for a laptop that's so cheap. Despite entry-level performance, I was happy to notice really sharp and vivid images. Its display is rather impressive, and makes the whole package worth it for casual users, in spite of the Acer's entry-level performance ratings.
Acer Aspire 5 A515-56-363A: a budget friendly laptop designed for basic tasks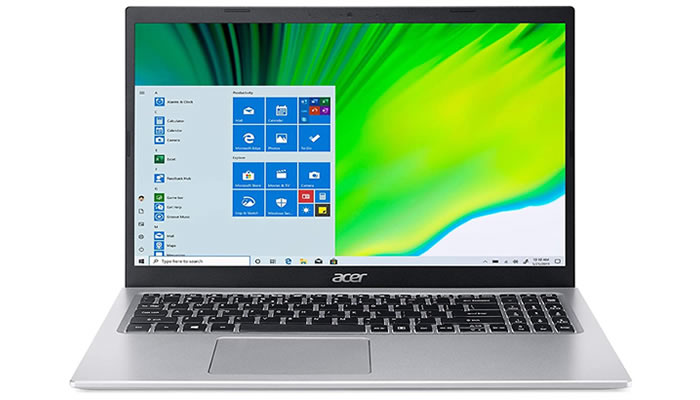 The Acer Aspire 5 A515-56-363A is one of the best ultra-affordable laptops you can buy right now. It's currently featured in my best laptops under $500 in 2021 list, comfortably sitting in the second spot. Although the slightly pricier ASUS VivoBook 15 offers more in terms of performance, the Acer takes the prize for having the best display in this price bracket.
Check availability and prices on Amazon »
Performance
Performance-wise, the Acer Aspire 5 is a bit of a letdown if you're used to more expensive laptops. However, if your daily computing routine revolves around browsing the internet, editing documents, sending emails and making video calls, this laptop's processor will hold up nicely. It's powered by the new 11th generation Intel Core i3-1115G4 CPU.
It has 4 gigabytes of system memory, which translates to limited multitasking. You can easily expand it to 8 gigabytes by adding another memory stick. The Aspire 5 is also fitted with a 128-gigabyte PCIe solid state drive. It's not that impressive in terms of speed or capacity, but it will do the job nicely. I can only think of system memory as being a potential bottleneck. Therefore, I strongly suggest upgrading it as soon as possible.
Graphics
Display quality is above average, especially for a laptop that costs just north of $400 at the time of this review. Viewing angles are more than acceptable, as well as overall richness. Graphics won't take you very far.
Despite being equipped with the latest Iris Xe integrated GPU, the combination of processor and system memory isn't enough for most games to run smoothly. You can play some indie games and non-demanding titles like Minecraft, but that's about it. Anything more demanding will prove too much for this laptop to handle.
Ease of use
The Acer Aspire 5 A515-56-363A features plenty of ports, adequate for most everyday users. On its left side, we notice an RJ-45 port, the HDMI-out, two Type-A USB 3.2 ports and a Type-C USB 3.2 port. On the right side there's one legacy USB 2.0 port and the audio combo jack. Unfortunately, Acer haven't fitted this Aspire 5 with a card reader.
Networking is top notch, the Acer having a new generation Wi-Fi 6 wireless card installed, as well as Gigabit Ethernet. It's perfect if you enjoy being connected via cable for faster data transfer speeds.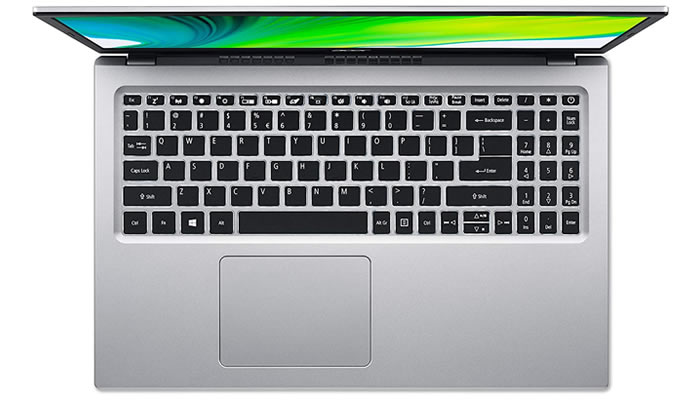 The Aspire 5 is not exactly an ultraportable laptop, but it's not that heavy either. Still, I wouldn't commute or travel with this notebook in my backpack. However, I think it will work great as home, home office or even as an office laptop. It's perfect for carrying around on short distances, like between rooms or office floors.
Battery life is acceptable for a budget friendly option. One full charge will last up to 6 to 8 hours under normal load conditions, like browsing the internet or editing documents.
Conclusion
All in all, the Acer Aspire 5 A515-56-363A is a well-rounded laptop. It's most suited for casual home and office users and perhaps for students on a tight budget. This laptop will work as intended and deliver enough performance to power all your daily computing tasks.
I would definitely upgrade its system memory first and foremost to get the most out of its processor. There aren't many drawbacks, especially if we take cost into consideration. The Core i3 powered Acer Aspire 5 is an honest and really affordable laptop which offers more features and more versatility than its low price may suggest.
Acer Aspire 5 A515-56-363A tech specs
Processor
Intel Core i3-1115G4
2 cores, 6MB cache
up to 4.1 GHz max clock speed
Memory
4GB DDR4 RAM
Storage
128GB PCIe SSD
Display
15.6″ FHD IPS-level matte
Graphics
Intel Iris Xe integrated graphics
Interface
1 x Type-C USB 3.2 Gen 1
2 x Type-A USB 3.2 Gen 1
1 x USB 2.0
HDMI-out
Audio combo jack
RJ-45
Connectivity
Wi-Fi 6 (802.11ax)
Gigabit Ethernet
OS
Windows 10 S
Battery
3-cell Lithium-Ion
up to 6 to 8 hours of battery life
Weight
3.64 lbs. (1.65 kg)
Dimensions
14.3″ x 9.4″ x 0.70″