The 15-inch Dell Inspiron 15 5505 is a mid-range laptop which offers plenty of value for its price tag. Today I'm reviewing the the Dell i5505-A774RVR-PUS model. It's fitted out with a state-of-the-art AMD Ryzen 7 processor and enough features to satisfy the needs of most users.
Dell Inspiron 15 5505 review: the unassuming all-rounder for home and office use
Starting off, the Dell Inspiron 15 5505 is a well-made device, well within what you'd expect from a mid-range laptop. Obviously, performance has been prioritized, but its design and features suggest a more balanced approach from Dell.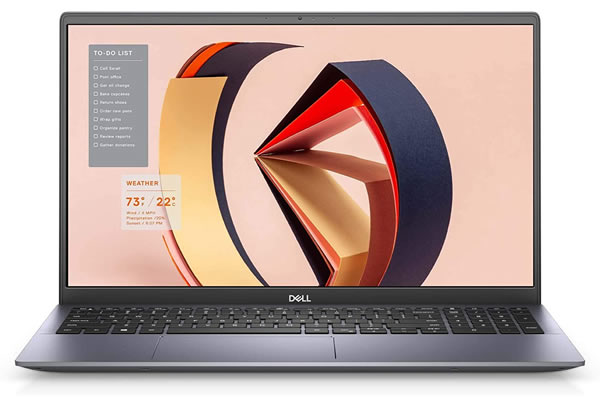 Design-wise, the new Inspiron 15 doesn't disappoint. But it doesn't excel either, especially when talking about materials and overall feel. Dell's all-metal lid and all-plastic chassis are indicative of compromise. The keyboard flexes when pushed more vigorously, but not annoyingly so. Key travel is on par with other similarly priced laptops from ASUS or HP. Typing on the Dell is mostly pleasurable: its keyboard is roomy and silent enough, while the backlight works great in low-light.
Find out more about the Inspiron 15 »
Another interesting feature is that Dell have merged the power switch and the fingerprint reader into one button. Located in the upper right extremity of the keyboard, you'll be able to power on and unlock Windows using it. Some users have complained that it didn't work as expected, or even consistently. My experience with it has been positive, although I've seen more snappy fingerprint readers.
The Dell Inspiron 15 5505 also has a lid sensor installed. This means that even when it's powered off, the laptop will turn on when you open the lid, without the need of pushing the power button every time. This is a feature that can be turned on or off.
Dell Inspiron 15 5505 performance: budget friendly powerhouse
Performance is pretty much rock solid. The Dell Inspiron 15 i5505-A774RVR-PUS features a new generation AMD Ryzen 7 4700U processor. This 8-core, 8-thread CPU has a frequency range between 2.0 GHz and 4.1 GHz, 8 megabytes of cache size and a TDP of just 15 Watts. It is, therefore, comparable and rather similar to Intel's Core i7 line of mobile processors. Using the AMD will allow you to successfully manage your everyday computing tasks and much more.
The power of the Ryzen 7 isn't hampered by the amount of installed system memory. The Dell is equipped with 16 gigabytes of DDR4-3200 RAM from the get-go. What may seem like an overkill now for most users will prove adequate in a couple of years. Its 16 gigabytes of memory combined with the Ryzen means that more advanced tasks are well within reach, like video editing, some rendering, compiling, heavy multitasking and having dozens of browsers tabs open for when you research a topic.
Perhaps unsurprisingly, this Inspiron has enough storage space for most users to feel comfortable without any external solutions. The Dell i5505-A774RVR-PUS features a speedy 512-gigabyte NVMe SSD with the option of adding an additional drive by removing its underside.
Performance-wise, the Dell Inspiron 15 5505 sits in league that's mostly dominated by more expensive models. I can only think of just one 15-inch laptop that's as well-rounded as this one: the HP Pavilion 15 which costs $50 more as I'm writing this review.
Graphics and display
Graphics-wise, the Dell Inspiron 15 5505 i5505-A774RVR-PUS doesn't impress much. It's equipped with an integrated video GPU, the AMD Radeon RX Vega 10. It won't take you very far in terms of raw power. It can handle some intensive tasks, but not as well as a dedicated video card. Still, you'll be able to use it to stream high quality online content, do graphic work such as edit photos, videos, illustrate and photoshop pictures and play some less demanding games. If you intend to use the Inspiron as a home office, office or daily driver laptop, the RX Vega 10 won't let you down.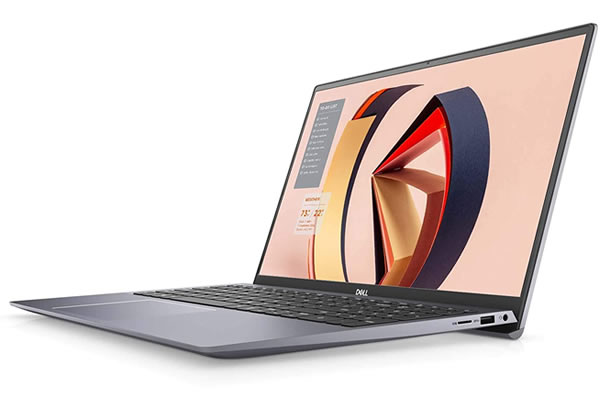 The Dell Inspiron 15 5505 comes with a rather bright and sharp 15.6-inch 1080p IPS display. Its anti-glare coating and wide viewing angles make life easier when working in brightly lit rooms, or even outside. Plus, I've found the colors to be richer and more accurate than expected, although some tweaking may be necessary for photo work. As a comparison, this display is not as bright as the one I've seen on a premium ZenBook 14 for instance. It is, however, slightly better than what the AMD-powered Acer Aspire 5 has to offer.
Interface and networking
Dell's assortment of ports is somewhat underwhelming. I would have liked to see a wider range of connectivity options. Especially considering this is a laptop that's most appealing to users who may need some peripherals hooked in. Still, all available ports are serviceable. On the left side of the Inspiron we find an HDMI 1.4b port, one Type-A USB 3.2 Gen 1 port, one Type-C USB 3.2 Gen 1 with Display Port and Power Delivery. On its right side, we notice an audio combo jack, the second Type-A USB 3.2 Gen 1 port and a microSD card reader.
The Dell Inspiron 15 5505 features a next generation Intel AX200 wireless card. This means you'll be able to fully take advantage of the new Wi-Fi 6 protocol when in range of a compatible router. This means better transfer rates, less latency and more available bandwidth for you to connect to the internet.
Portability and battery life
Portability is the only area in which the Dell doesn't shine as much when compared with other laptops. Simply put, the Inspiron 15 5505 isn't such a lightweight device for you to carry around with ease. It weighs 4.03 pounds, the same as other daily drivers, such as the more affordable ASUS VivoBook 15 F515EA. Given its screen size and weight, I believe the Dell will prove cumbersome to commute with. It should feel at home when used around the house, the office, or the university campus for that matter.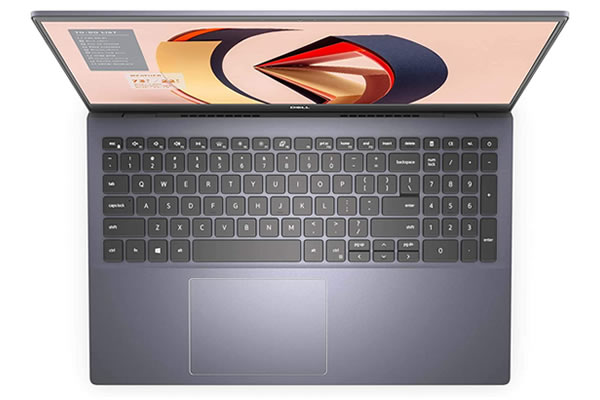 Battery life is also average and comparable with other mid-range all-rounders. A full charge will last for about 10 hours, which is 2 hours more than a full day's worth of work. The Dell Inspiron 15 offers more battery autonomy than the Aspire 5, and about as much as the VivoBook 15. But keep in mind that the Inspiron has much more processing power under the hood than both these notebooks.
If you're searching for a laptop with the same robust hardware configuration, it's good to know that there are more portable options. Namely, the 14-inch Acer Swift 3 SF314-42-R3U5 offers the exact same specs, but weighs just 2.65 pounds. If you're willing to sacrifice some screen real estate, the Acer seems like a much better fit for students and commuters alike.
Final thoughts
All in all, I think the Dell Inspiron 15 5505 is a solid laptop to consider if your budget allows it. In particular, the i5505-A774RVR-PUS model I've reviewed today ticks a couple of boxes that make an all-rounder great. Performance is top notch, so is its display. Connectivity and networking are on par with similar laptops, as well as its graphics department. Portability is the only area where the Inspiron falls flat, but not entirely thanks to its above average battery life.
Therefore, I think the Inspiron 15 5505 is a notebook that's most suited for an office environment and as a daily driver to have around the house. Basically, it offers the same performance as a desktop would, with the added benefit of working and playing wherever you'd like around the house, or around the office. However, if you're a student in search of a mid-range laptop, I believe the Acer Swift 3 I mentioned earlier is better match, especially from a portability standpoint.