Affordable and versatile enough, but not without flaws, the all-new AMD-powered Dell Inspiron 15 3505 is not a bad laptop to have around the house for your everyday computing tasks. Essentially, this is a barebones notebook that was designed to run smoothly first and foremost. Its outdated technology may be off-putting at first, but bear with me, this Inspiron offers excellent value for money.
The Dell Inspiron 15 3505: A surprisingly capable laptop with an unimpressive set of features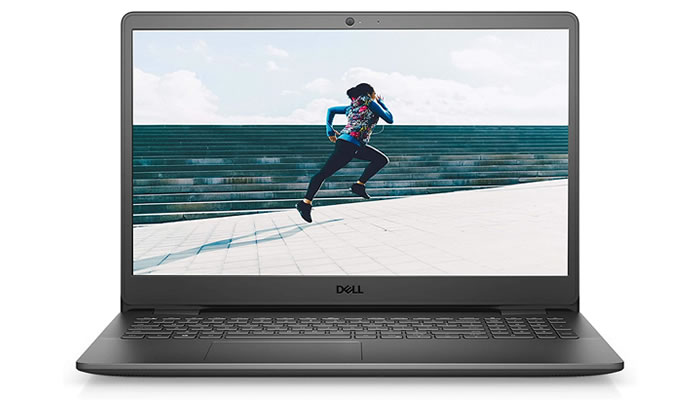 I think Dell had a very specific audience in mind when crafting this package as a whole. There are many, many folks who aren't as interested in cutting edge technology. Most of the times, you just need a dependable enough notebook to power your daily computing routine. And that's absolutely fine in terms of value for money. Dell has skipped fitting the Inspiron 15 3505 with premium materials, fancy ports and whatnot. In exchange, it would seem like they've ramped up performance.
Check availability and prices at Amazon »
If you are a student who is limited by a tight budget, this Dell is a sensible option to consider. Apart from a handful of other devices, such as the ASUS VivoBook 15 F515EA-DS54, you won't find a better deal in terms of raw computing power at this price range.
Design is rather bland and standard for a budget all-rounder. The Dell Inspiron 15 3505 won't turn any heads. Its body is all plastic. It feels cheap and boring, but not necessarily cheaply made. Apart from its unspectacular looks, keyboard quality is up there. It won't flex when writing. Plus, the keys have enough travel distance to feel somewhat tactile. The trackpad feels smooth enough, although I have seen better ones out there.
One glaring drawback is the lack of a backlit keyboard. I was surprised to notice its absence, especially since I've noticed it being available on much more affordable models, like the ASUS L210.
The AMD-powered Dell also tends to get hotter than expected when pushing it to the max. This is especially annoying when having to type for long periods of time while also multitasking in the background. However, its fan does a good job at dissipating extra heat, even if sometimes it sounds like a jet taking off.
A strong performer almost without a match
Performance-wise, it's hard to find an equivalent notebook. That's because the model I'm reviewing today, the Dell Inspiron i3505-A665BLK-PUS features a unorthodox blend of hardware choices. It seems like a laptop that's been positioned to be in between other laptops.
Starting off, the Dell is fitted with a quad core AMD Ryzen 5 3450U processor. It's basically a downclocked Ryzen 5 3500U. In spite of being a "newer" model, the 3450U doesn't perform as well overall, but manages to edge out the 3500U in single thread performance. It's undoubtedly more sluggish than a Tiger Lake Intel Core i5, but you should expect better performance when compared to a similar Core i3 processor.
System memory is rated at 12 gigabytes of DDR4 RAM. Don't let the 2400 MHz frequency scare you though. In real life situations there aren't any differences between it and 2666 MHz memory. It will work flawlessly in most casual and daily applications, like browsing the web, checking your emails and such. Heavy multitasking is possible, as well as running your favorite photo editing software with ease. The Dell Inspiron 15 3505 accepts up to 8 gigabytes of memory per slot. If you'd like to upgrade to a maximum of 16 gigabytes, you should replace the 4GB stick with a compatible 8GB module and you're good to go.
Find out more about the Inspiron on Amazon.com »
Storage space is ample enough for a laptop in this price range. It's rare to see a sub $700 laptop offer 512 gigabytes of storage capacity on an M.2 NVMe PCIe SSD. The drive is speedy enough not to slow down the laptop as a whole. On the contrary, it will work as fast as memory will allow it.
The Dell Inspiron 15 3505 offers standard graphics and a rather dim display
You shouldn't expect to play that many games on the Inspiron i3505-A665BLK-PUS. In spite of its other hardware specs, its graphics card leaves much to be desired in terms of performance. Sure, if you'll only use for note taking, browsing, document and photo editing, playing media you won't encounter any problems down the road. The Radeon Vega Mobile will handle those tasks, no problems there. But other than Minecraft and other low-demanding games and some indie titles, you shouldn't really ask too much of it.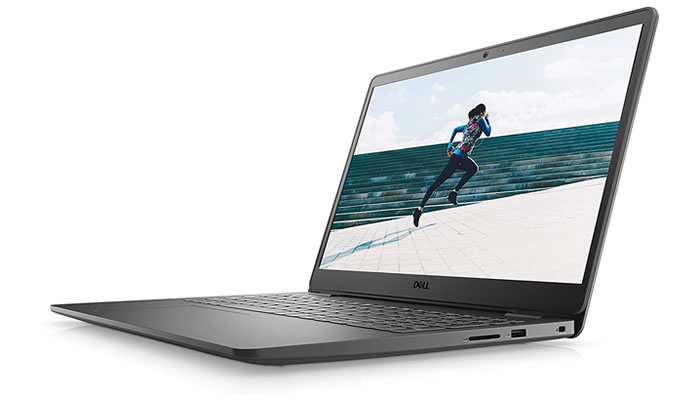 Now, I'm conflicted about its display quality. On one hand, I appreciate that there's no backlight bleed along the edges of the screen. This is usually an issue with low quality IPS panels, but not in this case. The Dell offers crisp images and great viewing angles on its 15.6″ FHD anti-glare display. On the other hand, I'm disappointed by how dim it actually is. Working in full sunlight is a no go. What's more, you'll find it hard to focus on your work in brightly lit rooms.
Unimpressive offering of ports and connectivity options of yesteryear
My biggest gripe with the Dell Inspiron 15 3505 is the lack of USB-C ports. Some folks won't mind this inconvenience, but it's hard to argue against installing such a port, since it's clearly all over the place by now. It's used by many peripherals and will continue to grow in popularity, so this absence makes no sense to me.
At least the Dell is fitted with two Type-A USB 3.2 Gen 1 ports and one Type-A USB 2.0 port. Other available ports include an SD card reader, an audio combo jack and an RJ-45 port for your wired Internet connection.
Connectivity-wise, the Dell i3505-A665BLK-PUS offers Wi-Fi 5 (802.11ac), Gigabit Ethernet and Bluetooth 4: nothing spectacular or groundbreaking. It's reliable, fast, but not cutting edge.
Portability and battery life
The Dell weighs 4 pounds, which is on par with other similar 15.6″ all-rounders. It's not a true lightweight, like the MSI Modern 14 which costs about the same, even though it comes with a smaller screen size. It's not ultra slim either. As such, I'd only carry it around around the house or the office. It's hard to justify commuting or carrying this notebook with you to your favorite coffee place. It's simply too cumbersome.
Battery life is average, at best. A full charge will hold about 7 hours if used lightly or moderately. Whether you find it acceptable or not is entirely up to you and your needs. Know that battery life hovers around 6 to 8 hours for laptops in this price range ($500-$700).
Conclusion
All in all, I believe that the Dell Inspiron 15 3505 is a decent laptop. It will work just fine as a desktop replacement laptop, as a home or home office laptop, especially for people who aren't running around for the latest in terms of features. Even students on a budget should consider it, as it offers performance which is more than acceptable by today's standards.
Similarly priced alternatives include the Intel-powered ASUS VivoBook 15 or the Acer Aspire 5. Personally, I'd choose the latter since it's a more robust all-rounder, plus it's lighter and offers better processing speed at the cost of reduced system memory and storage space when compared to the Dell Inspiron 15 3505.