Acer's newest 15-inch Chromebook is a tantalizing deal. No matter how I look at this laptop, the price it's being sold at makes for a good deal, even after considering its shortcomings. The Acer Chromebook 15 CB3-532-108H is one of the most affordable such devices on the market now. And I think it's a great option for folks who don't want to spend much more on a laptop that will end up not being used to its full potential.
Review
In other words, it's my opinion that the Acer Chromebook 15 is a suitable notebook for everyday tasks. It will benefit users who exclusively engage in lightweight work and mostly daily tasks (think about email, editing some documents and spreadsheets, browsing the internet and streaming online media content).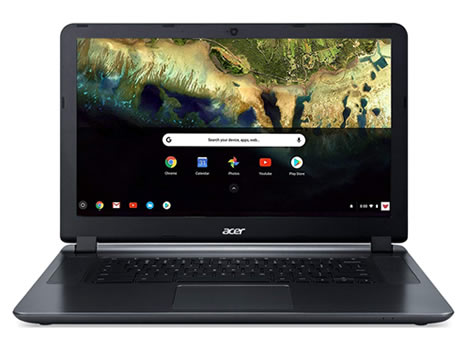 This is a 15.6 inch Chromebook that doesn't look that different from a regular notebook. Its design is well thought, with rounded corners and a roomy keyboard. Instead of a number pad, Acer has fitted two front facing speakers on each side, thus slightly improving sound quality. But don't be fooled by its brushed metal look, it's all plastic.
Hardware: At a glance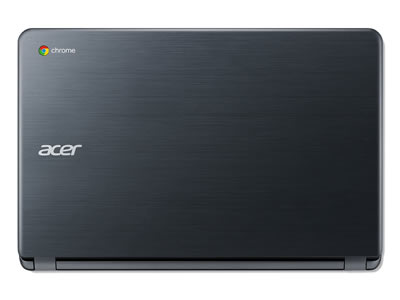 Acer Chromebook 15 CB3-532-108H specs:
Display: 15.6″ HD
CPU: Intel Atom x5-E8000
RAM: 4 GB LPDDR3
Storage: 16 GB eMMC
GPU: Intel HD Graphics 320
Weight: 4.3 pounds
Battery: 12-hour battery life
Performance
As expected from such an affordable laptop, the Acer Chromebook 15 CB3-532-108H features modest hardware resources. However, context is important. If this were a Windows powered device, I would have said to skip this model entirely. However, since it runs Chrome OS, which is less demanding and more optimized toward lower end processors, you'll be able to get decent performance out of it.
Find out more about this laptop on Amazon »
The Acer Chromebook 15 comes equipped with an Intel Atom x5-E8000 processor. It has four cores, the same number of threads, 1.04 GHz frequency, 2 megabytes of cache and a thermal design power of just 5 Watts. You'll be able to run any app from the App Store, and even stream 4K videos online without hiccups.
System memory is rated at 4 gigabytes of LPDDR3 SDRAM. It's not user expandable, but you won't need to, either. Four gigs are enough for most apps to run smoothly. Tasks such as document editing, multitasking or mobile photo editing shouldn't pose any issues.
Storage space is limited to 16 gigabytes on a speedy eMMC card. An issue may arise from the Acer's limited storage capacity, but this is mitigated by either inserting an additional SD card on which to store extra files or using Google's own cloud storage solution. Every Chromebook automatically benefits from 100 gigabytes of space on Drive.
Graphics and display
The Acer Chromebook 15 CB3-532-108H features an integrated video card, the Intel HD Graphics 320. With it, you'll be able to enjoy most, if not all games available on Google's Play Store. Even the more demanding ones will be playable with minimal performance issues.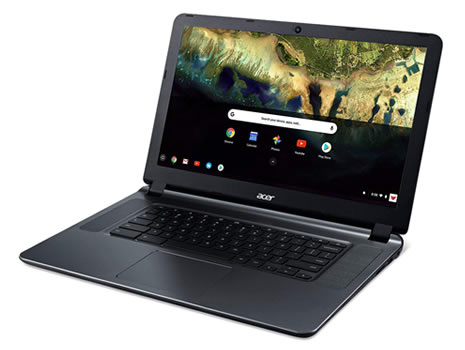 Its 15.6 inch LED-Backlit non-touch display has a maximum resolution of 1366 x 768 pixels, about what you would have thought normal for a such a display size a few years ago. Yet again, for such a cheap device, this shouldn't be an issue. There's no IPS technology, so acceptable viewing angles will be somewhat restricted.
Interface and networking options
Networking options are sparse when compared to a traditional laptop. However, the two USB 3.0 ports will prove sufficient for your peripherals. One port that's missing, yet shouldn't have is the reversible USB Type-C. Anyway, here are the available I/O options:
2 x USB 3.0
1 x HDMI with HDCP support
1 x SD card reader
Click to check the latest price on Amazon.com »
Networking is way better than expected. The Acer CB3-532-108H features a dual band wireless card, capable of faster access speeds, better signal quality and lower latency.
802.11ac Wi-Fi with MIMO technology (Dual Band)
Bluetooth 4.2
Portability and battery life
Looking at the Acer Chromebook 15, you'd think it weighs less than it actually does. This laptop weighs about the same as other similar full-sized Windows devices, 4.3 pounds, making it rather impractical for long distance traveling and daily commuting. For that you'll need a smaller, lighter notebook. Still, thanks to its screen size, it's ideal to use at home for light work and play, whether you're standing at a desk, or in bed.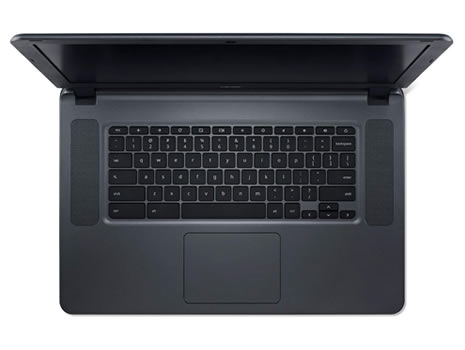 Battery life is great. One full charge of its 3-cell Li-Polymer battery pack will last for up to 12 hours of light to moderate use. Which means that a single charge will get you through more than a full day's worth of work. This makes carrying the AC charger everywhere redundant, which in terms improves portability a little.
Final words
In the end, I honestly think the new Acer Chromebook 15 CB3-532-108H is a decent 15-inch laptop, which most home users who are used to using their tablets will enjoy working on. It's a step forward from having to type exclusively on a screen. Performance-wise, this Chromebook doesn't have the same powerful specs as mid-range notebooks, but it's neither as expensive. So, if you're familiar with Android or working on a tablet most of the time, you'll find this inexpensive laptop to be easy getting used to.
Summary
Reviewer
Review Date
Reviewed Item
Acer Chromebook 15 CB3-532-108H
Author Rating