The ASUS Vivobook F510QA-DS99 is a budget friendly, entry level 15-inch laptop. Its design is borrowed from the company's mid-range F510UA laptop series, but its hardware components aren't. At least not entirely. As we'll see, considering price, this device can sure pack a punch. Plus, to some extent, you can get good value for your money.
Review
The Vivobook F510QA comes equipped with a quad-core AMD A12-9720P processor. Performance-wise, this CPU is slightly slower than an 8th generation Intel Core i3, but faster than any entry level non-Core Intel CPU. It fills a gap between the best of the cheap ones and the cheapest of the best processors.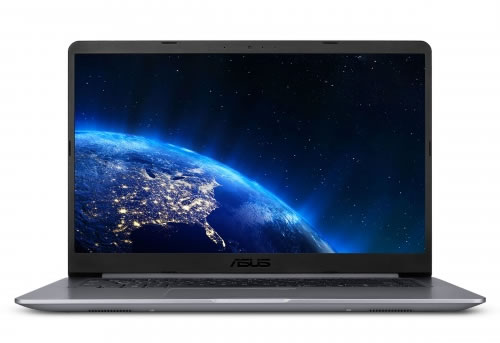 System memory is surprisingly adequate for such an affordable laptop. The F510QA-DS99 is fitted with 8 gigabytes of RAM, which will suffice for all your everyday tasks, and more. You'll be able to successfully multitask, switch between multiple browser tabs and edit photos without any problems.
Again, considering price, storage space comes as a surprise. You get a speedy 256-gigabyte Solid State Drive, which will further mitigate the processor's relative slowness. In the end, you'll benefit from a faster, more fluid user experience.
Find out more about the ASUS and check prices at Amazon »
My only issue with this affordable Vivobook is its display quality. Don't be fooled by resolution alone. In spite of its 1920 x 1080 pixels, quality is lacking, especially if we consider brightness and color gamut. Simply put, the display isn't bright enough to work in sunlit rooms (200nit), and color accuracy isn't that great at all (just 45% NTSC).
Interface and networking options are satisfactory, but the lack of an Ethernet port would make me want to skip this model if I were looking for a desktop replacement unit.
As for portability, the Vivobook F510QA-DS99 isn't as heavy as other affordable laptops, but it isn't exactly lightweight either. Weighing around 3.7 pounds, this rather thin 15-inch notebook should only serve you around the house or office. I wouldn't use it to commute or travel.
ASUS VIVOBOOK F510QA-DS99 technical specs
Processor
AMD A12-9720P
4 cores, 2MB cache
2.7 to 3.6 GHz clock speed
Memory
8GB DDR4 SDRAM
Storage
256GB M.2 SSD
Display
15.6″ FHD WideView
Graphics
AMD Radeon R7
Interface
USB 3.1 Gen 1 Type-C
USB 3.0 Type-A
2 x USB 2.0
HDMI
Audio combo jack
Connectivity
Wi-FI 5 (802.11ac)
Bluetooth 4.2
OS
Windows 10 in S Mode
Battery
3-cell Li-Ion battery, 42WHr
Weight
3.7 lbs (1.67 kg)
Alternative laptops
If you're looking for a similarly affordable laptop, you should also check these two models:
ASUS Vivobook F512FA-AB34 – Intel Core i3-8145U, 8GB RAM, 128GB SSD, Intel UHD Graphics 620, 3.5 lbs, 8 hours battery life. This model has a faster processor, is slightly lighter, yet has half the storage space.
Acer Aspire 5 A515-54-51DJ – Intel Core i5-8265U, 8GB RAM, 256GB SSD, Intel UHD Graphics 620, 4.2 lbs, 10 hours battery life. More expensive, but you get superior processing power at the cost of increased weight.
Bottom line
All in all, the ASUS Vivobook F510QA-DS99 is a fair laptop, only useful for everyday computing. If all you need is a home/office notebook that must handle some multitasking, office documents, emails, browsing, this laptop model will likely suit you. I'd recommend buying it only if discounted.
Summary
Reviewer
Review Date
Reviewed Item
ASUS Vivobook F510QA-DS99
Author Rating