There are affordable laptops, and then there are cheap laptops: the Lenovo IdeaPad 1 belongs to the latter of those two categories. Today I'm going to talk about the IdeaPad 1 81VU0079US model, a 14-inch entry-level notebook. Your expectations shouldn't exceed a low bar set by the price and hardware options inside it. I'll list a couple of better alternatives you should consider, at the end of this article.
Review
So, the Lenovo IdeaPad 1 81VU0079US, as mentioned earlier, is an entry-level laptop. A rather featureless device, this notebook seems less exciting than doing homework for a class you hate. In spite of its playful appearance and blue color, the IdeaPad is a slow laptop. There's multiple bottlenecks you need to be aware of, and then there's slightly outdated technology which is justifiable, considering how cheap it is.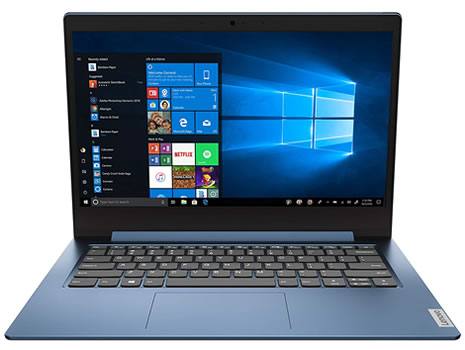 If it's one thing Lenovo does right on almost all their Laptops, it's the keyboard. The IdeaPad 1 makes no exception. I think this is the only redeeming quality, and one that sets the stage for the ideal user who might actually enjoy using it. This is not an all-rounder, and most definitely not a practical laptop to use for all your everyday computing tasks.
Performance
If I had to describe Lenovo's IdeaPad 1 performance in one word, I'd choose slow. It's fitted with an entry-level processor, the Intel Celeron N4020 (2 cores, 4MB L2 cache, 1.1 GHz up to 2.8 GHz). Benchmark tests suggest a frustrating experience if you plan on using it for anything more than the most basic of tasks. And in my experience with it, this is true. This doesn't mean it's useless, just underpowered for this day and age.
Check availability and prices at Amazon »
System memory is rated at 4 gigabytes of DDR4 RAM. It's soldered to the main board, so there's no way you'll be able to upgrade it. If this was a more robust laptop, I would have considered 4 gigs completely unsatisfactory. However, when taking the CPU into account, I feel that system memory is adequate. Don't expect to heavily multitask or smoothly run photo editing software. Some websites may feel slow when loading.
Storage space is limited at 64 gigabytes on a rather slow eMMC drive. It's considerably less impressive than a solid state drive, but it's also quite dependable. If you consider getting this laptop, you should also buy an extra microSD card to use as a storage drive, as a considerable chunk of those 64 gigabytes will be used up by the Windows 10S operating system.
Graphics and display
The Lenovo IdeaPad 1 81VU0079US comes with an Intel UHD Graphics 600 integrated GPU. There's not much to talk about it. Don't expect it to play 4K content, obviously. It will handle HD and Full HD videos. Gaming is not entirely out of reach, but I'd be surprised if you'd be able to get more than 20-30 fps in Minecraft on low settings.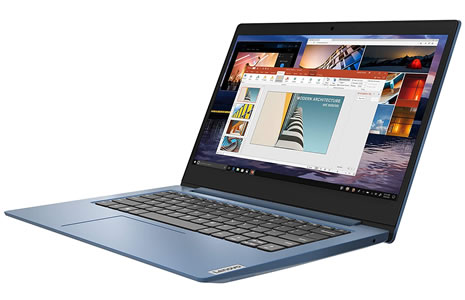 Its display is perhaps the biggest letdown. This model is fitted with a 14-inch HD TN-panel display. TN panels are outdated and won't offer you any vivid colors, nor will you enjoy wide viewing angles. Also, it's pretty dim by today's standards, so working in full sunlight will be an issue. I do appreciate the narrow side bezels, though.
Interface and networking
Interface options are satisfactory, since you won't need to plug that many devices into it. Note there aren't any available USB-C ports. You get two Type-A USB 3.2 ports, one HDMI port, an audio combo jack and an SD card reader. That's it.
Networking is also on par with the laptop's other outdated components. This was expected. However, I don't think anyone will have any issues with that. It doesn't make any sense to equip a slow notebook with cutting edge wireless technology. It comes with Wi-Fi 5 (802.11ac 1×1) and Bluetooth 4.2 technology.
Portability and battery life
The Lenovo IdeaPad 81VU0079US is a thin and completely silent laptop with passive cooling, but it isn't exactly what I'd call a featherweight. It weighs 3.1 pounds, or 1.4 kilograms. It should work as a laptop to commute with, or keep around the house to work in different rooms. I'll recommend a couple of alternatives for those who want to keep it light in the same price range.
Battery life is acceptable. A full charge will last for up to 7 to 8 hours while doing various tasks like browsing the web, streaming online content and such. Being able to keep going for a full day's worth of work is especially useful for students who need to take notes in class without having to also bring along a charger.
Conclusion
At the end of the day, we're still talking about a really affordable notebook. However, I find it disappointing that Lenovo have decided to fit it with outdated tech. It feels distinctly cheap, especially when trying to look at that display from a slightly off angle while working. Still, its keyboard is surprisingly nice.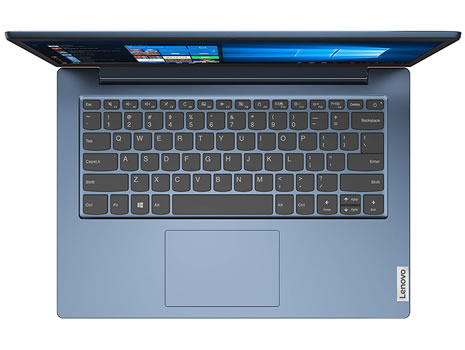 Thanks to its unexpectedly fine typing experience, I think the Lenovo IdeaPad 1 81VU0079US is most suited for folks who need a cheap laptop to use as a typewriter for their writing and creative projects. Or for users who need a device from which to send emails, read and edit documents. If you're a student, there are better alternatives. If you're looking for a multiuse laptop, there are better laptops for slightly more dollars. If you plan on traveling with it, there are better choices to be made.
Alternatives to the Lenovo IdeaPad 1 81VU0079US
As mentioned earlier, I'll list a handful of really affordable laptops which, in my opinion, are better than this IdeaPad 1:
ASUS L410 (L410MA-DB02) – basically the same laptop performance-wise, but better in areas where it really counts. It comes with an identical CPU, the same amount of RAM and storage space. Battery life is comparable, but it is lighter (weighs just 2.9 pounds), has a USB-C port, an innovative touch pad, and features a 180-degree rotating hinge. Its design is more robust and feels more premium and better built. All that for about $30 less than the Lenovo.
Acer Aspire 5 A515-43-R19L – better for people who want a cheap laptop to keep around the house, for their everyday tasks. It has a bigger screen, Full HD resolution, considerably faster processor, the same amount of system memory, more storage space on a faster solid state drive. It's heavier and costs about $50 more.
ASUS L210 (L210MA-DB01) – the same performance, but in a smaller form factor, perfect for people on the go. This one weighs just 2.3 pounds, has an 11-inch HD screen, more battery life (up to 10-11 hours), costs about $50 less than the Lenovo IdeaPad 1.