If you're searching for an ultraportable laptop with a colorful personality, look no more. The all-new Acer Swift 3 SF314-42-R3U5 model is a budget friendly alternative to more expensive models. It may be less feature-packed than a $1,200 ultrabook, but it offers fantastic value for money in terms of build quality, performance and portability.
Review
The Acer Swift 3 SF314-42-R3U5 is a very purple notebook. You'll either love it or hate it due to its color. I personally don't think of it as feminine. Rather, it looks to me as a more unconventional design choice for those of us who are tired of the same plasticky grays and blacks we're used to seeing on mid-range laptops.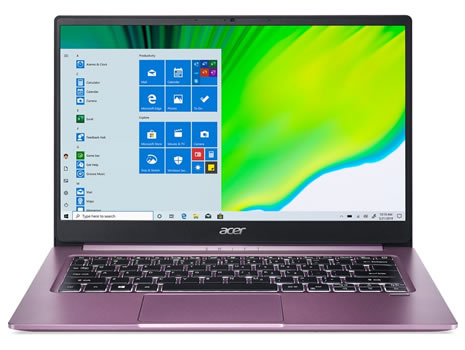 Check availability and prices at Amazon »
However, don't let the fancy purple fool you. The Acer is a beautifully crafted notebook, with a metal chassis made entirely of aluminum and magnesium-aluminum. Build quality is not only good, it's on par with some of the more expensive, premium ultrabooks. So far the Acer seems to be one of the more dependable and durable sub $800 laptops out there.
This new model has a backlit keyboard, although key travel distance may seem short for some users, a fingerprint reader, an HD webcam and decent microphone for video conferences, Wake on Voice via Cortana and a large touchpad. What about other areas?
Performance part one: processing power
This model is powered by a new generation AMD processor, the Ryzen 7 4700U. It's a powerful octa-core CPU with an 8-megabyte cache size, clock speeds ranging from 2.0 GHz up to 4.1 GHz, and a 15 Watt TDP. Performance-wise, the AMD is comparable with the Intel Core i5-11357G CPU we've seen on the Acer Aspire 5 A515-56-50RS.
However, tests and benchmark results have shown the AMD to be marginally more energy efficient and better at handling software which heavily relies on tapping multiple cores, rather than just one. Think pro photo editing software or heavily multitasking.
Performance part two: system memory
Since we're talking about a very thin laptop, soldered memory modules were expected. The Acer Swift 3 SF314-42-R3U5 is equipped with 16 gigabytes of LPDDR4x RAM. You won't be able to further upgrade it. Considering other hardware options, 16 gigabytes are more than enough for all the needs of both casual and more experienced users, enabling heavy multitasking without any problems whatsoever.
System memory size is the main difference between this model and the more popular R9YN model. Personally, I think this is a better choice, even with the $150 price difference taken into account. As is the case with most laptops which don't allow users to replace and improve hardware, being stuck with 16 gigs of on-board RAM is far better than being stuck with just 8 gigs, which may prove lacking in just a few short years.
Performance part three: storage capacity
Storage capacity is on par with the Acer's other hardware offerings. Its speedy 512-gigabyte NVMe solid state drive will work well to keep up with both system memory and processor in dealing with large file transfers, quickly searching for documents and minimal system latency.
Find out more about the Acer at Amazon.com »
If your concern is value for money, I'd say 512 gigabytes of storage capacity are well above expectations for a sub-$800 ultraportable laptop. Do a quick search and you'll find similarly priced Intel powered Acer notebooks with half the RAM and storage space.
Display and graphics
The Acer Swift 3 SF314-42-R3U5 features a non-glare 14-inch FHD IPS display with a screen-to-body-ratio of 83% and rather thin side bezels. Viewing angles are good, brightness is on par with similar laptops, images are sharp, but colors are somewhat distorted. Most noticeably, blues and greens don't seem to be as deep and natural as they could have been. As a result, if you're into pro photo or video editing, this model's display quality isn't nearly as good as what you'd get from a design-oriented portable workstation. For things like web browsing, coding, home and office use, the Acer isn't lacking.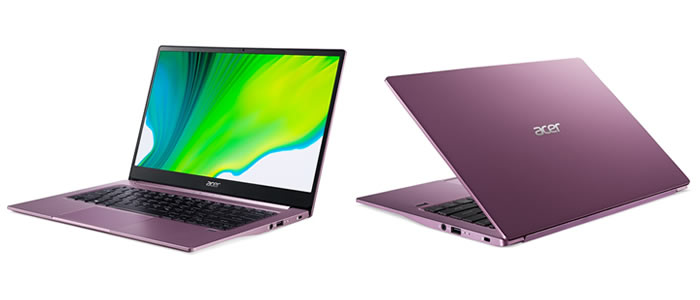 Its graphics department is somewhat standard. The Acer features an on-board Radeon GPU, which will power all your everyday tasks, and even some lightweight gaming. For instance, games like Minecraft, CS:GO, LoL will run at 60+ fps, while newer AAA titles will really struggle to run properly, even at low quality settings.
Interface and networking
You'll get plenty of ports for all your devices. Both legacy and newer generation options are available, but no Thunderbolt and no card reader. Here are the Acer's available ports:
Type-C Gen 2 USB 3.2 port
Type-A Gen 1 USB 3.2 port
Type-A USB 2.0 port
HDMI 2.0 output
Combo audio jack
As for networking, the Acer Swift 3 is well equipped to handle modernity. It was fitted with the newest technology in terms of wireless and Bluetooth connectivity:
Wi-Fi 6 (802.11ax) with 2×2 MU-MIMO
Bluetooth 5.0
Portability and battery life
Portability is one of the Acer's strong areas. This is a 14-inch screen laptop on a surprisingly compact and thin body. The SF314-42-R3U5 weighs just 2.65 pounds, is 0.7 inches thin and 12.7″ wide. You get a notebook that can fit in most bags, that's lightweight enough to commute with, and perhaps best of all, thin and well built.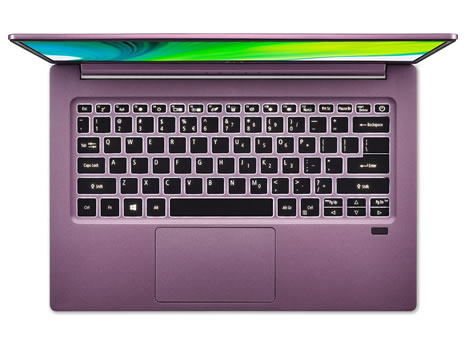 Battery life is somewhat impressive, but nowhere near as good as an LG gram or a ZenBook. Sure, the comparison isn't fair, since you won't find a 16-gigabyte LG gram for less than $1400. Whereas the fun Acer sits around $800 at the time of this review. A full charge will last up to 11 hours in benchmark tests. However, expect that number to go down a bit when using the laptop for actual work. A day's worth of work, great specs, portability and price make this a go-to option for users who enjoy lightweight laptops, but don't have the budget for a true premium ultraportable.
Conclusion
The Acer is a great example of a mid-range laptop done right. I think this model, the Acer Swift 3 SF314-42-R3U5 is a fantastic choice for users in search of an all-rounder with few compromises. It's no workstation, but it isn't sluggish at all. On the contrary, this Acer is a well balanced device, perfect for those who seek good performance, reliability and portability in a future proof laptop that doesn't break the bank.