The Acer Predator Helios 300 PH315-53-71HN is a mid-range gaming laptop with a rather impressive spec sheet and better than average thermals. What really sets this laptop apart is its CPU-GPU combo. Both are extremely fast when gaming. Furthermore, if you're planning on using this machine as a workstation, it's well equipped for such a task as well.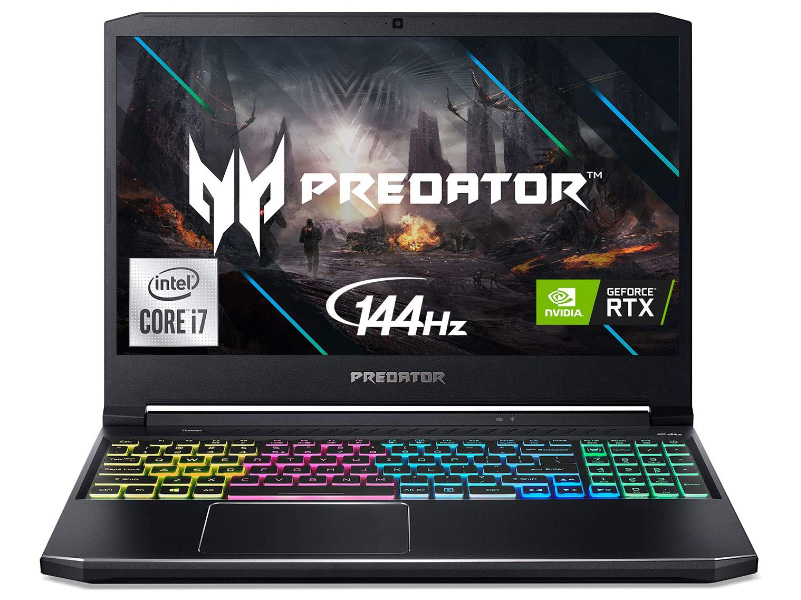 This laptop can be put to work immediately after unboxing it. There's some bloatware installed, although uninstalling it is a simple and straightforward process from the get-go. Using the standard configuration of 16 gigabytes of system memory, the Intel Core i7-10750H processor and the RTX3060 Mobile GPU, you'll be able to play most modern games without any issues. For instance, you should expect 50-55 fps while playing Cyberpunk 2077. Obviously, other titles will run flawlessly. As such, expanding the available system memory isn't required for you to get decent framerates, although more RAM hasn't hurt anyone.
Check availability and prices at Amazon »
There's a single issue though, and that is fan noise. When fully activated, the Predator's fans will feel like a jet is taking off in your room. However, they're very effective at cooling down the system when temperatures reach 65-70 °C.
The Acer's screen has nothing spectacular going for it, apart from the 144 Hz refresh rate, its keyboard is rather nice for a gaming laptop and construction seems pretty solid. Battery will only last so much because of the high power draw of both the CPU and GPU. While gaming, you'll be lucky to get an hour worth, while other tasks should offer around 4 to 6 hours.
Should you buy the Helios 300?
If you don't mind the flashy and aggressive appearance of the Helios 300 PH315-53-71HN, yes. It offers fantastic value for money, especially in terms of processor and graphics capabilities. Furthermore, it's a futureproof laptop, enabling you to double its system memory and add another storage drive down the road.
The Acer is a heavy laptop, so buying it for everyday tasks if you commute to work or around the campus isn't advisable. Otherwise, this gaming notebook will feel almost like a gaming desktop at home, minus the fan noise.
Less expensive models, like the ASUS TUF Gaming A15 or the Lenovo IdeaPad Gaming 3 offer less performance for more than half the price of the Helios 300. So, if your budget allows this $1,200+ gaming laptop, you should really consider it.
Acer Predator Helios 300 PH315-53-71HN tech specs
Processor
Intel Core i7-10750H
CPU core count
6 cores, 12 threads
CPU cache size
12 megabytes
CPU frequency
2.6 GHz up to 5.0 GHz
System memory
16 gigabytes
Memory technology
DDR4 @ 2933 MHz
Memory configuration
2 x 8-gigabyte modules, dual-channel
Maximum memory
32 gigabytes
Storage capacity
512 gigabytes
Storage drive type
M.2 PCIe NVMe SSD
Additional storage slots
Yes, 1 x M.2 PCIe slot
Screen size
15.6 inches
Display technology
IPS, anti-glare, 144 Hz refresh rate
Display resolution
FHD (1920 x 1080)
GPU
NVIDIA GeForce RTX 3060
GPU Type
Dedicated
GPU Memory
6 gigabytes GDDR6
Interface options
1 x Type-C USB 3.2 Gen 2
1 x Type-A USB 3.2 Gen 2
2 x Type-A USB 3.2 Gen 1
HDMI
Audio combo jack
RJ-45
Networking
Wi-Fi 6 (802.11ax)
Gigabit Ethernet
Bluetooth
Bluetooth 5.0
Backlit keyboard
Yes, 4-zone RGB
Webcam
HD Webcam with SHDR support
Operating system
Windows 10 Home
Battery type
4-Cell Lithium-Ion
Expected battery life
up to 6 hours
Weight
5.51 lbs
Dimensions
14.3″ x 10.0″ x 0.90″