February 5, 2021 update:
A newer model is available.
Find out more about the ASUS L410 or buy now from Amazon.
Today I'll be taking a quick look at one of the most good looking affordable laptops available today. The ASUS L406 notebook doesn't have much going for itself when it comes to performance, or features. Yet, its attractive price makes it an OK device for young students, everyday home users and some office workers. The model I'll be analyzing today is called the ASUS L406MA-AB02-WH. It's white, it has a 14 inch screen, and can handle most moderately demanding daily tasks.
Review
I'm discussing a 14-inch laptop (not Chromebook), that costs about $250 at the time of this review. You shouldn't expect getting much in terms of processing power out of it. But that's just how it is. A cheap device means making compromises in key areas. With the ASUS L406, there are two subpar components when compared to pricier alternatives: the processor and its display. I didn't include storage space in there, because it's a given for such cheap laptops to feature eMMC drives.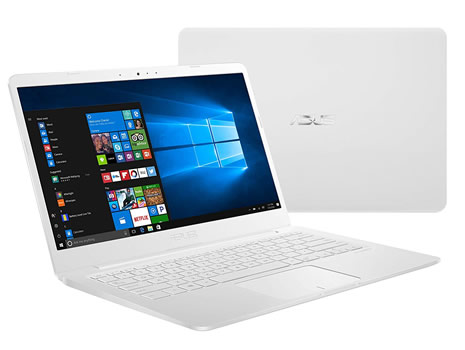 However, I think positive traits outnumber and outshine the bad ones. For starters, there's the price. For around $250, you have a fully functioning notebook capable of handling everyday tasks like email, web browsing, editing documents, streaming music, and so on. If you don't need your laptop to do much more than these simple tasks, a less powerful solution like this one might be your answer.
Secondly, there's the quality. For the same amount I've stated earlier, you benefit from ASUS quality when it comes to materials and looks. Yes, the L406MA-AB02-WH is all plastic, but doesn't feel cheap at all. Also, it's all-white body is really thin, has reduced bezel width and features decent typing experience.
What's more, battery life will surely impress. They haven't compromised on its battery pack, making it the main selling point, in my opinion. Let's have a more in-depth look at this model's components:
Performance
For what it's worth, the ASUS L406MA-AB02-WH features an entry-level processor, the Intel Celeron N4000. This CPU is not spectacular by any standards, yet manages to shine in one department: energy efficiency. This 2-core, 2-thread processor has a base frequency of 1.1 GHz that goes up to 2.6 GHz in turbo mode, 4 megabytes of cache and a thermal design power of just 6 Watts.
Benchmark tests rate it as being a low-end CPU, even by mobile standards. With it, you'll be able to pull off basic tasks quite well, but don't expect more from it. For example, photo editing will take considerably longer compared to using a Core i5, for instance.
System memory is rated at 4 gigabytes. It sounds underpowered by today's standards, but really, it isn't. You should consider that the ASUS L406 comes with Windows 10 S installed. It's optimized for lower end products, and therefore uses less resources. However, heavy multitasking is largely unattainable.
Storage capacity is limited to 64 gigabytes of space. They're housed inside an eMMC drive. Transfer speeds don't come close to modern solid state drives, but they're miles better than what you'd get from a traditional hard drive. For instance, Windows boots up in just a couple of seconds. If you want to expand its capacity, you should add an extra micro SD card on which to hold your files, or make use of an online cloud storage solution.
Graphics and display
As expected, the ASUS L406MA-AB02-WH features an integrated video card, the Intel HD Graphics 600. It's in tune with the processor when it comes to benchmark results, sitting on the lower end of the spectrum. As such, you won't be able to play almost any games on the ASUS. Furthermore, it may stutter when streaming 4K online content. Therefore, I don't think the L406 is a good option as a media or entertainment laptop at all.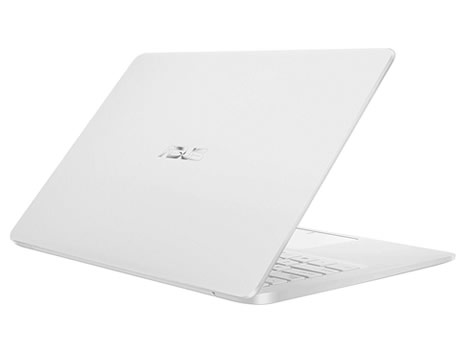 Display quality is average, at best. The 14-inch screen features an anti-glare panel with HD resolution. That means 1366 x 768 pixels. Considering screen size, it's not ideal, but not terrible either. However, it's lacking IPS technology, so you'll have altered image quality if you look at it from the "wrong" angle.
Interface and networking
Interface options are rather limited, but adequate for such a device. What I noticed is that it lacks a USB Type-C port, which would have been useful for folks who need it to charge their phones. These are the available I/O ports:
2 x USB 3.1 Gen 1 Type-A
1 x HDMI 1.4
1 x Combo Audio Jack
1 x Micro SD Card Reader
The ASUS L406 allows you to connect to the Internet via wireless only. It features Wi-Fi 5 (802.11ac), which is standard for today's devices, meaning average range and signal quality.
Portability and battery life
Now, portability is where the ASUS L406MA-AB02-WH really shines. It's a thin device (just 0.7″), and weighs around 2.8 pounds, which is lighter than I would have expected for the price. It looks like it should be more lightweight, but that's because of its sleek profile.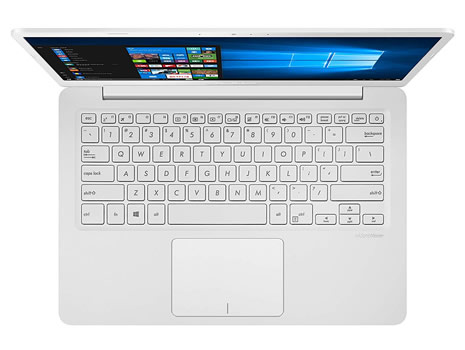 If I would have to name one feature I love about the ASUS L406, it would be battery life. ASUS have fitted in a larger capacity battery inside the L406. This 3-cell, 56WHr pack will hold a charge for anywhere between 12 and 14 hours of light to moderate use. If you're either commuting daily or need a laptop to have in your backpack at school, this is a great cheap alternative to more established names, since you'll be saving weight not having to carry the adapter everywhere you go.
Final thoughts
All in all, I firmly believe the ASUS L406MA-AB02-WH is a decent notebook, despite its low price. This is a device that's built well, looks stunning, has amazing battery life, and is lightweight and thin enough to carry around. The main drawback would be its entry-level performance ratings, with emphasis on the Celeron CPU and low-quality display. Otherwise, the ASUS L406 will do most basic tasks and will handle everyday computing without struggling much. Just don't go overboard with any complex tasks and you'll likely be fine.
Summary
Reviewer
Review Date
Reviewed Item
Author Rating